Democrats Predict Senate Will Pass Biden's Spending Bill Before Christmas
Senate Democrats have expressed confidence in their leaders' ability to rally the party behind President Joe Biden's social spending bill by the end of the year.
The Democratic-controlled House passed $1.7 trillion in new funding to expand the U.S. social safety net, known as the Build Back Better Act, on Friday, which includes climate initiatives, child care funding, university pre-K, and extension of health care subsidies.
The legislation is key to Biden's domestic agenda and Democrats must now navigate a 50-50 split Senate with no room for error.
Senate Majority Leader Chuck Schumer set a benchmark for his caucus to pass the bill before Christmas, saying the chamber will consider the bill "as soon as the necessary technical and procedural work with the Senate parliamentarian has been completed."
Senator Tim Kaine expects the bill will pass next month.
"In December," the Virginia Democrat said, according to The Hill. "We'll work on it, I believe, probably up until Christmas."
"The timeline is to get it done this year. That is clearly Sen. Schumer's desire, and I think, quite frankly, if there's a path forward, we stay here until we get it done, regardless of what that date is," Senator Ben Cardin, a Maryland Democrat, said.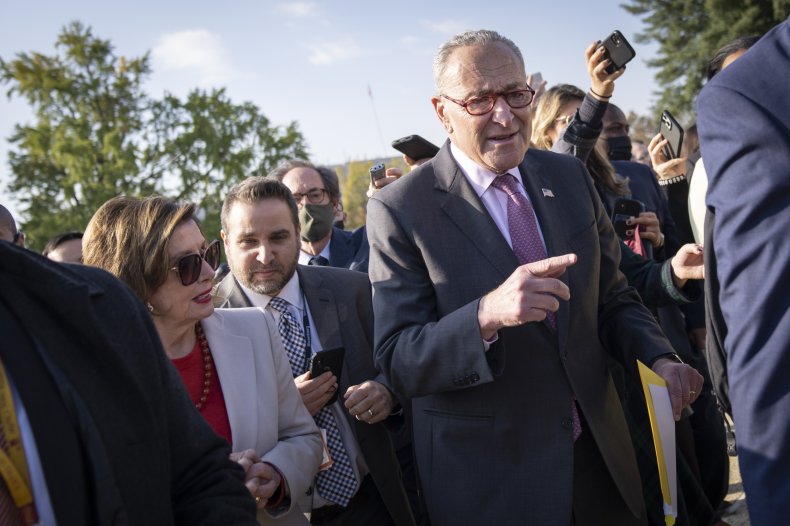 Fellow Maryland Democrat, Senator Chris Van Hollen, also predicted that the bill will "be done" before the chamber leaves for recess in December. "It'll be done by the time we leave," he said. "We're going to come back, we'll try and wrap up the [defense policy bill] ... and then we'll move on to [Build Back Better Act] ... This is going to be a wild December month."
The bill faces major challenges in the Senate. It will need to clear the so-called "Byrd Bath" process, under which the Senate parliamentarian must determine whether its individual components can fall under the budget process called reconciliation.
For it to clear the Senate, the bill will need the support of all 50 Democrats. Manchin, who opposes a paid family leave provision, has yet to fully endorse the package despite negotiating significant cuts, frustrating progressives in the caucus.
Amid ongoing negotiations with the White House and Democratic leaders, Manchin supported Schumer's December deadline. "I'm not in charge of the timing. Whatever they want to do is fine with me," said the West Virginia Democrat.
On Friday, Democrats acknowledged that provisions will likely be removed from the package to satisfy Manchin and the parliamentarian's rules, which means the House may have to pass the package again with amendments.
Newsweek reached out to Schumer's office for comment.