Democrats Up the Pressure on Mitch McConnell to Act on Gun Control: 'He's Waiting For the Outrage to Die Down'
House Democrats continued Tuesday to push Senate Majority Leader Mitch McConnell, a Kentucky Republican, to immediately recall his chamber from August recess to act on gun control legislation passed by the House earlier this year.
In an attempt to up the ante and take their case directly to the American people, House Majority Leader Steny Hoyer, a Maryland Democrat, and some of his colleagues blasted McConnell for refusing to hold an immediate vote on the House-passed bills in the wake of two mass shootings that left dozens of people dead. The House bills would require background checks for all commercial and some private firearm sales and were passed earlier this year.
"It takes no courage to put on the Senate floor a bill that is supported by 90-plus percent of Americans," Hoyer said during a news conference at the U.S. Capitol. "What takes courage is to look a special interest group in the eye and say enough is enough. It is time to act."
The majority leader revealed that the House Judiciary Committee, the panel which has jurisdiction over gun legislation, "will be coming back [from recess] and they're going to address" gun violence. Hoyer did not offer a specific timeline, but a congressional aide familiar with the talks told Newsweek that Labor Day week has been floated as a potential return date, which would be one week early.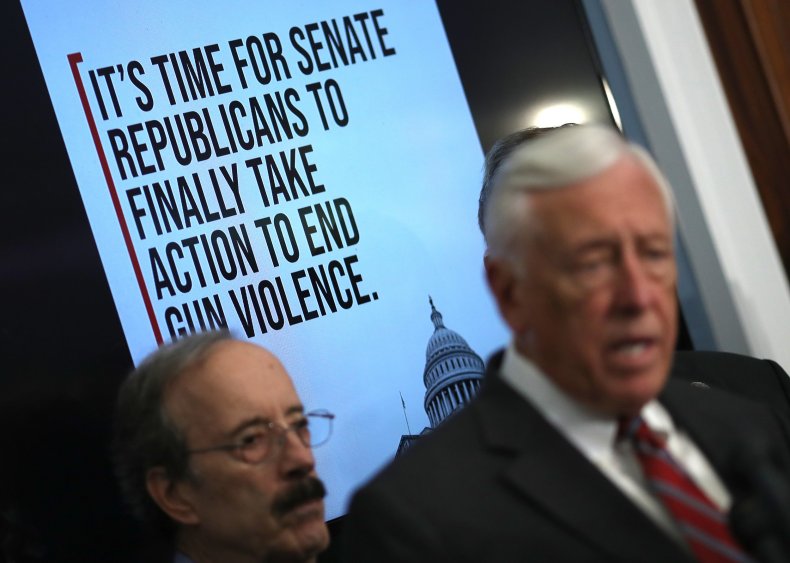 A slew of gun legislation proposals would be on the table for consideration, according to Hoyer, including limiting the size of magazines and implementing so-called "red flag" laws that would allow law enforcement to temporarily confiscate firearms from individuals believed to be an imminent threat to the well-being of themselves or others.
"Mitch McConnell isn't doing anything about it. This isn't because he doesn't know what the problem is or how to solve it. We know exactly why he isn't here," said Representative Don Beyer, a Virginia Democrat. "He's waiting for the outrage to die down, for the headlines to change, the people to turn the page and think about something else."
Representative Debbie Dingell, a Michigan Democrat, recollected about how a mother of a 5-year-old daughter on the autistic scale who is about to start school for the first time was terrified, not knowing whether to buy her child "the backpack that she wants, or a bulletproof backpack."
"Our children are going back to school in a couple of weeks, some before Labor Day, some after Labor Day," Dingell told reporters. "I shouldn't be answering questions of mothers of kindergarteners or the children's themselves about whether they're safe or they're hated."
The lawmakers were also flanked by victims and advocates, in addition to medical professionals, that they invited to speak about their personal experiences involving gun violence.
"I stand before you not just as a survivor of gun violence, or a Brady board member, but as a trauma surgeon, as one of many health care professionals that are front and center of taking care of these patients day in and
day out," said Joe Sakran, the director of emergency general surgery at John Hopkins and an advocate with the Brady Campaign, a gun violence prevention organization.
"This is a complex health problem. There is no one solution. It's a multi-faceted approach," he continued. "The House has done their job. They passed H.R. 8. And now we are calling on Senator Mitch McConnell to take action, not sides."
Christian Heyne, Brady's vice president of policy, told the story of how his mother was killed in 2005 shortly after returning from a holiday vacation.
"My dad was shot three times and survived his wounds. My mom was shot and killed with a single bullet to the back," he said. "Neighbors there that day said that she had begged for her life and was able to get up and run. She made it about 10 steps before that bullet shot and killed her and she she died before she hit the ground. I will never know if that's true."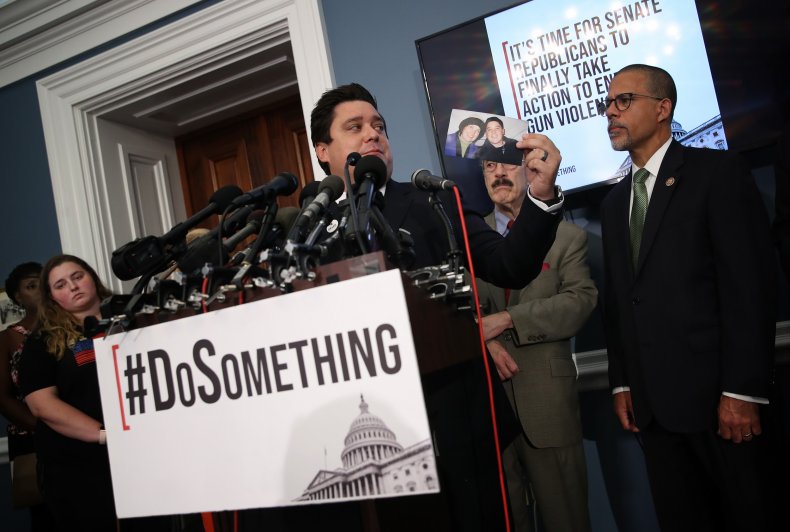 Gregory Jackson, a gun violence survivor who now works with the Community Justice Action Fund, described his months-long journey to recovery after being struck by a stray bullet.
"This is an epidemic that is hitting people in our communities every single day," Jackson said. "So, I beg of the Senate to step up and do something."
Responding to the Democrats' remarks, a McConnell spokesperson referred to a recent interview McConnell gave to a Kentucky radio station about returning to Congress early and the ongoing bipartisan talks surrounding new gun control measures.
"We'd just have people scoring political points and nothing would happen. There has to be a bipartisan discussion here of what we can agree on," McConnell said of immediately returning from recess. "I've tasked three of my committee chairmen with talking not only to their own members, but the Democrats as well. We're going to have these bipartisan discussions. And when we get back, hopefully, be able to come together and actually pass something."
McConnell expressed skepticism that either of the House-passed background check bills could muster enough Republican support in the GOP-controlled Senate. A Republican leadership aide has also highlighted a past veto threat issued by the White House for the measures, which passed in February with nearly all Democrats and just a handful of Republicans voting for them.
President Donald Trump in recent days, however, has struck a more receptive tone to "red flag" laws and background check legislation, stating his belief there's "tremendous goodwill for meaningful — I'm talking about meaningful, add that word — meaningful background checks so that sick and demented people don't carry around guns."
He continued to claim Tuesday that McConnell was on board with efforts to pass universal background legislation, but public remarks made by the lawmaker and his office have suggested otherwise.
Other Republicans have signaled a willingness to consider background check proposals, joining their Democratic colleagues in telling McConnell through media interviews that he "doesn't have to support it" and to instead just allow a vote on it.
Hoyer made one final plea on Tuesday for McConnell to take that step.
"The overwhelming majority of our fellow citizens believe that is a step to make their children, their husbands, their wives, their sister, their brothers, their neighbors, their fellow Americans, a little safer," he said. "That's why we come here today. And that's what we'll be demanding tomorrow, and tomorrow and tomorrow."