Democrats to Probe Biden's Afghan Debacle as Republicans Demand Answers on Terrorism
Republicans members of Congress demanded that President Joe Biden outline plans to counter potential new terror attacks emerging from Afghanistan on Tuesday, while top Democrats promised to investigate what led to the swift Taliban takeover.
A group of Republican members of the House Armed Services Committee wrote Biden a letter blaming him for a lack of planning that led to "the horrific events currently unfolding in Afghanistan," while expressing concerns that Afghanistan could soon become an incubator for terrorism and possibly lead to a new 9/11-style attack.
"We remain gravely concerned the void left in Afghanistan will be rapidly filled by terror groups," reads the letter signed by ranking GOP committee member Rep. Mike Rogers (Ala.) and 25 of his Republican colleagues. "The Taliban now control the country. Al Qaeda used Afghanistan to plot and execute the 9/11 attacks and other acts of terrorism. You cannot let this happen again."
"We request that you immediately provide Congress with your plan to prevent terror groups from using Afghanistan as a safe haven to recruit and train the next generation of terrorists," it continued. "Mr. President, this crisis is happening on your watch. We are simply asking: what is your plan for Afghanistan?"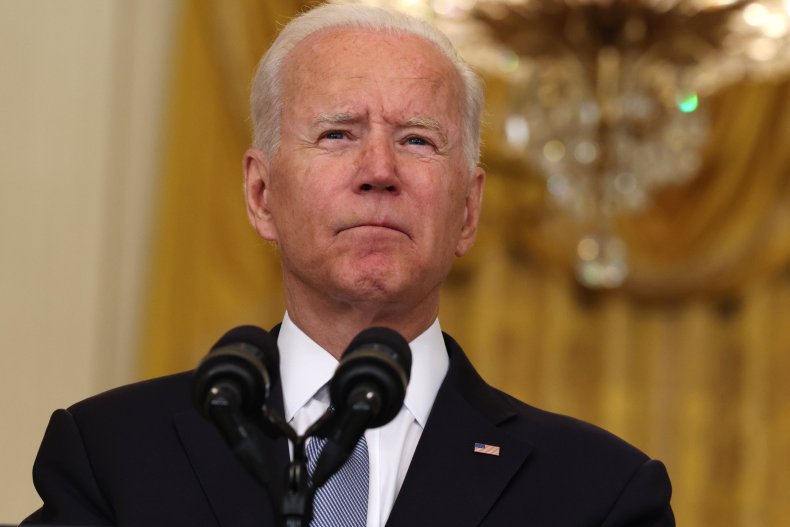 Meanwhile, Democrats also demanded answers from Biden concerning the quick collapse of the Afghan government following the withdrawal of U.S. troops. Several Democratic chairs of key Senate committees promised to investigate the matter, although many noted that the U.S. withdrawal plan had first been outlined and pushed by former President Donald Trump.
Senate Armed Services Chairman Jack Reed (D-R.I.) said in a Tuesday statement that the collapse was "not a Democratic or a Republican problem," maintaining that "failures have been manifesting over four presidential administrations of both political parties" and vowing that the committee would eventually hold hearings aimed at preventing similar failures in the future.
Senate Foreign Relations Committee Chairman Bob Menendez (D-N.J.) promised to hold a hearing focused on "the Trump administration's flawed negotiations with Taliban, and the Biden administration's flawed execution of the U.S. withdrawal."
"Congress was told repeatedly that the Afghan Defense and Security Forces were up to the task, that it had the troops, equipment and willingness to fight," Menendez said in a statement. "To see this army dissolve so quickly after billions of dollars in U.S. support is astounding."
On Monday, Senate Select Committee on Intelligence Chairman Mark Warner (D-Va.) expressed concerns about potential new terrorism threats while saying that he hopes his committee and others will "ask tough but necessary questions about why we weren't better prepared for a worst-case scenario involving such a swift and total collapse of the Afghan government and security forces."
Reed, Menendez and Warner were also among a group of 47 bipartisan Senators who on Monday wrote a letter to Secretary of State Antony Blinken and Homeland Security Secretary Alejandro Mayorkas urging the creation of a new "humanitarian parole category" that could allow women and others endangered by the Taliban to be relocated to the United States.
Biden defended his decision to withdraw U.S. troops in a speech on the same day, saying that he refused to "pass this responsibility on" to another president, arguing that the developments of the past week reinforced that ending U.S. military involvement in Afghanistan now was the right decision" and insisting that he remained focused on preventing new terror attacks.
Newsweek reached out to the White House for comment.