Democrats Propel MAGA's Don Bolduc to Victory Over Mitch McConnell's Morse
New Hampshire Republicans on Tuesday voted retired Army Brigadier General Don Bolduc to challenge Democratic Senator Maggie Hassan in November, after Democrats boosted his primary campaign.
The divided GOP primary was widely seen as a test of the future of the Republican Party, with Bolduc aligning himself with the party's pro-Trump MAGA wing—though former President Donald Trump did not weigh in on the primary. His top opponent was New Hampshire Senate President Chuck Morse, who was viewed as the more moderate, traditional conservative option.
With 82 percent of votes reported, Bolduc held a narrow lead of just over 1,000 votes over Morse, having received 46,343 votes compared to Morse's 45,073. Despite the full results having not yet been disclosed, Morse called up Bolduc to concede the race.
In a message to his supporters on Twitter, he said: I"t's been a long night & we've come up short. I want to thank my supporters for all the blood, sweat & tears they poured into this team effort. I just called and wished all the best to @GenDonBolduc. The focus this fall needs to be on defeating Maggie Hassan."
Bolduc's win is a victory for "MAGA" Republicans—a reference to Trump's 2016 campaign slogan, "Make America Great Again." Bolduc has embraced strongly conservative views and has embraced Trump's unfounded claims that the 2020 presidential election was stolen by widespread fraud.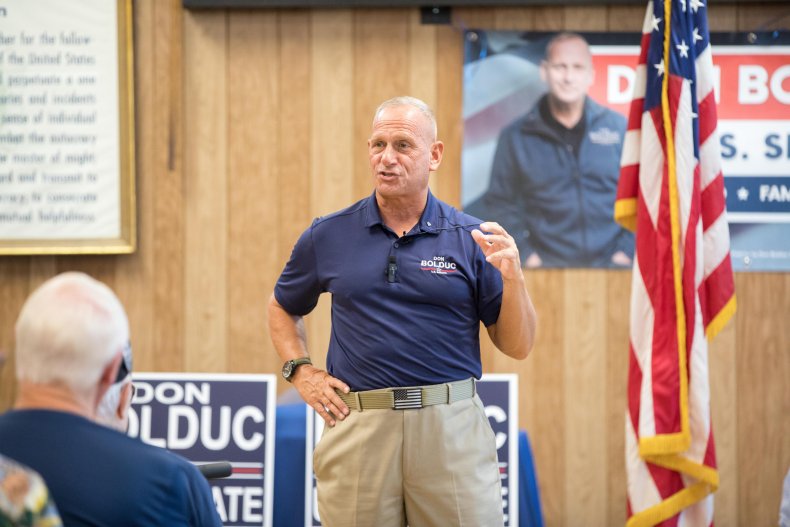 Morse's loss comes despite support from the party's establishment, including New Hampshire's moderate Republican governor, Chris Sununu. National Republican groups tied to Senate Minority Leader Mitch McConnell also spent money to support Morse's campaign, a sign they viewed him as their best hope of winning the general election in November.
Democrats sought to boost Bolduc in the primary in an effort to help Hassan have what they viewed as an easier matchup. The Democratic-aligned Senate Majority PAC released a TV ad this month highlighting Morse's ties to McConnell, who remains unpopular with many Trump supporters.
It's yet to be seen if the controversial strategy of interfering in GOP primaries will pay off for Democrats in November, but Democrats will be running against their preferred opponent. Still, critics warn that it could backfire, resulting in a more right-wing candidates being elected rather than someone willing to engage in bipartisan efforts.
"If I were a Democrat, I'd be seriously angry about it, frankly, because those folks could still potentially win. Democrats could be helping give the seat, not to a more reasonable candidate on the Republican side, but to folks that carry this kind of really bizarre extremism," Sununu told the New Hampshire Journal last month.
Still, some Republicans, including Sununu, have expressed concern that Bolduc might be too extreme to win in New Hampshire, a state President Joe Biden carried by seven points in 2020.
"He's not a serious candidate, he's really not," Sununu said in August. "If he were the nominee, I have no doubt we would have a much harder time trying to win that seat back."
Bolduc has also been critical of Sununu, calling him a "communist Chinese sympathizer" in 2021, according to New Hampshire Public Radio.
While New Hampshire remains a battleground state, Hassan is favored to win re-election in November, according to polls. An aggregate of recent polling from FiveThirtyEight showed Hassan with a 6.6-point lead over Bolduc. The most recent independent polling from Data for Progress from June 22 to July 8 shows Hassan with 49 percent support to Bolduc's 45 percent.
Hassan, who served as governor from 2013 to 2017, was elected in 2016, defeating Republican Kelly Ayotte by just over 1,000 votes. Republicans initially hoped Sununu or Ayotte would challenge Hassan, but both declined to run.