Democratic lawmakers were left furious and dissatisfied after a conference call Friday with White House officials over the Trump administration's inability to test large swaths of the public for the novel coronavirus, characterizing the federal government's national testing capability as "inadequate."
The conversation was between Senate Democrats and Vice President Mike Pence, along with additional members of the White House COVID-19 task force. The officials did "not give clear answers," fueling the frustration for the Democratic members of Congress, a Democratic source told Newsweek, who requested anonymity because they were not authorized to speak publicly about the private conversation that was held Friday afternoon.
"I have never been so mad about a phone call in my life," Sen. Angus King, an independent from Maine who caucuses with the Democrats, said during the call, according to the source.
He went on to say the administration's efforts to develop a national testing regime is a "dereliction of duty."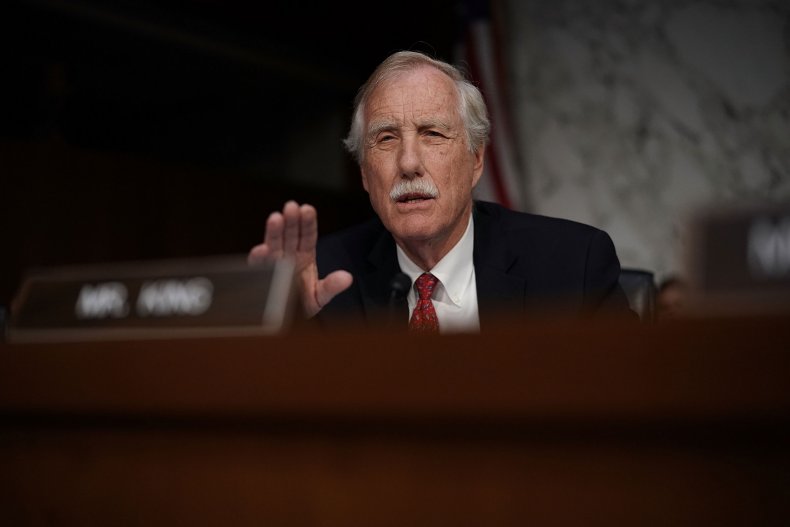 The office of the vice president did not immediately respond to Newsweek's request for comment.
The phone call took place as the White House, in consultation with public health officials and a bipartisan group of congressional lawmakers, is taking steps toward easing social distancing guidelines and reopening portions of the country where the novel coronavirus is less prevalent.
But health experts, state and local governments, and business leaders have warned that without adequate testing, the country will remain constrained in its ability to reopen the economy. And if it's done so prematurely, health experts and officials have said a second wave of the virus' spread could emerge and further strain America's health system.
The U.S. currently struggles with 100,000 tests per day, and anecdotes paint the picture of inconsistent testing capabilities in certain regions of the country. Some people have been denied tests or been forced to wait several days to learn of their results as a testing backlog persists, despite inaccurate, misleading or false claims made by President Donald Trump on the topic in recent weeks.
Democrats have ridiculed the president for the testing missteps, saying the federal government was woefully unprepared for such a global health crisis. The U.S. completed a total of 3.5 million tests as of Friday afternoon, according to the COVID Tracking Project.
"If you know me, you know I'm a pretty even-tempered guy – but right now, I'm angry," King later wrote on Twitter. "We need widespread testing to understand the scope of this problem and the administration has the tools to lead the charge. Instead, they're trying to offload this responsibility to the states."
State and local officials have pleaded for Congress to appropriate additional funds to combat the pandemic, a subject matter that, in part, has lead to an impasse between Republicans and Democrats over how to replenish a depleted pot of money for small business loans.
Speaking to reporters Thursday at a White House coronavirus briefing, Trump pitted the responsibility of testing on states, and he touted his administration for building "the most advanced and robust testing anywhere in the world, and we've done more testing than any country anywhere in the world."
"We're in very strong communication with the governors. We're going to be helping with testing. They're going to be doing the testing," the president said. "It's got to be a localized thing, and it really has been since I'd been involved. Because I came in and federal government's supposed to do testing of parking lots in the middle of a certain state that's 2,000 miles away. It's ridiculous."
Pence said the administration expects to complete five million tests by month's end.
The effort to reopen certain states and cities, which Trump has dubbed "Opening Up America Again," will be conducted in a series of phases designed to gradually lift restrictions that have crippled the American economy. A state or region must satisfy certain criteria, such as a decrease in the number of daily confirmed cases, for a 14-day period to advance to each phase.
Trump has also tapped dozens of lawmakers from both parties—including King—to act as an advisory group for rolling out the plan.
This story was updated to include a tweet from Sen. King.