Democrats Raise $13,000 to Reopen Firebombed North Carolina GOP Headquarters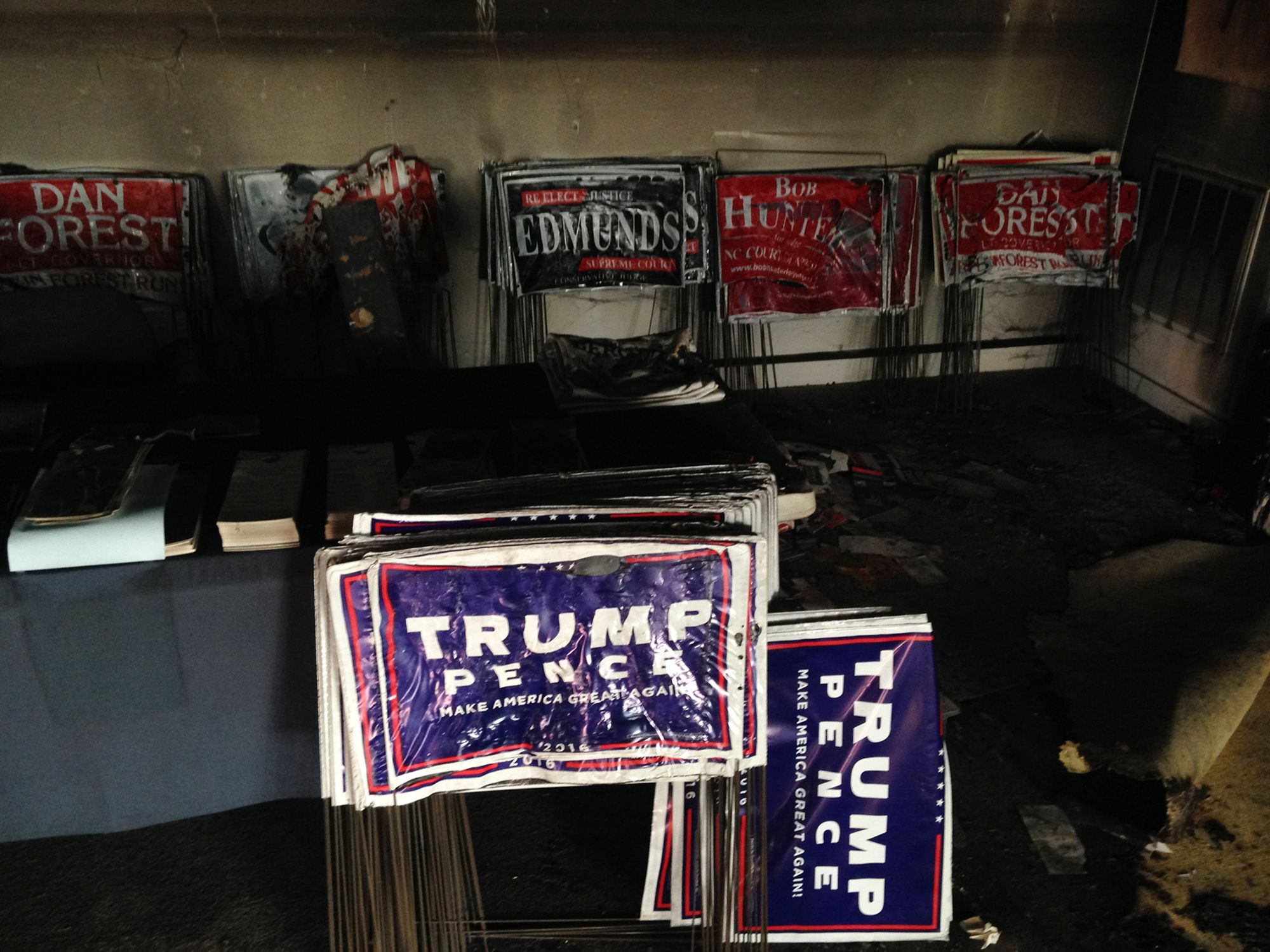 A group of Democrats raised more than $13,000 to help rebuild the Orange County Republican Party headquarters in North Carolina, after a perpetrator firebombed a building and vandalized a wall over the weekend.
A suspect who remains at-large threw a bottle of flammable liquid through a window of the GOP Orange County headquarters in North Carolina, setting ablaze campaign signs, supplies and furniture. The suspect also spray-painted a swastika and a threatening slogan,"Nazi Republicans get out of town or else," on a nearby wall. No one was injured.
In response, the Democrats created a GoFundMe webpage to help the office reopen as soon as possible. They reached their $10,000 goal within 40 minutes of setting up the site. At least 550 donors contributed a total of $13,107, according to the webpage. "This is not how Americans resolve their differences. We talk, we argue, sometimes we march, and most of all we vote. We do not resort to violence by individuals or by mobs," the group said on its website. "Let's all pitch in, no matter what your party affiliation, and get that office open again quickly."
Police and the federal Bureau of Alcohol, Tobacco, Firearms and Explosives are investigating the incident. Police believe it occurred between 9 p.m. Saturday and 9 a.m. Sunday. No damage estimates are yet available.
Governor Pat McCrory called the firebombing "an attack on democracy," and Republican presidential nominee Donald Trump blamed the "animals representing" his rival, Democratic candidate Hillary Clinton. Trump said the firebombing happened because he is winning in the polls. Meanwhile, the national polls show Clinton with a lead over Trump that has increased in recent days, since several women have accused Trump of inappropriate sexual conduct. Polls in North Carolina, which is a crucial swing state in the election, show Trump trailing Clinton. The two presidential hopefuls will face off in their third and final debate Wednesday in Las Vegas.
Clinton and other Democrats have condemned the bombing. Her campaign called the attack "horrific and unacceptable." After Clinton's campaign tweeted a message of sympathy, the North Carolina Republican Party responded by thanking her for her thoughts and prayers.
The group of Democrats has ended the fundraiser and is now encouraging users to donate to a North Carolina classroom.