Democrats Reintroduce Bill to Eliminate New Sports Stadiums' Tax Subsidies
House Democrats on Tuesday reintroduced a bill that would prevent newly built sports stadiums from collecting critical tax breaks.
The No Tax Subsidies for Stadiums Act will try and live up to its name if passed by Congress. The subsidies used by teams come in the form of tax-exempt municipal bonds derived from taxpayer money that can be requested by the teams for stadium purposes. Of the 57 stadiums built since 2000, 43 were at least partially funded by these bonds.
The bill was authored by Representatives Earl Blumenauer, Don Beyer and Jackie Speier, the latter a member of the House Committee on Oversight and Reform.
"There is no justification for these multibillion-dollar franchises to be eligible for tax-exempt municipal bonds," Speier told the Washington Post. "This is tax dollars that could be used for any number of really important public-interest programs."
She also told the newspaper that the amount of taxpayer money that has gone into new stadiums is about $4 billion. The break is often defended by the National Football League and its teams as a critical investment that helps improve their communities and local public interest, something that the act challenges.
The reallocation of taxpayer funds is not the only reason why Speier is advocating for the act's implementation. She also says that taking away the tax break could be seen as a punishment against teams that play dirty on and off the field, with the Washington Commanders at the top of her list.
"The Washington Commanders have shown over and over again their unwillingness to play by the rules," Speier said. "Even when [NFL Commissioner Roger] Goodell was forced to do an independent investigation of all these complaints of sexual harassment at the Washington team, they had a sidebar agreement that basically provided that they were just doing this for show. Well, this is not for show, this is for real."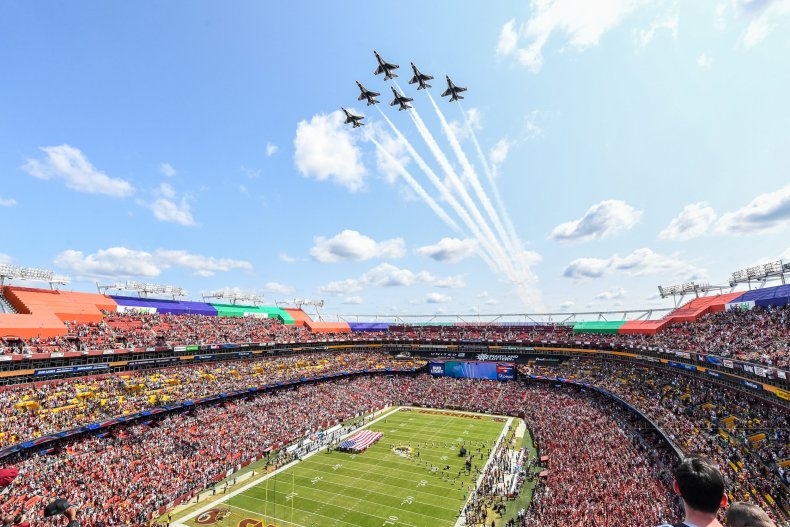 The Commanders have been the focus of a slew of recent controversies, with sexual harassment allegations against team owner Daniel Snyder of particular note. Six former employees of the team appeared in front of the House Committee on Oversight and Reform this month to discuss accusations that the NFL did not properly investigate Snyder on accusations of harassment and sexism.
"When the investigation of the air pressure of Tom Brady's football concludes with a 200-plus-page report, but the investigation into two decades of sexual harassment concludes with nothing, it shows the NFL's complete lack of respect toward women, their employees and for the culture of our country," former marketing department employee Emily Applegate told the roundtable.
Newsweek reached out to the Washington Commanders and the NFL but did not hear back in time for publication.
Update 2/22/22, 3:24 p.m. ET: This story has been updated with additional background information.