Democrats Renew Push to Protect DACA, Undocumented Immigrants in Next Coronavirus Relief
Senate Democrats are rekindling an endeavor to include protections for hundreds of thousands of undocumented immigrants, a portion of whom are health care workers on the frontline of the pandemic, in future coronavirus relief legislation.
"They risk their families' health to keep us safe," Senate Minority Leader Chuck Schumer (D-N.Y.) told reporters on a conference call Tuesday. "Now is the time more than ever that we need to stand with them and protect them during these awful times."
The safeguards would come in the form of work authorization extensions for more than 202,000 recipients of Deferred Action for Childhood Admissions (DACA) and roughly 130,000 Temporary Protective Status (TPS) holders who are essential workers. DACA shields roughly 700,000 undocumented immigrants from deportation who were brought to the United States as children while TPS allows about 317,000 people from 10 countries temporary protections because it's unsafe for them to return.
Amid the public health emergency, Democrats have repeatedly called on President Donald Trump to extend work authorizations, citing a renewal application backlog and increased difficulty in obtaining the required information to submit them under stay-at-home orders. The Democratic lawmakers have also tried—and failed—in the face of opposition from Republicans and the administration to pass these protections at the legislative level.
The uphill political battle comes in the aftermath of Democrats' unsuccessful attempt to include them in the $2.3 trillion stimulus passed by Congress last month. Schumer argued they have more leverage this time around, thanks to the virus demonstrating just how "vital" tens of thousands of immigrant health care workers are to combat the illness.
"I think it's showing America how much we need these folks to fight the crisis, and I think that will help us win new support," Schumer said.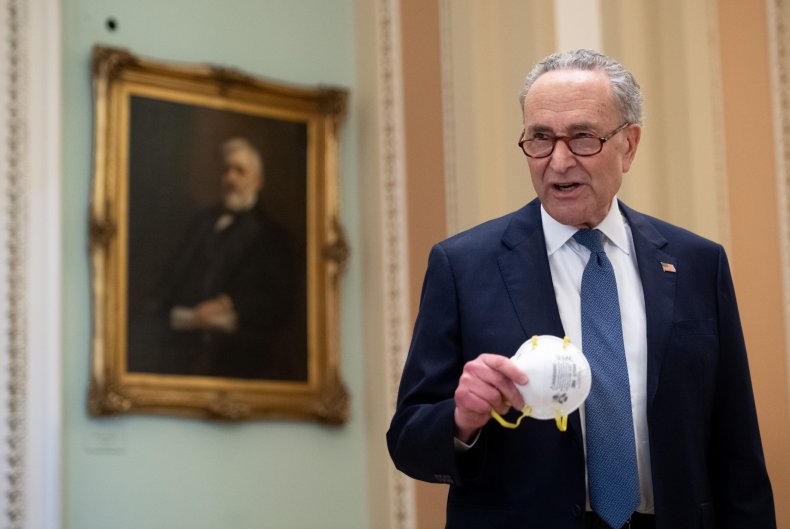 The endeavor also comes amid an impending ruling on DACA by the Supreme Court. The nation's highest court is considering the fate of the Obama-era program, which Trump moved to end his first year in office but has so far been blocked by federal judges from accomplishing.
North of 27,000 health care workers and support staff depend on DACA to work, the American Association of Medical Colleges argued in an October 2019 court filing.
"My patients don't care about my immigration status," Jose Aguiluz, a DACA recipient and Maryland operating room nurse, told reporters on the conference call with Democrats. Aguiluz was furloughed due to the postponement of elective surgeries and now volunteers to help with coronavirus testing at a drive-thru facility. "They care about the high-quality care I'm providing in their time of crisis."
Congressional lawmakers, particularly Democrats, are eyeing another massive economic relief package for Americans that could again total in the trillions of dollars as portions of the country begin to reopen for business. Proposals from Democrats, Republicans and the White House range from more cash payments and small-business loans to funding state and local governments and payroll tax cuts.
But many Republicans, including Senate Majority Leader Mitch McConnell, are hesitant to dole out more federal money over concerns about the skyrocketing deficit and desire to study how the funds have been appropriated.
The Kentucky Republican has warmed to the idea for more aid but emphasized only if liability protections for workers and businesses are included as companies reopen, a demand that Democrats have ridiculed as unnecessary and is expected to be at the heart of forthcoming negotiations.
In similar fashion, Democrats have said their red line in the sand is money for state and local governments and that a deal will not happen without it. The House planned to originally return to session next week and finalize their next economic proposal. However, Majority Leader Steny Hoyer (D-Md.) told reporters Tuesday that at the advisement of the U.S. Capitol physician, they were postponing and will "come back very soon to consider" the legislation. The Senate still plans to reconvene Monday.
Neither McConnell's office nor the White House responded to Newsweek's inquiries about the demand for undocumented immigrant protections.
Democratic Sens. Dick Durbin (Ill.) and Bob Menendez (N.J.), both members of leadership, are also aggressively calling for the safeguards.
"For our federal government to suddenly begin deporting thousands of EMTs, doctors, nurses and hospital staff would be yet another self-inflicted wound in the administration's woefully inept repose to this pandemic," Menendez contended.
National Latino and immigration organizations say that despite the virus disproportionately impacting their communities, they've been largely excluded from the nearly $3 trillion in total federal aid approved by Congress. Nearly two-thirds of Hispanics have lost their jobs or face economic hardship because of the outbreak.
The push to protect those on the frontlines who could become vulnerable for deportation also comes in the wake of Trump's proclamation last week suspending some immigrants from entering the country amid the global health calamity.
Schumer accused the president of using immigrants as "scapegoats" and the ban to "distract from his failures in responding to this crisis."
This story was updated to include information from Hoyer.