It's about as heated a time as any in recent memory for the United States. It often feels like Republicans and Democrats can't agree on anything.
But that's not quite right.
Democrats and Republicans, for the most part, do agree that they prefer white turkey meat on Thanksgiving versus dark turkey meat, according to a new poll released Wednesday by YouGov/The Economist.
The survey asked—under the header "Thanksgiving meal controversies"—"When it comes to turkey, do you prefer dark meat (leg or thigh) or white meat (turkey breast)?"
Respondents were able to choose among "Dark meat (leg or thigh), "White meat (turkey breast), "I like both," "I do not eat turkey" and "not sure."
Among Democrats, 44 percent chose white meat, 17 percent said dark meat, 30 percent liked both and 9 percent did not eat turkey. The figures for Republican respondents were remarkably similar. Forty-two percent of GOP respondents preferred white meat, 19 percent liked dark meat, 34 percent liked both and 5 percent did not eat turkey.
The poll from YouGov surveyed 1,500 U.S. adults from November 18 through November 20. It had a margin of error of plus or minus 3.3 percentage points.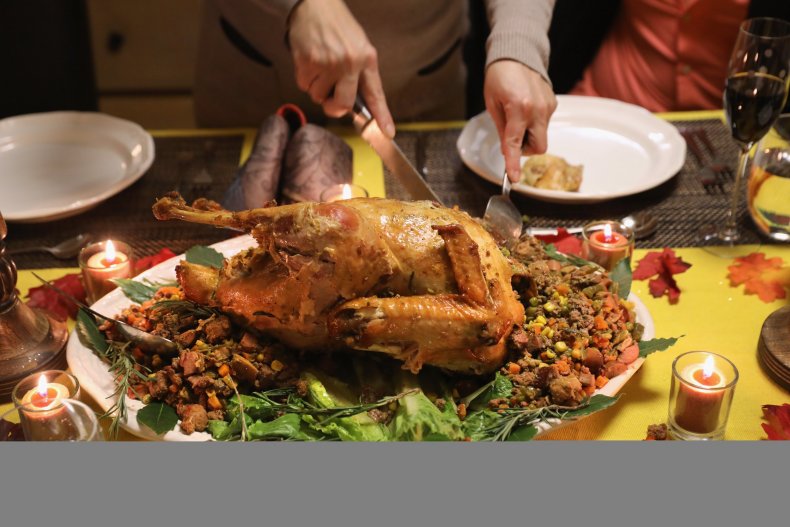 Perhaps predictably, the numbers for Americans overall looked a lot like those for Democrats and Republicans—since many Americans are aligned with one of those political parties. Forty-one percent of all Americans preferred white meat, 17 percent dark meat, 32 percent liked both, 7 percent said they don't eat turkey and 3 percent weren't sure.
Here's the thing about most Americans preferring white meat—this writer would argue most Americans are hopelessly wrong. Dark meat is the superior product. It's more moist, flavorful (thanks to it being a fattier part of the bird) and harder to mess up.
As Serious Eats points out, there's a reason that's the case. White meat starts to dry out above 145 degrees Fahrenheit. Dark meat, meanwhile, has to cook to at least 165 degrees Fahrenheit—and most folks end up going beyond that—to break down connective tissue in the turkey. So, unless you're butchering the turkey and cooking it in multiple parts—something almost no one does on Thanksgiving—you're nearly certain to overcook the white meat.
But hey, if America can agree on something—even if that something is wrong—who are we to argue with it?