Democrats Are Banking on Republicans Finally Standing Up to Donald Trump Over 'Lawless' National Emergency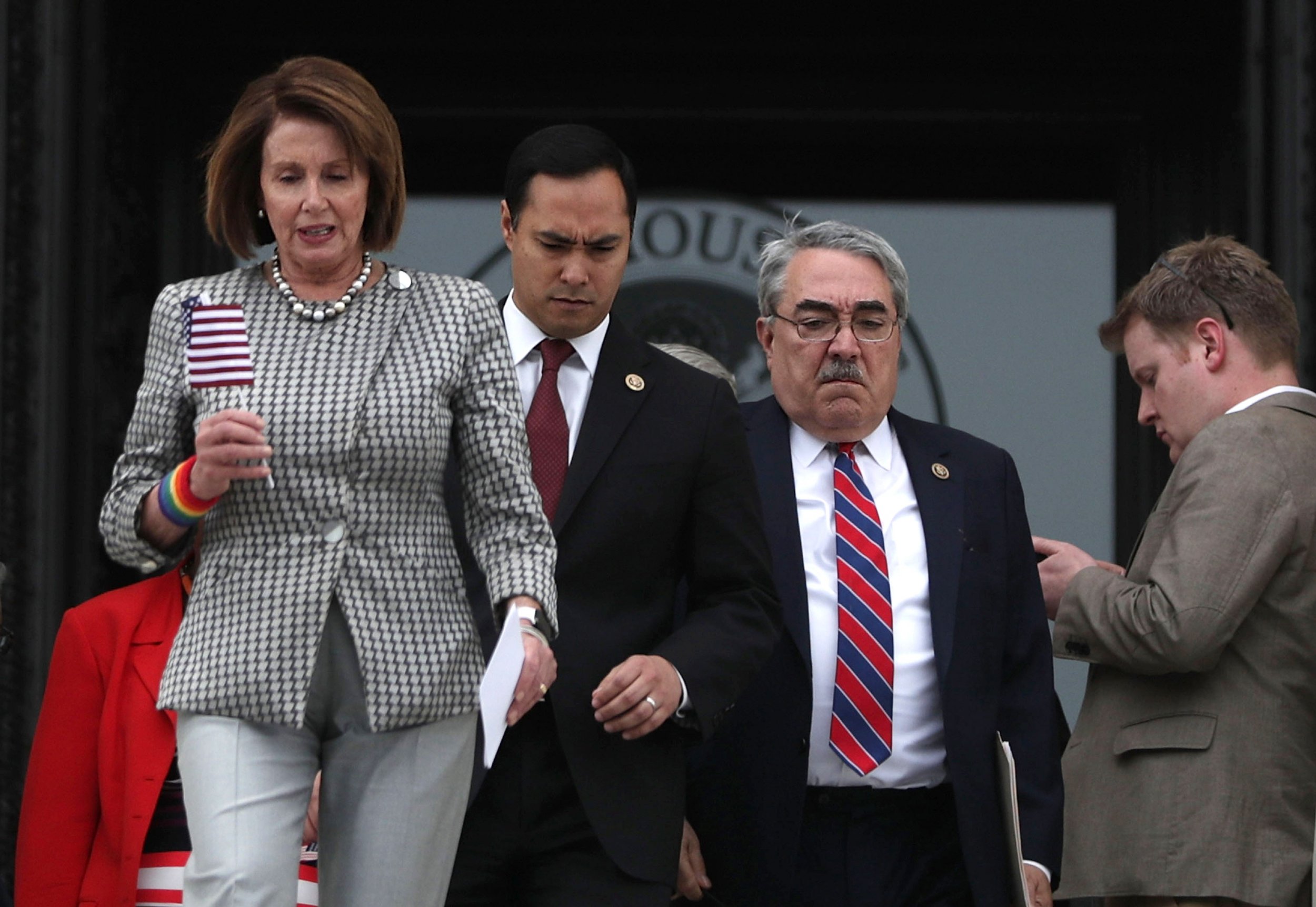 The House will vote on a joint resolution Tuesday that would terminate President Donald Trump's national emergency declaration for additional border wall funding, House Speaker Nancy Pelosi said Friday. The measure will then head to the Senate, where it must be voted on within 18 days.
The legislation, filed by Representative Joaquin Castro of Texas, will likely pass the House, and there are intimations that some Republicans will help it pass the Senate, but there is a slim chance Congress can muster a two-thirds majority to override the president's veto. As of Friday, Democrats had not publicly indicated they had a contingency plan in place for if and when the joint resolution fails.
"Right now, today, it's about the resolution," Pelosi told reporters on a conference call during a trip to the U.S.-Mexico border in Laredo, Texas.
Castro, also on the call, said his office was actively whipping GOP votes, and Senate Minority Leader Chuck Schumer in a statement urged his Republican colleagues to support the measure. With Congress in recess until Monday, an effort to drum up bipartisan support has proved to be a challenge. Out of the 226 co-sponsors in the House, Castro said just one Republican, Justin Amash of Michigan, had so far signed on.
"My staff has been making calls furiously," the Texas congressman said. "I'm going to be making calls between now and [Monday] and making the case that we should join together as Americans and as members of Congress to stop what I consider [to be] a parasitic action by this president to unilaterally declare an emergency on a border wall and spend money on a border wall that the United States Congress…did not authorize."
Republicans in the age of Trump have been reluctant to cross him, knowing his base holds power when it comes to the ballot box. Rare instances of foreign policy revolts, often led by GOP Senator and Trump ally Lindsey Graham on issues regarding Saudi Arabia, Yemen and Syria, have led to some GOP members of Congress standing up to the president. And some conservative Senate Republicans have signaled an appetite for combating a presidential declaration that uses such broad, unilateral executive authority.
Graham told Fox News Friday he believed "a handful" of his GOP colleagues would defect to support the Democrat-backed resolution, but "there will be enough [left] to sustain a veto." The South Carolina Republican noted he would "absolutely not" be one of the dissenters.
The top Republican on the House Judiciary Committee, Doug Collins, echoed Graham's belief in a statement that Democrats will lack a veto-proof majority. Meanwhile, Democrat and House Intelligence Chairman Adam Schiff pleaded with Republicans in a Washington Post op-ed Thursday to share their private concerns publicly.
"Many of you have acknowledged your deep misgivings about the president in quiet conversations over the past two years," Schiff wrote. "But for reasons that are all too easy to comprehend, you have chosen to keep your misgivings and your rising alarm private. That must end. The time for silent disagreement is over. You must speak out."
Castro believes if the legislative branch "rolls over on this" and fails to rein in Trump's executive action to appropriate monies, "the president will very likely try this again."
In addition to the $1.375 billion appropriated by Congress in a compromise government spending bill, Trump said he would take another $600 million from the Treasury Department's drug forfeiture fund, $2.5 billion from the Defense Department's drug interdiction efforts and roughly $3.5 billion from Department of Defense military construction, for a total of $8 billion. But the president may have to look elsewhere for money, as only $85 million of the Defense Department's $2.5 billion of the counterdrug money remains, Roll Call reported.
"Not only are they doing the wrong thing," Pelosi said of the Trump administration, "they don't know what they are doing. This could be very dangerous." Trump is "dishonoring the office in which he serves," she said.
Legal challenges have been filed by the likes of private citizens along the border, advocacy groups and the American Civil Liberties Union, as well as 16 state attorneys general. But congressional Democrats are refraining from saying what, if any, legal remedy is at their disposal.
"We have five committees of jurisdiction that might have reason to file one thing or another," Pelosi said when asked about legal alternatives to Congress's joint resolution. "We'll be working in a very focused, strategic way as to what we might do next in that regard, but I'm not announcing any of that today."
A Democratic leadership aide told Newsweek the House was "focused on getting a strong vote here. No decisions have been made on legal options at this time."
Although congressional Democrats may not know exactly which legal routes they will take, they've continued to reiterate their beliefs that Trump's declaration is unconstitutional.
"The president's act is lawless; it does violence to the Constitution and therefore to our democracy," Pelosi said. "The president's declaration clearly violates Congress's power of the purse." Following Trump's national emergency declaration, she and Schumer immediately said they would "defend our constitutional authorities in the Congress, in the courts and in the public, using every remedy available."
Castro called the president's move an "unconstitutional power grab."