Democrats Determined to See Roe v. Wade Overturned Face Backlash
Two Democrats are facing backlash after joining more than 200 Republican Congress members on Thursday in calling on the Supreme Court to consider overturning Roe v. Wade, the landmark 1973 ruling that established the right to abortion in the United States.
The message from lawmakers came in an amicus brief in the case of June Medical Services L.L.C. v. Gee, which questions the constitutionality of a Louisiana state law requiring doctors performing abortions to have admission privileges at a nearby state-authorized hospital.
In the amicus brief, lawmakers wrote that "forty-six years after Roe was decided, it remains a radically unsettled precedent," with "two of the seven justices who originally joined the majority" subsequently repudiating it "in whole or in part." Further they said, "virtually every abortion decision since has been closely divided."
While the majority of Republican Congress members signed their names under the brief, only two Democrats did the same: Reps. Collin Peterson of Minnesota and Daniel Lipinski of Illinois.
In a statement sent to Newsweek, Peterson explained his decision to sign the amicus brief, saying: "What people don't seem to remember is that being pro-life didn't used to be a partisan issue."
"I signed on to this Amicus Brief because I am pro-life," he said. Lipinski has not immediately responded to a request for comment from Newsweek.
Both Democrats are known to be conservative-leaning, with Lipinski's anti-abortion stance already being a point of contention within his party this past year.
In May of last year, Rep. Cheri Bustos, the head of the House Democrats' campaign arm, called off plans to fundraise for Lipinski amid scrutiny over his anti-abortion stance.
"I'm proud to have a 100 percent pro-choice voting record and I'm deeply alarmed by the rapidly escalating attacks on women's access to reproductive care in several states," Bustos said at the time in a statement published by Politico. Therefore, she said: "I've determined that I must cancel my participation in this event."
Bustos' reversal came amid a growing focus on the abortion debate, which took center stage with the controversial confirmation of Justice Brett Kavanaugh to the Supreme Court.
Anti-abortion lawmakers across the country have pinned their hopes to see Roe v. Wade overturned on Kavanaugh's confirmation, believing that with a five-justice conservative majority in Supreme Court, the ruling's days could be numbered.
Lipinski has long made his anti-abortion stance clear, with the Illinois Democrat being one of the few left in his party to maintain an anti-abortion stance.
Under the Obama government, Lipinski was the only Illinois Democratic Congress member to oppose the Patient Protection and Affordable Care Act, despite having voted in favor of a previous version that had included more severe restrictions on abortion funding.
Meanwhile, his fellow Democratic signatory, Peterson, has also been an outlier in his party, even breaking with Democrats in last month's vote to impeach President Donald Trump.
In a statement published online, Peterson said he felt the inquiry into impeaching Trump and the subsequent hearings were "partisan" and "failed in convincing the country."
"How can it be that after all the testimony, every Democrat thinks the president has committed an impeachable offense and every Republican thinks he has not?" he questioned.
"This process has been a mistake and I will not be whipped in line by my party," Peterson said. "I may stand alone but I stand in good conscience. History will show this to be a mistake and the Senate will make short work of an acquittal."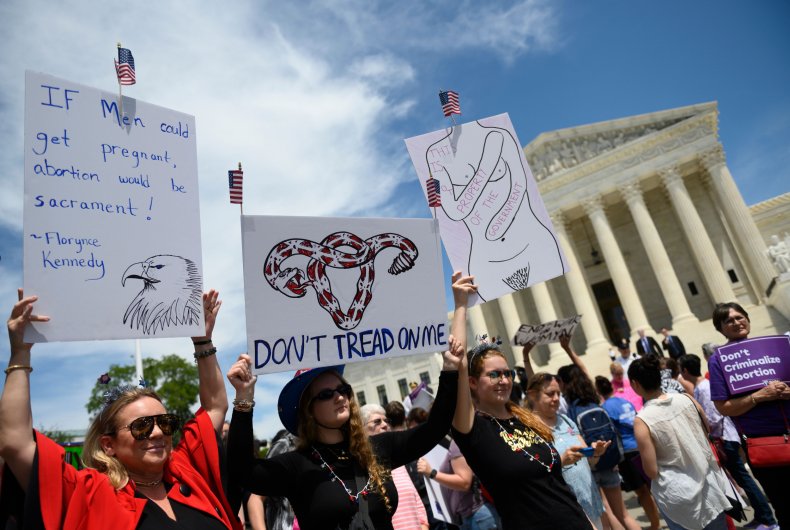 Since signing the amicus brief, both Democrats have begun to face backlash on social media for breaking with the majority of their party on the abortion debate, with activist and filmmaker Adam Best calling their decision "completely f***ing unacceptable."
"There should be no room for anti-women's rights radicals in the Democratic Party," he said in a tweet.
Others have called for voters to unseat the right-leaning Democrats, with former Occupy Democrats managing editor Brian Tyler Cohen calling on Illinois voters to donate to and vote for Lipinski's primary political opponent, Marie Newman.
Newman herself also lashed out at Lipinski for signing the brief, saying his position in Congress "jeopardizes the health of women" in Illinois "and across the country."
"My opponent does not trust women and is not fit to represent us," she said.
In an interview with Newsweek, National Institute for Reproductive Health President Andrea Miller said that she hoped the Supreme Court would put its own trust in those who would be effected by Roe being overturned, rather than only Congress members.
"I would just hope the Supreme Court would take most seriously the experience and needs of women and others who can become pregnant," she said.
This article was updated with statements from Rep. Collin Peterson and from the National Institute for Reproductive Health.