Democrats Reveal Their Partisan Hypocrisy on Biden and Kavanaugh | Opinion
The most potent weapon in politics is exposing hypocrisy. And Democrats running for Senate have shown their partisan hypocrisy when it comes to the sexual assault allegations levied against Joe Biden, the former vice president and presumptive Democratic presidential nominee.
Most of these politicians demanded that we #BelieveAllSurvivors less than two years ago, when Christine Blasey Ford accused—with zero corroborating evidence—Justice Brett Kavanaugh of sexual misconduct when he was a teenager. They insisted that the Senate and the American people should blindly believe Ford. But now that Biden is accused of sexual misconduct, Democrats have conveniently changed their tune.
The partisan double standard Democrats have applied is disgraceful (but unsurprising): #BelieveAllWomen who accuse Republicans (and throw-away Democrats, like former U.S. Senator Al Franken (D-MN), who could safely be replaced with another liberal Democrat) and ignore women who accuse politically valuable Democrats. What the real motto of the Democrats is: They believe all women who accuse Republicans. When a woman accuses a Democrat, different rules apply: They do not believe all women who accuse Democrats.
Democrats running for Senate have endorsed Joe Biden for president. Now, Biden faces accusations of workplace—in the Senate, no less—sexual assault and retaliation by Tara Reade, his former Senate aide when he served as the powerful Senate Judiciary Committee chairman. These Democratic Senate candidates initially largely remained silent, in contrast to their knee-jerk, extreme responses to the evidence-free allegations against Justice Kavanaugh.
Reade's allegations against a very powerful former Senate Judiciary Committee chairman are much more relevant, serious, specific, corroborated and credible than are Ford's—against someone, as they were, who was a teenager at the time. And when the Democrats finally found their voices and were forced to respond, they showed a clear double standard and partisan hypocrisy by dismissing Reade's allegations as meritless—despite drastically more corroborative evidence than there ever was against Justice Kavanaugh (again, zero).
Have the Democrats running for Senate this cycle so drastically changed their views on sexual assault allegations in such a short time? Or do they simply want to change the rules based on the political party of the accused?
Take an example. Senator Doug Jones (D-AL) voted against Justice Kavanaugh's confirmation, citing Christine Blasey Ford's "credible and courageous" testimony and his "concern[] about the message our vote...to our sons and daughters, as well as victims of sexual assault." Is Jones not concerned about the message his Biden endorsement sends to our sons and daughters, as well as victims of sexual assault? Does Jones think all survivors are credible and courageous when they tell their stories—or only the ones whose stories damage political opponents?
Senator Gary Peters (D-MI) voted against Justice Kavanaugh, too, explaining that when Peters watched Ford, he "didn't see a partisan ideologue motivated by politics," but rather "a woman speaking with credibility, earnestness and bravery." Incredibly, Peters endorsed Joe Biden for president after Tara Reade's allegations became public. Does Peters think that Reade, a lifelong Democrat, is "a partisan ideologue motivated by politics?" Or are Peters' views motivated by his own partisan ideology?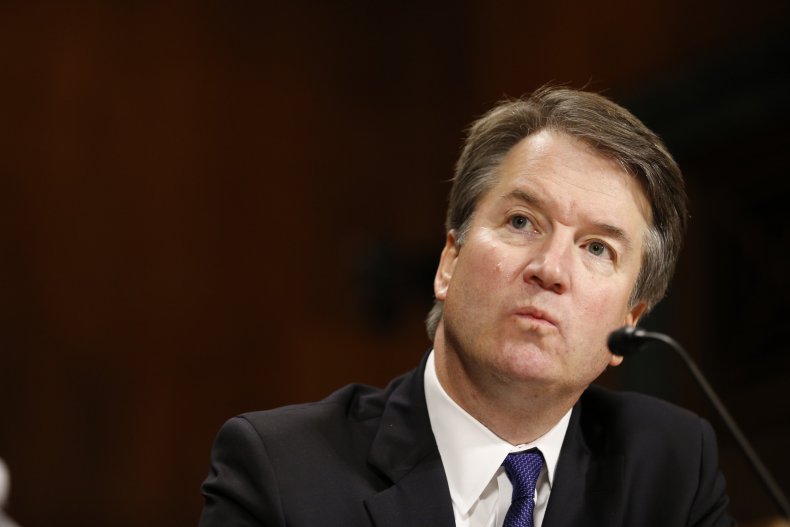 Maine Democratic Senate candidate Sara Gideon's campaign was supposedly motivated by Maine Senator Susan Collins's vote to confirm Justice Kavanaugh. To commemorate the one-year anniversary of Ford's testimony, Gideon tweeted a picture of Ford with the caption: "One Year Ago Today. Thank you Dr. Ford for your bravery." Does Gideon think all sexual assault survivors should be believed? Does Gideon think Ford exhibited bravery in telling her story, but Reade did not? Or does the "bravery" of an accuser depend on the political identity of the accused?
Kentucky Democratic Senate candidate Amy McGrath has taken a few different positions on this issue, initially explaining that she thought Ford's allegations were "credible...but given the amount of time that lapsed in between and from a judicial standpoint, [she doesn't] think it would really disqualify" Kavanaugh. McGrath then had a sudden change of heart after being attacked by progressive activists. "Upon further reflection," McGrath claimed, she "would have voted no" on Justice Kavanaugh's confirmation. Does McGrath now think Reade is credible? Does McGrath think Reade's allegations should disqualify Joe Biden—or has the political statute of limitations expired on workplace sexual assault and retaliation?
Former Governor John Hickenlooper (D-CO)—who was just found by an ethics panel with two of his own appointees in contempt and in violation of Colorado's gift ban related to his acceptance of illegal and lavish gifts—said he "to a large degree" believes Reade's workplace sexual assault and retaliation allegations against Biden. Yet, Hickenlooper still supports Biden's presidential bid.
Many other Democrats running for Senate this year—including former Governor Steve Bullock (D-MT), Cal Cunningham (D-NC), Theresa Greenfield (D-IA) and Mark Kelly (D-AZ)—have so far issued mild statements in support of Biden. The public deserves to know where they stand. One of the most important roles of a senator is to vet a president's judicial nominees. How would they have voted on Kavanaugh's confirmation? Do they believe Ford's allegations? Do they believe Reade?
The resounding hypocrisy from these Democrats in the face of Reade's relevant, serious, specific, corroborated and credible allegations of workplace—in the Senate—sexual assault and retaliation suggests that these Democratic politicians are coming around to the view that allegations are not irrefutable proof, and that the mindless calls to automatically #BelieveAllWomen is not the answer. If so, we can only now say, "better late than never." We should all be willing to change our views and admit when we were wrong. All of these Democrats owe Justice Kavanaugh, his family and the American people a public apology for their participation in the degradation of the Senate, the Supreme Court and America's commitments to the presumption of innocence and due process of law. The American public should never forget their partisan hypocrisy.
Mike Davis is the founder of The Article III Project. Davis previously served in high-profile government roles, including chief counsel for nominations to Senate Judiciary Chairman Chuck Grassley (R-IA). He also served as a law clerk to Justice Neil M. Gorsuch on the Supreme Court.
The views expressed in this article are the writer's own.