Democrats See Path for Kamala Harris to Reshape Her Vice Presidency in 2022
As vice president, Dick Cheney left his mark by seizing unprecedented influence in foreign policy. Joe Biden made himself an invaluable adviser on Congress and global affairs. Mike Pence will be remembered as the most loyal of sidekicks, until he wasn't. Vice President Kamala Harris, in contrast, finished her first year in office without a recognizable political brand that sets her apart, and burdened with a set of assignments arguably far more challenging than the ones Biden received when he held the office.
Just one month into their first term, President Barack Obama put Biden in charge of the administration's biggest project: an economic stimulus package designed to pull the country out of the Great Recession. Faced with an even greater crisis after being sworn in last year, Biden did not hand Harris similar control of the government's Covid relief plan. Harris last year drew two of the hardest tasks for any administration -- addressing the root causes of migration from Central America to the United States, and pushing major voting rights legislation through an evenly divided Senate.
Harris so far does not appear to have the level of responsibility that Biden had when he was vice president, Ed DeSeve, who served as Biden's top deputy in charge of implementing the economic stimulus, told Newsweek. "It was clear on a day-to-day basis that Biden was running the show [on handing out stimulus funding]," DeSeve said. "He didn't call the president to say, 'I'm going to talk to such-and-such senator about an issue.' He just did it. [Harris] hasn't had operational control of any specific thing."
Harris made some early progress on immigration, but the work has been overshadowed by a rise in migrants arriving at the U.S. border with Mexico. And last month, Senate Democrats failed to pass what would have been historic voting rights legislation, missing their best window to act before the midterms. Harris has stumbled at times while navigating the heightened scrutiny that comes with being the first woman and person of color to hold her office -- and with serving alongside a president whose age has sparked endless questions about their shared political future. Her poll numbers have slipped. According to a Politico/Morning Consult survey conducted shortly after her inauguration, 54 percent of registered voters held a favorable view of Harris; one year later, the same poll found the number had dropped to 40 percent.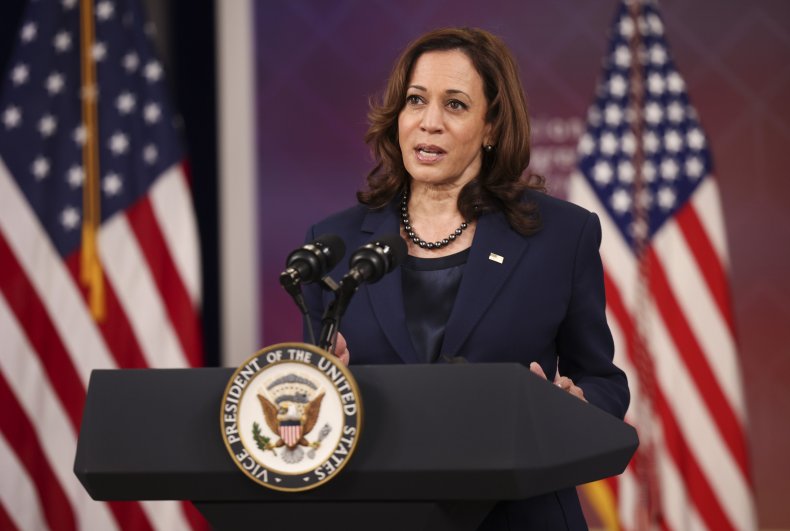 Yet despite the setbacks, Democrats increasingly view Harris as a potential bright spot heading into what could be a brutal midterm election cycle for the party in power. Changing the public narrative surrounding her vice presidency won't be easy but supporters insist it's possible if Harris gets out of the Washington bubble more often, communicates clearly with voters about her place on Biden's team, and finds a way to recapture the energy and flash the skills that catapulted her to the Senate and a run at the presidency.
As she settles into year two on the job, Harris would be wise to bring on more seasoned aides, said one Biden ally who requested not to be named in order to discuss internal White House dynamics with Newsweek. "She needs her own Ron Klain or Steve Ricchetti or Cedric Richmond who can be a forceful advocate at the most senior levels of the White House to put her in a position to succeed," said the source, referring to members of Biden's senior White House team. Within the vice president's office, Harris' chief of staff, Tina Flournoy, "is certainly at that level, but she's flying solo."
Harris could benefit from tackling additional issues that put her "enormous intelligence and insight and credibility" to use, said Sen. Richard Blumenthal, D-Conn. "She's taken on the toughest tasks that the administration [has]. Maybe she could be given, in this next year, an assignment that is more likely" to raise her profile, he said.
"Historically the vice presidency has been a real challenge, personally and politically," said Illinois Sen. Dick Durbin, the second-ranking Democrat in the Senate. Harris "obviously has the friendship and trust of the president, which is the right starting point. And over time I think her role will expand. His did," Durbin added, referring to Biden's tenure as vice president.
Julian Zelizer, a historian at Princeton University, said most vice presidents struggle to find their footing and few have had real influence in shaping administration policy. Harris is "not doing something drastically worse [than her predecessors] but she's definitely in trouble if she wants to make herself a candidate for president in the future," he said.
This account of Harris' first year in office and her outlook for 2022 is based on interviews with nearly two dozen Democrats in Congress, outside advisers, party officials and other allies, some of whom requested to speak anonymously to offer a candid assessment of the vice president.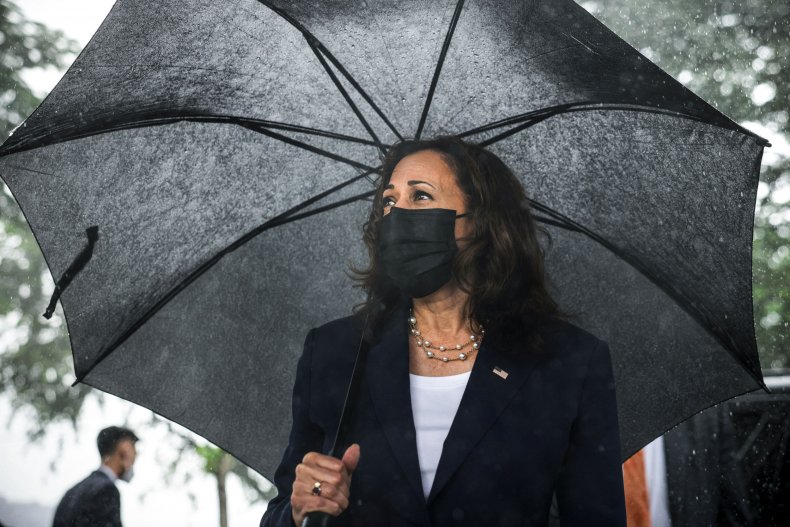 Not everyone believes Harris will be an effective messenger for Democrats in the midterms. Republicans argued that Harris won't have major accomplishments to point to, either her own or the administration's. "It seems like the president's given her one losing issue after another," said Sen. John Cornyn of Texas.
Kendra Cotton, the COO of The New Georgia Project, a nonpartisan voting rights advocacy group, said her group's internal polling shows Harris' popularity has declined among Black voters in Georgia, a key constituency that helped Biden and Harris carry the state in 2020 and that will once again play an important role in a closely watched Senate race this fall. "I empathize with the vice president but it's not an excuse for inaction and a lack of results," said Cotton. "She hasn't been at the top of her game. My advice would be to step it up. Be who we elected you to be."
A spokeswoman for Harris said the vice president has a clear agenda going forward.
"The vice president will continue to work closely with the president to further the administration's goals of protecting the freedom to vote, combating COVID-19, strengthening our economy, investing in our nation's infrastructure, and rebuilding America's relationships with our allies," said Sabrina Singh, deputy White House press secretary.
Whatever her focus in 2022, the vice president still faces the challenge of breaking through in a news cycle dominated by the economy and pandemic, said Robert Shapiro, a political science professor at Columbia University who studies public polling. So far, "the bad news has outweighed the good news, either because there's more of it or because it's been emphasized more in the public debate and the media."
Still, Democrats inside and outside Washington said regardless of what happened last year, Harris -- with help from the White House -- has time to turn around her numbers before the midterms. As a barrier-breaking figure, "every time she gets off the plane and walks down the ramp, [Harris is] making a statement about America," said Tad Devine, a veteran Democratic consultant. "I would get Harris out there as much as possible."
The Impossible Immigration Assignment
Two months after taking office, Biden gave Harris a narrowly tailored immigration portfolio consisting of two specific tasks: addressing the root causes of migration from Central America and reducing the flow of migrants entering the U.S. from Mexico. From the start, the White House told Democrats in Congress that Harris would have her own immigration lane, focused on those issues south of the border, while Biden's immigration advisers continued their separate effort to build bipartisan support on the Hill for a reform bill that would provide a pathway to citizenship and other protections for the nation's estimated 11 million undocumented residents, according to several House and Senate aides who worked with the West Wing on the legislative process. Leaders in the immigration reform movement got the message as well.
"We're in conversations with [the president's] senior staff that advise him on immigration," not Harris and her team, said Greisa Martinez, deputy executive director of the advocacy group United We Dream.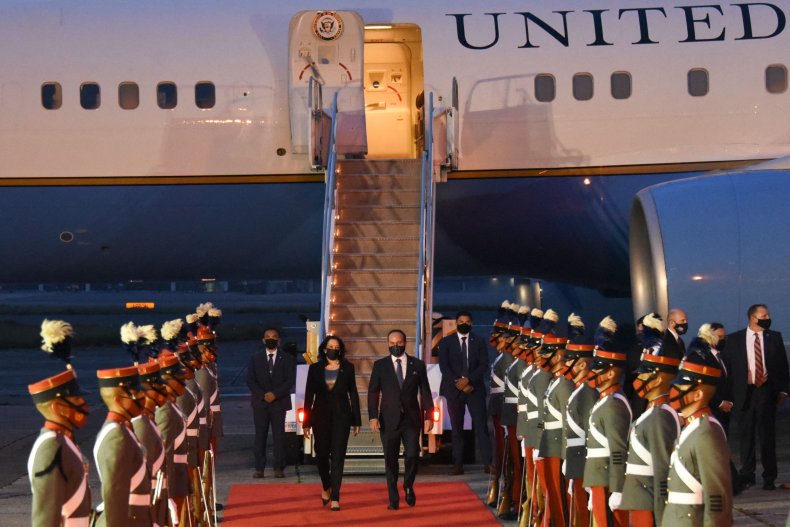 Harris has found moments to participate in the broader immigration debate. The vice president often sits in on immigration meetings at the White House, as does her staff. Harris also raises immigration in private calls with her former Democratic colleagues in the Senate, several Democrats said. Harris also wades into the immigration fight on occasion in public, such as the day last July when she held a meeting in her office on the Deferred Action for Childhood Arrivals program. Harris began the gathering by asking the DACA recipients seated around the table to share their personal stories, creating an emotional moment that served as a reminder of the program's popularity with both parties in Congress.
"[The vice president] understood the urgency of the moment" and how to use her office to draw attention to the issue, said Martinez, a DACA recipient herself who attended the meeting. Still, Martinez and other immigration advocates said the substantive work on DACA and other legislative proposals related to immigration have been handled by Biden's aides.
For the most part, sources in Congress, Harris allies and others said, the vice president has remained on the periphery of the immigration conversation in Washington. While Democrats pushed for broad domestic reforms on the Hill, Harris plowed forward with an arguably even harder immigration assignment -- one that received far less attention and offered few opportunities to show immediate results.
Last April, Harris announced the administration was sending $310 million in humanitarian relief to Central America. Harris also secured commitments from Microsoft, PepsiCo, Cargill and other companies to increase investment in the Northern Triangle countries of El Salvador, Honduras and Guatemala. And last month the vice president announced a new round of private investment aimed at creating more jobs in the region.
"The Vice President secured $1.2 billion in commitments from businesses and social enterprises in response to her Call to Action last year to address the root causes of migration by promoting economic opportunity," Singh said. She added that the administration's broader plan to tackle root causes "identifies, prioritizes, and coordinates actions in the region in order to improve security, governance, human rights, and economic conditions."
The efforts have elevated an issue that has been largely overlooked since the Obama years, when improving conditions in Central American countries as a way to deter migration was one of Biden's chief assignments as vice president. "Centering that role in the vice president's office, there's a lot of value in that. It'll make sure that things get done," said John Sandweg, a former acting director of U.S. Immigration and Customs Enforcement under Obama.
"But ultimately if the goal is to address the root causes of migration, the extent of migration is how you judge success or failure. It's the critical metric," Sandweg said. The challenge for Harris, he added, stems from the fact that "the U.S. ability to control the number of people who show up at our border is far weaker than people realize."
Harris' early progress in the Northern Triangle has been overshadowed by a rise in migrants crossing the U.S.-Mexico border. U.S. Customs and Border Protection reported 1.7 million encounters with migrants at the southern border in fiscal year 2021. The figure was more than three times greater than the previous year, when migration was down because of the pandemic, and also represented a sharp increase from the pre-pandemic total of nearly 1 million in fiscal year 2019.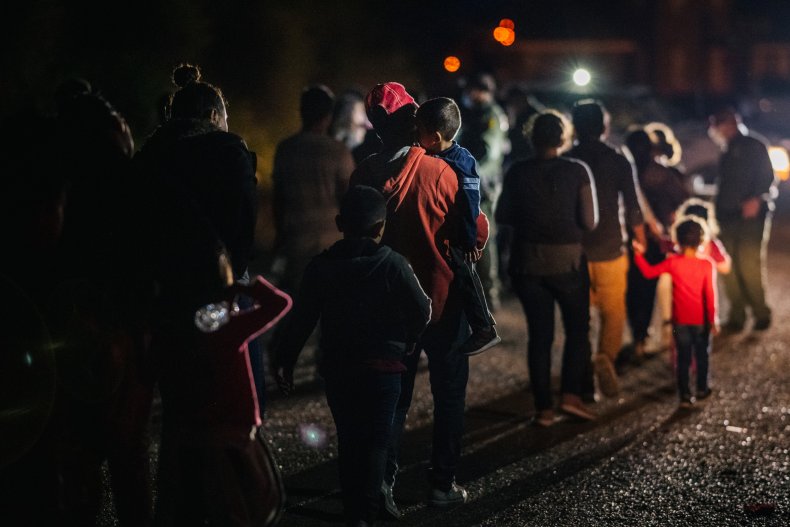 Under Biden, the Centers for Disease Control and Prevention extended the use of Title 42, a clause in a 1944 federal health law that former President Donald Trump invoked at the start of the pandemic to expel migrants seeking entry to the U.S. The Biden administration has defended the policy in court, where opponents have argued that COVID is being used as a justification to unlawfully keep asylum-seekers out of the country. (A legal challenge to the program is being heard in federal court in Washington, D.C.)
Nearly 1.1 million people have been expelled at the southern border under Title 42 since Biden took office, according to data from U.S. Customs and Border Protection. The figure includes asylum-seekers who were apprehended entering the country as well as those who presented themselves for entry to the U.S., most of whom in the past would have had the opportunity to apply for asylum and wait in the country while their cases were processed. The program has resulted in more than 1.5 million expulsions overall, though unlike under the Trump administration's application of Title 42, the Biden administration is allowing unaccompanied minors arriving at the border to enter the country and is placing them with relatives or other sponsors.
Immigrant rights groups are furious with the administration for extending Title 42. And while Biden has rolled back many of Trump's immigration policies, advocates are also disappointed with the president's failure to end the Migrant Protection Protocols. The Trump-era policy, known as the Remain in Mexico program, requires asylum-seekers to wait outside the U.S. while their cases are processed. The administration sought to end the program but it was upheld in a legal battle that went all the way to the U.S. Supreme Court last year.
For Harris, the administration's mixed record has come at a cost, exposing what many advocates say is the inherent contradiction in her twin immigration assignments. The vice president's awkward position was on full display during her visit to Guatemala last year, her first foreign trip as vice president. Harris acknowledged that violence and other factors force many in the region to flee to the U.S., but said anyone seeking to enter the country illegally would be turned away. "Do not come," Harris warned, adding, "if you come to our border, you will be turned back." Harris wasn't the first high-level U.S. official to deliver the message. Biden and Alejandro Mayorkas, the secretary of the Department of Homeland Security, made similar statements months earlier.
"Taking a deterrence approach to the border when you know there are root causes in place [that drive migration] is contradictory," said Denise Gilman, the director of the Immigration Clinic at the University of Texas Law School in Austin. "We can all agree that there are serious human rights problems in Central America that can't be resolved overnight. In the meantime, we should recognize that those who are fleeing these situations are asylum seekers" who need protection.
The administration needs to move fast to make adjustments before an election cycle in which Republicans will likely blame Harris for the rise in migration, said one person who speaks regularly to the White House but asked to remain anonymous. "Relationships have been really strained" between the administration and immigrant rights leaders, the source said. "The morass the administration finds itself in on immigration, that's something the White House has to get a handle on for the vice president to be successful."
Harris' Voting Rights 'Tightrope'
Attacks from the right over immigration may be inevitable. But Harris is also contending with mounting frustration from moderate and progressive Democrats alike for a setback on voting rights that many on the left believe could have been avoided.
House Democrats prioritized the issue in the aftermath of the Jan. 6, 2021, attack on the U.S. Capitol. The lower chamber passed a comprehensive ethics and elections reform package last March that included efforts to expand access to voting. Another bill passed four months later aimed at restoring key provisions in the Voting Rights Act that were weakened by several Supreme Court rulings in recent years.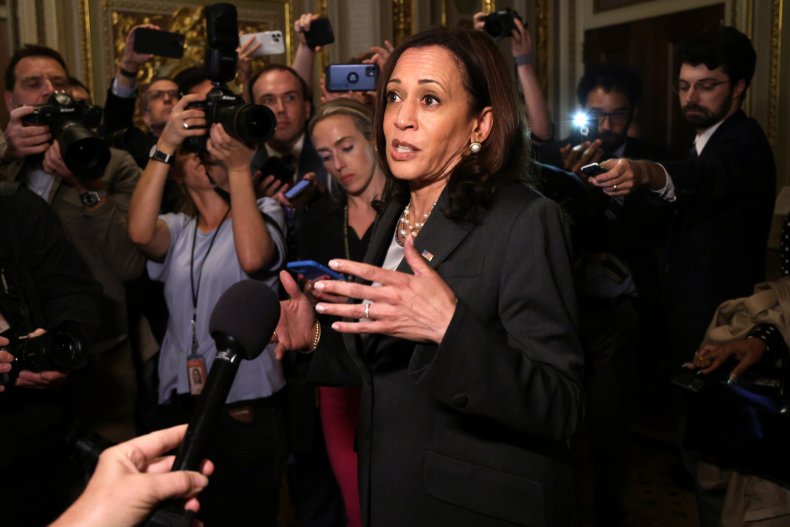 But the legislation faced stiff opposition from Republicans in the Senate who would have blocked the bills from coming to a vote. Advocates pressed Democrats to change the rules to bypass Republican objections, but the bills stalled for much of the year as the White House and Senate Democrats remained focused instead on Biden's top three domestic agenda items: securing another round of Covid relief, an infrastructure bill, and Build Back Better. At the same time, Biden struggled with a series of setbacks that punctured his image as a competent, level-headed commander-in-chief. Voting rights took a backseat to the fallout over the messy U.S. withdrawal from Afghanistan, concerns over rising inflation, and two new Covid variants that kept the pandemic at the forefront of everyday life in America and around the world after the widespread rollout of vaccines.
Supporters argue Harris never lost sight of voting rights. The vice president discussed the issue publicly in media interviews, and maintained an open line of communication with outside groups pushing for reform, playing an active role that often went unrecognized. "She certainly has met with voting rights advocates and civil rights organizations," said Lisa Cylar Barrett, policy director of the NAACP Legal Defense and Educational Fund, adding that the White House put its "full force" behind the push to pass the bills. Several House and Senate Democrats said Harris checked in with them regularly last year on voting rights to show her support.
Harris' allies also argue that she hasn't received enough credit for her work behind the scenes on voting rights, and attribute that in large part to negative press coverage rooted in gender and racial bias.
"As a Black woman in politics myself, I do believe there's a double standard and a higher degree of scrutiny on Black elected officials and especially on" Black women in office, Rep. Terri Sewell, D-Alabama, and the co-chair of the Congressional Voting Rights Caucus, said in a phone interview. "The way [Harris] has been able to rise above that and still do her job and do it well is a testament" to the vice president's character.
Lewanna Heard Tucker, the Democratic Party chair in Atlanta, said Harris faces many of the same outsized expectations that Obama did as president. "It's almost dumped on her plate, which is unfortunate because it becomes her burden," said Tucker, who is Black. In Atlanta's Black community, she added, most people understand Harris' predicament. "They know she has to tread lightly. Folks know if she decides to run [for president in the future], she can't solely be focused on one thing, she has to play to a larger audience."
Still, critics express deep disappointment with Harris, Biden and Democrats in Congress for taking a cautious approach while dozens of states across the country were moving quickly to restrict access after the 2020 elections. Conservative lawmakers have argued that the changes are needed to strengthen election security, often repeating Trump's lie that the election was rigged through widespread voter fraud. The rhetoric has highlighted the tremendous sway the former president still has over every level of the Republican Party.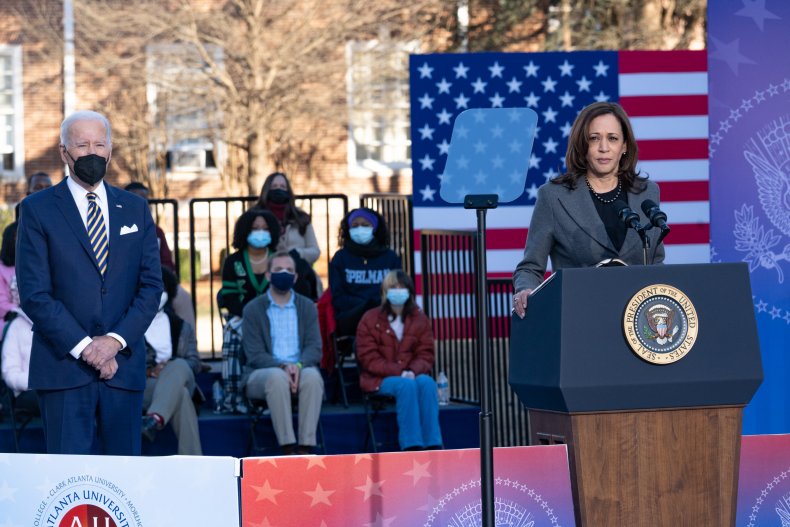 A new law in Georgia -- a state with a long history of voter suppression -- introduced stricter voter identification requirements, gave Republicans greater control over the state's election board, and barred anyone from providing food and water to voters waiting in long lines at the polls, among other changes. A pair of laws in Arizona reduced access to early mail balloting, a change opponents said would target the state's growing and left-leaning Latino electorate, and introduced new voter signature requirements for early voters. The Arizona laws were upheld by the Supreme Court last July, a ruling that is expected to open the door for other states to try to pass similar voter laws in the future.
Overall, last year more than 440 measures restricting access to voting were introduced in 49 states and 34 bills were signed into law, according to a tracker run by the Brennan Center for Justice. By the time Senate Democrats turned to voting rights last month, advocates argued the party had missed its best window to get something done. Few were surprised when Sens. Kyrsten Sinema of Arizona and Joe Manchin of West Virginia opposed the filibuster change that would have paved the way for the party to pass legislation.
"The president and vice president should have jumped on voting rights [soon after] January 6th," said Cotton of The New Georgia Project. "Timing is everything. When you miss that sweet spot, it's really, really hard to create the circumstances for someone like Manchin or Sinema" to get on board.
Several Democrats noted that Harris had to be careful not to get out in front of Biden on the issue, especially considering all of the questions surrounding the party's ticket in 2024. Harris' engagement on voting rights is "a tightrope," said Blumenthal. "As soon as it looks like she's trying to advance herself, she'll do more harm than good, both to the cause and herself."
But to succeed in the job, Harris may have to gamble by being less cautious -- and not just on any one issue in particular but on her entire approach to the role, several Democrats said. "The vice president is always in the president's shadow, and as a result it diminishes you. It's the nature of the role," said Divine, the Democratic strategist. With the midterms coming up, he added, Harris has a chance to take back some of the spotlight. When the "vice president lands in the big plane in a House district somewhere, guess what?" he said. "All the cameras show up."
What she makes of the moment could help shape the midterms and the rest of her vice presidency.
Correction 02/11/2022, 1:10 p.m. ET: This story has been updated to reflect the correct title of Kendra Cotton, who is COO of the New Georgia Project.