Democrats See Possible Gavin Newsom Run Despite Biden Reelection Claims
Beyond inflation worries and a darkening mood over November election prospects, President Joe Biden has been dogged by concerns within his own Party that he shouldn't run for reelection in 2024.
That dynamic was magnified in a New York Times/Siena College poll released last week showing that 64% of Democratic voters would prefer a different nominee in 2024.
While Biden bristled at questions from reporters about the poll, he pointed to a finding in that same poll that 92% of Democrats would support him if he ran and was opposed by Donald Trump. The poll also found Biden would edge Trump in a rematch 44% to 41%.
But for Democrats worried about the prospects of Biden-Trump round two, a relatively new face has emerged.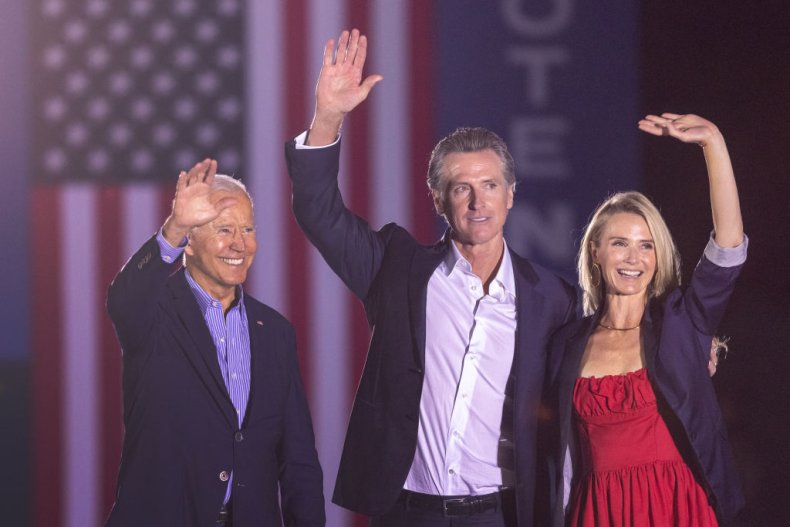 California Governor Gavin Newsom, who turned away a 2021 recall attempt in convincing fashion, has been making news and meeting privately with donors.
Newsom reached out to a Wall Street executive who raised money for Biden's 2020 campaign in recent weeks, according to CNBC, and will be at the home of Heather Podesta, a veteran fundraiser, along with other Democratic governors, to meet with "dozens of wealthy donors" for a Democratic Governors Association event.
Newsom, who went to Washington D.C. this month to accept one of the top education policy awards for "California's improvements in educating all students and closing equity gaps," met with lawmakers while in the nation's capital during a four-day swing.
But it is his new confrontational approach to Republican Florida Governor Ron DeSantis, a 2024 frontrunner, that has caught the attention of political observers looking toward the next presidential race.
"I urge all of you living in Florida to join the fight," Newsom says in the ad that aired on July 4 in Florida. "Freedom is under attack in your state."
With images of DeSantis and Trump on screen, Newsom said that Republicans are "making it harder to vote, restricting speech in classrooms, even criminalizing women and doctors."
He also went after DeSantis in a fundraising email, saying, "The DeSantis vision of freedom is a fraud. It's a vision where people are free to carry guns everywhere and everyone has to live in fear of getting shot."
Some California and national Democrats believe the moves are a precursor to a presidential run.
"Clearly this is what he's been working towards since he first put gel on that hair in San Francisco," Javier Gonzalez, the former political director of a janitors union and organizer of historic immigration marches in Los Angeles in the early 2000s, told Newsweek.
As Newsom has spotlighted California's defense of same-sex marriage, strict gun laws, and abortion, voters will have the opportunity to amend the state constitution to include the right to an abortion in November.
It is not only his support of his policies that Democratic voters consider to be bedrock rights, but also his vocal comments about DeSantis and Texas Governor Greg Abbott that have thrilled Democrats who want to see more righteous anger and more of a plan from Party leaders.
While stating that "Biden is our nominee for 2024," Kristian Ramos, a Democratic consultant and Latino vote expert, told Newsweek the party needs governors like Newsom who are willing to step up in this post-Roe v. Wade moment and say that we need to codify abortion protections in the state constitution.
"We are in a break-glass moment for our democracy," he said, "and right now we need any voice willing to highlight the extremism of the GOP in the loudest way possible."
"It's too early to say what that means for 2024," Ramos added, "but we need to be lifting up how out of touch Ron 'DeSastre' is," he added, using the Spanish word for "disaster."
Newsom waves away the idea that he would challenge Biden in 2024, and said he believes the success of his recall election was in unifying the party and defining the opposition.
"We need to unify the Democratic Party and not destroy ourselves from within," Newsom told CNN. "We need to have our president's back. But we also have to get on the field. He needs troops. He has to govern. Our job is to organize, and it's to have his back."
Maria Cardona, a veteran Democratic strategist, said what Newsom is doing certainly has an audience in the Democratic base.
"They are hungry for someone who can actually do something, and governors many times are less hamstrung than members of Congress, senators and presidents," she said. "Does that mean he'll run in 2024? Not necessarily, no one has said he would run if Biden runs, which is really smart."
A Biden administration official took issue with the rush to sideline the president who has actually beaten Trump.
"This president has devoted his last 50 years of his life to public service and his Party, and at a minimum has earned the right to have space to make the right decision for himself and his family," the source told Newsweek. "Moreover, he's earned the right for people to respect the decision he's made."
The source added that if the triggers for these concerns is that "polling is down, the political climate is not in his favor, and inflation is high," then "all those variables could change at any moment."
Some California Democrats either don't see a Newsom run on the horizon or don't believe it would be successful if he went through with it.
"People are looking for something different, I'm just not sure it's him," Gonzalez in Los Angeles said.
He cited the 2004 Democratic primary as a reference.
"I don't see it. How does he explain his policies in the Midwest?" Gonzalez asked. "Howard Dean, from the beginning the question was, 'How is he going to do in the Midwest?' But Dean is a moderate compared to Newsom now."
A Democratic strategist in California said Newsom is simply bored.
"Whenever he gets bored this is how he reacts," the source said. "He makes moves to keep his name relevant. Now his name is being mentioned as a possible candidate, and that's all people who work for him want — that's a victory."
The source said Newsom's meetings with donors are just part of the job as governor of California.
"Every day he does meetings," the source said, "so it looks like he's meeting with some huge power broker or bundler," adding the opinion that Newsom would do worse than then-Senator Kamala Harris did during her presidential run.
But others in California who know the Newsom circle believe he is setting himself up to run against Vice President Harris in 2024, and "betting on her less-than- lackluster vice presidency, and betting on her not having a great presidential infrastructure and being her own worst enemy."
He then would be a solid alternative, the thinking goes, someone who in California led a nation-state from the left.
All of the conjecture seems silly to the administration official.
"The old adage is go with the devil you know," the source said. "We know our guy has beaten Trump before, we observed a guy who came back from the dead and beat Trump handily, and not only that, but ended up flipping two states in Arizona and Georgia that haven't gone Democratic in decades."
Speaking broadly, they said some Democrats are making an error in their approach.
"People are unfocused," the source said, "They're focused on being at the front of the line should the president change his mind."