Democrats See Short Window for Bipartisan Action on Immigration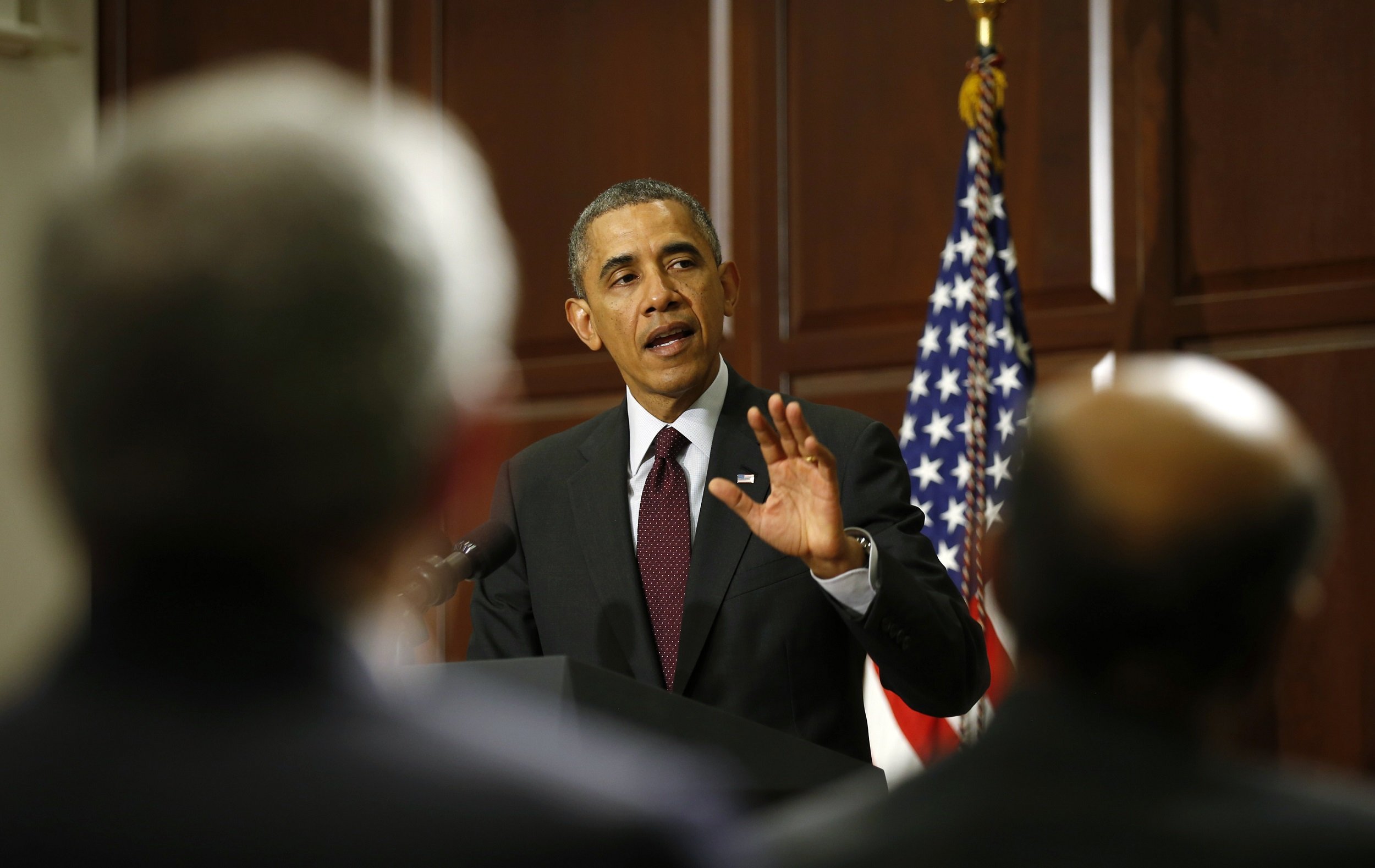 Time is running out for immigration reform. Mark your calendars for late July.
Democrats are offering Republicans a stark choice on immigration reform: Pass a bill, or President Obama will go it alone.
This week, Democrats stressed that there is a deadline for the Republican-run House of Representatives to act on immigration. If they don't move a piecemeal set of bills by Congress's August recess, then the possibility for comprehensive reform this year—and realistically during the Obama presidency—will be over.
"They have about a six-week window, from June 10, after the last Republican primary, till the August recess," Senator Chuck Schumer, D–New York, said at a press conference Thursday. "If they don't pass immigration reform then, the president will have no choice but to act on his own."
President Obama has already ordered Homeland Security Secretary Jeh Johnson to review deportation policies to make the process more humane. Potential executive action could include easing deportations and allowing undocumented immigrants to enlist in the military. Congressional Democrats believe the actions will be "bold" and are cheerleading these efforts which they believe Obama will take around Labor Day if Republicans don't act.
Obama's decision to use executive authority goes something like this: If he moves ahead with executive actions, he will be sure to face blowback from Republicans, dashing any chances of bipartisan reform. But if he holds back after the summer in the hopes that Republicans will eventually get on board, he risks alienating Latinos who will hold him and his party accountable for not helping the Latino community being torn apart by deportations and ignoring the 11 million undocumented immigrants living in the shadows.
Democrats would rather give up on long-shot hopes of getting some form of reform through Congress than leave Latinos, a crucial constituency for Democrats, out in the cold. Immigration activists have been putting increasing heat on the president to act; the president of the National Council of La Raza, the biggest Latino advocacy group in the country, called Obama the "deporter-in-chief" earlier this year.
Republicans also face dire political consequences if they fail to act and allow the president to move ahead alone. Making themselves the obstructers of reform could be particularly catastrophic for Republicans in 2016, when Latino populations in swing states like Colorado and Florida could determine the outcome of the presidential election.
"We wait and wait. We have no movement from the House GOP and none from the White House," Gary Segura, an expert in Latino public opinion at Stanford University told reporters Thursday in a press call organized by the pro-reform group America's Voice. "Meanwhile, America's fastest growing electorate becomes more and more alienated.… Right now, the [Republican] Party is missing an historic opportunity to recover their presidential chances. And the Democrats are missing an historic opportunity to cement and augment their electoral advantage among this group. The status quo serves no one."
A Democratic congressional staffer familiar with the immigration issue was more stark in his assessment of Republican inaction.
"This is existential. This is life and death for the Republican Party. What happens in the next two months certainly determines White House politics for the next two decades, and I don't think there's any question about that," said the staffer, who asked for anonymity to speak about the issue. "65,000 U.S.-born Latinos turn 18 every month for the next three decades. They're toast."
Which is why the staffer believes—contrary to conventional wisdom—that there is some chance House Republicans will move on immigration reform before the end of July. "The folks who are trying to save the Republican Party are really trying to get a vote on a series of immigration bills between now and July 4, but it could stretch into July," said the aide. "They understand that the clock is ticking."
House Speaker John Boehner, R–Ohio, has said several times recently that he wants to get immigration reform done, but protests that his fellow Republicans don't trust the president to carry out a reform bill. It's not a persuasive excuse among Latinos now, and it's certainly unlikely to mollify Latinos when they cast ballots.
Just take a recent exchange between Boehner and Fusion anchor Jorge Ramos, an influential figure in the Latino community. "Why are you blocking a vote on immigration reform," Ramos asked during the speaker's weekly press briefing Thursday.
Boehner responded that he wanted to pass reform, but blamed Obama for the GOP's current inaction. "When he continues to ignore Obamacare, his own law, 38 unilateral delays, he reduces the confidence of the American people in his willingness to implement an immigration law the way we would pass it," he said.
Ramos didn't find that very convincing. "What does Obamacare have to do with immigration reform?" he said. "You can do it, and you really haven't done it."
Democrats have also called Boehner's bluff by offering to pass a reform bill that won't take effect until 2017, when Obama is no longer in office. Senate Majority Leader Harry Reid, D–Nevada, raised this Thursday when he, too, came under harsh questioning from Ramos, who asked why he did not pressure the White House to act, given that hopes of legislation were essentially dead. "They don't trust the president? Pass the law and make it effective at the beginning of the next presidency," Reid said.
"We've waited 329 days [since passage of the Senate's comprehensive bill last June], we're willing to wait another six week," Reid said. "But at the end of six weeks, if something hasn't been done, then there's gonna have to be a move made."