Democrats See Supreme Court Brawl as Lynchpin to Flipping the Senate
No one expected to round out the 2020 election cycle by voting on a new Supreme Court justice, which will mark the third under President Donald Trump.
But with Senate Republicans hoping to move at breakneck pace to fill the vacancy left by Justice Ruth Bader Ginsburg before November 3, Democrats see another opportunity to oust enough of the upper chamber's GOP members to take back the majority.
"Everything Americans value hangs in the balance," Senate Minority Leader Chuck Schumer (D-N.Y.) said. "Health care, protections for pre-existing conditions, womens' rights, gay rights, workers' rights, labor rights, voting rights, civil rights, climate change and so much else is at risk."
To be sure, Democrats vehemently oppose voting on a justice prior to the election. But the silver lining immersed within the bitter partisan squabbling that will ensue for the next few weeks is that Democrats feel they now have another hot-button issue that could drive their supporters to the ballot box.
"Are [voters] going to vote for people who are going to screw them over, who will lie to them every single day?" asked Sen. Mazie Hirono (D-Hawaii). "Or are they going to choose a team that will not lie to them, that will deal with coronavirus and the pandemic in a way that will be reassuring, somebody that will bring us together... as opposed to continuing to fan the flames of division?"
Senate Majority Leader Mitch McConnell has vowed to hold a confirmation vote "this year." But the Kentucky Republican has enough support within his conference to move forward with a yet-to-be-announced-nominee before Election Day—a timeline of just a few weeks that would be one of the fastest confirmations in modern history.
Healthcare has been a primary component of the Democratic Party's campaign strategy, and the threat that a conservative justice on the highest court would pose to the Affordable Care Act has Democrats feeling confident that their messaging will drive their voters to the polls. The Supreme Court is already slated to hear oral arguments about the Obama-era health care law just one week after the election.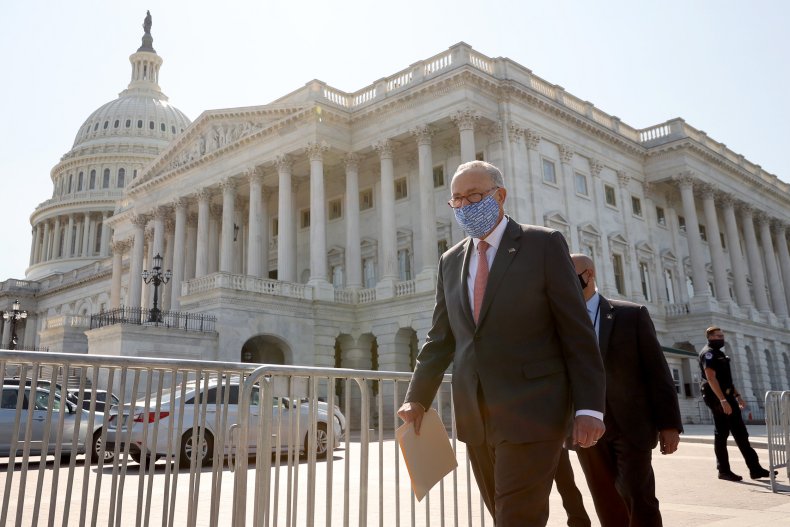 "The issue is health care, access to health care, coverage for preexisting conditions," said Sen. Catherine Cortez Masto (D-Nevada), chair of the Democratic Senatorial Campaign Committee (DSCC). "When you have a president and Republican leadership—Mitch McConnell—they literally want to take it away. And people are paying attention to that."
Though the individual mandate was found to be unconstitutional, several lawsuits have unsuccessfully sought to strike down the entirety of the law. In ongoing litigation brought by Republican state attorneys general, the Trump administration is advocating to strike down the whole law, despite having no backup plan in place amid a pandemic to protect the roughly 133 million Americans with pre-existing conditions.
The DSCC is already using the Supreme Court topic as a crucial campaign issue in its bid to flip the Senate. The Democratic campaign arm is eying to unseat at least seven Republicans considered vulnerable: Susan Collins (Maine), Cory Gardner (Col.), Thom Tillis (N.C.), Martha McSally (Ariz.), Lindsey Graham (S.C.), John Cornyn (Texas) and Joni Ernst (Iowa). Polling for these members show that their Democratic challengers have gained ground throughout the summer and are within striking distance or polling ahead of the incumbent.
Democrats need a net gain of three seats if Democratic presidential nominee Joe Biden wins and four seats if Trump is re-elected.
To help that effort, liberal activist group Stand Up America told Newsweek it's launching a new grassroots initiative to demand that Ginsburg's vacancy be filled by whoever is elected—a notion that polls have shown the majority of Americans, and many Republicans, support. The progressive organization drove more than 18,000 calls to senators' offices on Monday.
But just as Democrats see a potential boost at the polls from the Supreme Court brawl, so too do Republicans.
"It's another wild card into an already very, almost somewhat volatile political environment," Majority Whip John Thune (R-S.D.) said. "I think that it certainly is something that the candidates on both sides are gonna have to manage."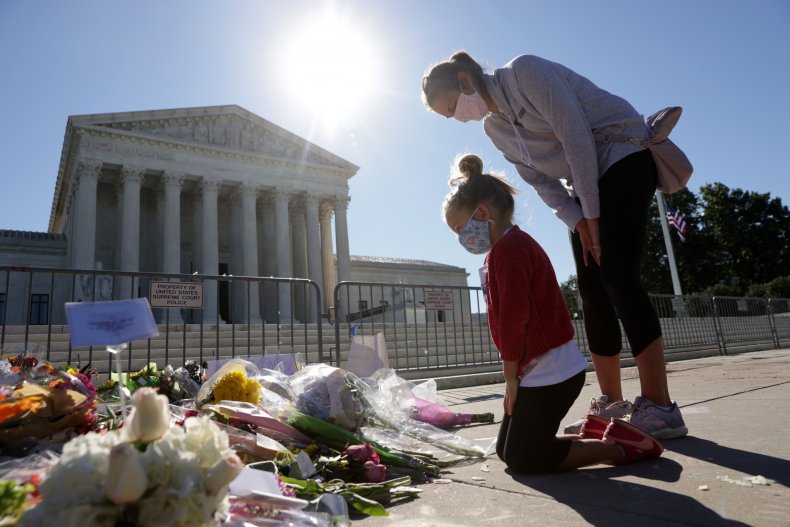 Although healthcare was a pivotal issue for the "blue wave" of Democratic wins that swept over Congress in 2018, Republicans gained two seats in the Senate, which they attribute partly to the partisan confirmation process of Justice Brett Kavanaugh.
"As a matter of politics, I think recent history has clearly shown that these sorts of fights bring Republicans together," Sen. Todd Young (R-Ind.), chair of the National Republican Senatorial Committee. "I anticipate that will happen in 2020, just as it did in 2016 and 2018."
Sen. Roy Blunt (R-Mo.), the No. 4 Republican, offered a more neutral assessment.
"It's too early to tell," Blunt said. "I think normally, these judicial issues have been more motivating for our side than their side. I think, certainly, that's what happened in 2016."
"Whether that's what happens again this time," Blunt added, "I don't know."
Sen. Chris Murphy (D-Conn.) offered a counter-argument. Those who are consistently motivated to vote by the Supreme Court and judicial nominees were likely already planning to cast their ballots for Trump.
"My sense is that the voters on the Republican side who care deeply about the Supreme Court are already fully integrated into the MAGA movement," Murphy said. "Our folks that are going to be affected by a 6-3 conservative majority on the court may not be coming out, and with the ACA being the first case on the docket after the election, this puts health care front and center."