Democrats Seek to 'Prevent Future Presidential Abuses' with New Reforms Package
Democrats on Capitol Hill are ready to take control of Washington, offering a preview on Wednesday of the type of legislation they hope to enact under a Democratic Senate and a Joe Biden administration.
The Protecting Our Democracy Act, as it's been dubbed by House Democrats, would strengthen congressional power and oversight of the Executive Branch while curtailing a president's authority and potential overreach—or abuses of power, according to Democrats. The bill is in direct response to President Donald Trump's tenure, his administration's brash attitude toward Congress and controversial actions.
Meant to complement the anti-corruption bill known as H.R. 1 that House Democrats passed in March 2019, the newly introduced measure foreshadows the kinds of changes Democrats are eyeing under a new Congress and presidency—and most importantly, less Republican resistance. But it can only be done if Democrats flip the Senate and take back the White House.
"These reforms are necessary not only because of the abuses of this president, but because the foundation of our democracy is the rule of law, and that foundation is deeply at risk," the Democratic House chairs spearheading the proposal said in a statement. "Our democracy is not self-effectuating—it takes work and a commitment to guard it against those who would undermine it, whether foreign or domestic."
The effort is led by House Speaker Nancy Pelosi (Calif.), Intelligence Chair Adam Schiff (Calif.), Judiciary Chair Jerrold Nadler (N.Y.), Oversight Chair Carolyn Maloney (N.Y.), Budget Chair John Yarmuth (Ky.), Administration Chair Zoe Lofgren (Calif.), Foreign Affairs Chair Eliot Engel (N.Y.) and Ways an Mean Chair Richard Neal (Mass.).
The bill is designed to "strengthen the bedrock of our democracy," the Democrats said, "and ensure our laws are strong enough to withstand a lawless president."
"Since taking office," they continued, "President Trump has placed his own personal and political interests above the national interest by protecting and enriching himself, targeting his political opponents, seeking foreign interference in our elections, eroding transparency, seeking to end accountability and otherwise abusing the power of his office."
Reps. Katie Porter (Calif.), Madeline Dean (Pa.), Democratic Caucus Chair Hakeem Jeffries (N.Y.), Jackie Speier (Calif.), Jamie Raskin (Md.), Gerry Connolly (Va.), Ted Lieu (Calif.), Steve Cohen (Tenn.) and Eric Swalwell (Calif.) also sponsor the legislation.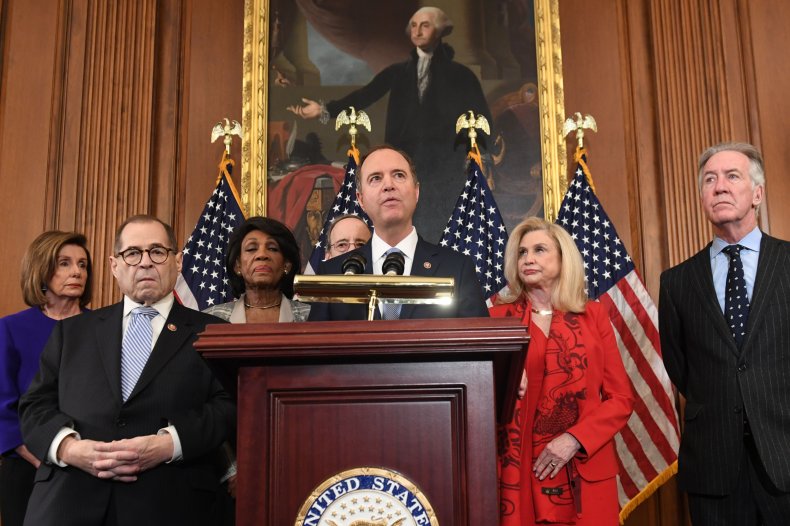 Democrats say it would do the following:
Prevent presidential abuses
Limits presidential pardon power by requiring the Justice Department and White House to notify Congress of self-serving presidential pardons or commutations involving the president or their relatives, contempt of Congress or obstruction of Congress; defines the president and vice president as "public officials" and pardons are "official acts" and "things of value" for the federal bribery statute; and prohibits self-pardons
Suspends statute of limitations for federal offenses committed by a sitting president or vice president, opening them up to potential criminal prosecution
Strengthens the constitution's Foreign and Domestic Emoluments Clauses by requiring congressional approval to accept gifts or benefits while barring the president from accepting any such rewards; reinforces power of Congress and the Executive Branch to enforce the clauses
Strengthen checks and balances, accountability and transparency
Bolsters Congress' ability to enforce subpoenas, expedites judicial process for subpoena refusals and allows courts to fine government officials for failed compliance
Protects Congress' power of the purse by enhancing the Impoundment Control Act that bars presidents or agencies from unilaterally moving funds not approved by Congress; adds penalties for failure to comply
Curtails the power of presidential emergency declarations unless approved by Congress
Prevents political interference in court cases by requiring the attorney general to maintain a communications log between DOJ and the White House; the log must be provided to the DOJ inspector general, who must then report inappropriate matter to Congress
Strengthens inspector general protections and reporting requirements to Congress for when one is removed
Enhances whistleblower protections with anonymity safeguards
Caps the tenure of acting government agency heads appointed by presidents to no more than 120 days, or four months
Authorizes the Office of Special Counsel to fine political appointees who violate the Hatch Act up to $50,000
Prevent foreign election interference
Mandates political committees, candidates and immediate family members of candidates to report certain foreign contacts to federal authorities; the FBI must notify the congressional intelligence committees of any such reports
Bars candidates and campaigns from seeking or receiving information from foreign entities and enhances penalties for any violations
It remains to be seen whether House Democrats will pass the legislation this year, which would allow the Senate—if Democrats retake the upper chamber—to pass it during the next Congress. Otherwise, the proposal dies in the GOP-controlled Senate, along with H.R. 1. Schiff said the schedule is yet to be determined, but he understands the political reality and offered a prediction.
"It is unlikely to move through a Senate, which has, under [Senate Majority Leader Mitch McConnell's] leadership, been a willing accomplice to many of the president's actions that have broken down these very Democratic guardrails and institutions," Schiff later told reporters at a press conference. "I think these reforms will have bipartisan support next year in a new administration when my GOP colleagues will not want to see a Democratic president do half the things of the current president."
In January 2019, when Democrats won back the House and were preparing to pass H.R. 1, McConnell, a Kentucky Republican, renamed such a package the "Democratic Politician Protection Act" that he said was meant to "rewrite the rules of American politics for the exclusive benefit of the Democratic Party."
And even if Democrats do take the Senate, they'll need a Democrat in the White House who will sign it into law.
"This reforms package will prevent future presidential abuses, restore our checks and balances, strengthen accountability and transparency, and protect our elections," the Democratic House chairs said. "It is our responsibility to ensure that our democracy carries on for generations to come."
This story was updated to include remarks from Rep. Schiff.