Democrats Should Seize the Opportunity to Lead on Economic Issues | Opinion
Our economy is at a crossroads.
The record job growth and strong labor market coming out of the pandemic have created new opportunities for millions of Americans. Yet inflation and supply chain challenges have also driven up costs that are straining people's budgets. We have an economy with record low unemployment while many families are worried about their futures.
In these moments of uncertainty and upheaval, Americans look to leaders for clear communication, empathy, and direction.
Recent polls have shown that voters trusted Republicans more on economic issues, which was likely no small factor in why the GOP won the U.S. House majority in November—while a number of data points indicate that Democratic administrations have overseen more economic growth.
Why don't more Americans trust that Democrats do a better job when it comes to the economy?
One reason is that the playbook for Democrats on economic and labor issues is increasingly stale.
Too often, our party proposes the same ideas that it has for decades, holds the same congressional hearings, and fosters the same worker versus business narrative—all without achieving the kind of progress everyday Americans expect and deserve.
In other words, we are failing to meet the moment.
Instead of using the same old playbook, Democrats should instead use this session of Congress as an opportunity for new thinking, new voices, and new connections to the facts about how our economy actually operates.
Leaders in the Democratic Party must realize that we can't really claim to be pro-worker unless we're also pro-employer. America's economic strength is rooted in the dynamism of capital investments, ingenuity, and an incredible workforce. That's why we should think about workers and employers in an ecosystem, not silos.
Millions of Americans will tell you that so many of those businesses—like the ones that some in the Democratic Party are eager to put under a microscope—offer good jobs with good benefits and pathways to upward mobility.
The interests of employers and employees don't need to be at odds, no matter what Washington says. Many employers are proactively offering their workers competitive wages and benefits, skills training, and opportunities for advancement.
Rather than fueling the false narrative that our economy is a zero-sum game, or telling Americans that they must pick sides, we should view business relationships—as well as the relationships between employers and their communities—with an eye toward moving all Americans forward together, rather than pitting Americans against one another.
Continuing to pick a villain in a perceived match-up certainly taps into Americans' anger and frustration. It's a foolproof way to drive up engagement on social media and boost political fundraising.
But it doesn't actually solve any problems.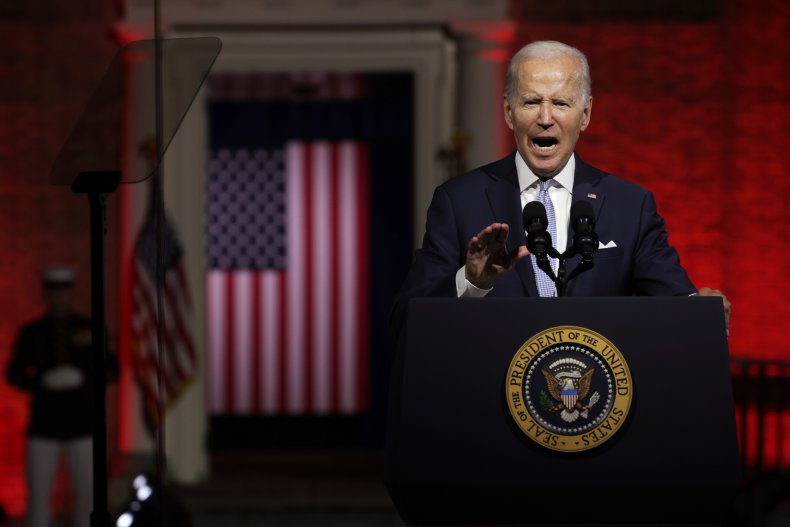 Without real changes that help everyday people, Americans grow only more cynical about the government's ability to improve our society. It becomes a destructive cycle in which everyone gets angrier, and nothing gets done.
Rather than attempting to constrain businesses based on outdated notions of how our economy operates, we should consider designing policies that help employers and their workforces grow—and we must also show we're prioritizing the issues that are top-of-mind for everyday people.
In my experience, few Americans are interested in the heady debates of antiquated labor law. They just want to know why it seems that we don't have the workers we need—for instance, too few mechanics when the car breaks down, too few pilots to bring families on vacation, and unstaffed tables at their favorite restaurant. They want a world where a hard day's work pays a wage that allows them and their families to get ahead.
Americans are looking for ideas that bring these issues front and center. In this time of narrowly divided government, let's show that we can find ways to reconnect policy with reality.
I know firsthand how the American economic system is capable of greatness.
As someone who came to this country after my family fled the communist-led Socialist Republic of Vietnam, I am keenly aware of the unique opportunities afforded to citizens of the United States. We can pursue policies to strengthen our economy and ensure shared prosperity while expanding access to those opportunities.
Thanks to my parents' hard work, I secured a good education here in America and eventually became the first Vietnamese American woman elected to Congress. But for every American Dream story like mine, there are far too many people struggling to overcome structural inequities, or working hard but unable to make ends meet.
That's why we must dedicate our focus to strengthening our economy so that it works for everyone. And to do that, it's time for a refresh in how Washington, and the Democratic Party, talk about the economy.
Stephanie Murphy is a former Democratic member of Congress who represented Florida's 7th district.
The views expressed in this article are the writer's own.