Democrats Skewer Pharma Executives Over Profit-Driven Drug Price Increases
House Democrats unleashed a torrent of fiery criticism on pharmaceutical company CEOs during a hearing on "unsustainable drug prices."
The House Oversight and Reform Committee reported initial results of an 18-month investigation into drug pricing on Wednesday. Chairwoman Rep. Carolyn Maloney (D-N.Y.) said that the investigation found drug companies made large increases to drug prices "based on generating windfall profits for these companies, their shareholders and their executives." CEOs from Celgene, Teva and Bristol Myers Squibb were subjected to intense questioning at a hearing of the committee.
Rep. Katie Porter (D-Calif.) grilled Mark Alles, CEO of Celgene until the company was bought by Bristol Myers Squibb last year, over the cost of the company's cancer drug Revlimid. Alles defended the drug more than tripling in price to over $700 per pill since 2005 due to it being developed for "six additional indications" since then.
"Did the drug start to work faster, were there fewer side effects? How did you change the formula or production of Revlimid to justify this price increase?" Porter said. "So, to recap here: the drug didn't get any better, the cancer patients didn't get any better, you just got better at making money, you just refined your skills at price gouging."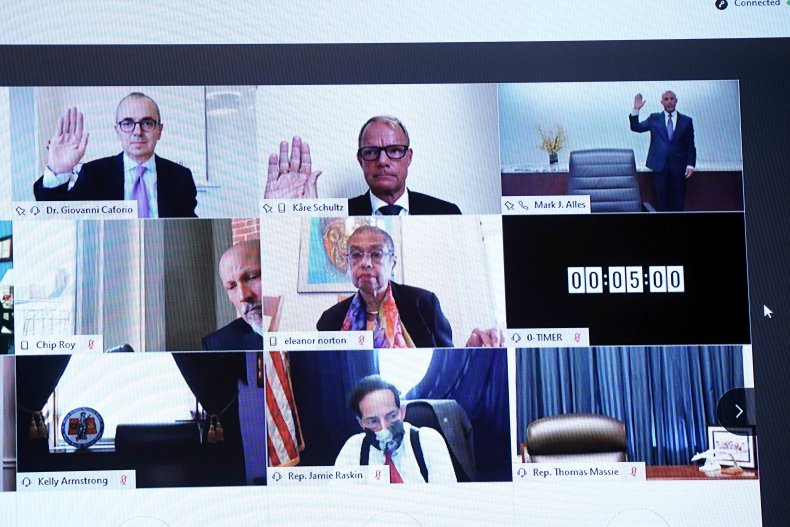 Rep. Rashida Tlaib (D-Mich.) skewered Teva CEO Kåre Schultz for insisting that the company's charitable donations were not used to boost profits. Tlaib cited internal documents from Teva that said the donations had resulted in millions in additional profits while describing them as "investments."
"In my district, Mr. Schultz, we call this a side hustle," Tlaib said. "Your pharmaceutical company makes these so-called charitable donations, so you look like you give a shit about sick people. But in reality, these are just another scheme by your corporation to make money off of sick people, Mr. Schultz."
Maloney opened the hearing by announcing that the investigation found companies were "targeting the United States for the biggest price increases in the world" due to laws that prevent the government from negotiating drug prices for Medicare. She denounced President Donald Trump for vowing to veto Democratic legislation that would allow price negotiations.
She also dismissed industry explanations that the price hikes were needed to "pay for research on life-saving medications" and that "middlemen were driving up the prices," along with any suggestion that the companies "are committing significant funds on helping patients that can't afford the drugs."
"The committee's investigation shows that those claims are utterly bogus," Maloney said. "They do not hold water. The documents we reviewed show that time and time again, drug companies hike prices to meet their earning targets. And in some cases, so executives can get their personal bonuses for that year."
The investigation was initially launched by former committee chair Rep. Elijah Cummings (D-Md.) before his October 2019 death. Executives from three additional pharmaceutical companies, Novartis, Amgen and Mallinckrodt, are scheduled to appear in another hearing on Thursday.