Democrats Skip Joe Biden's Speech
Typically when the President of the United States speaks, it's something you clear your calendar to attend. That is, unless the other option is Joni Mitchell.
On Wednesday night, President Joe Biden addressed House Democrats at the conference's annual retreat in Baltimore, laying out the party's strategy for a divided Congress in the final two years of Biden's first term that would—hopefully—launch Democrats back into the majority in 2024.
Facing several days of meetings in Baltimore, several Democratic members of Congress skipped Biden's speech to attend a concert by the "Big Yellow Taxi" singer, who was being honored with the Library of Congress' esteemed Gershwin Prize.
The event comes as Biden is facing a significant enthusiasm gap from members of his own party ahead of his re-election campaign in 2024 despite a number of legislative successes throughout his term, raising questions of whether he even should run again against a Republican field that includes figures like Ron DeSantis, who currently ranks ahead of Biden in national polling.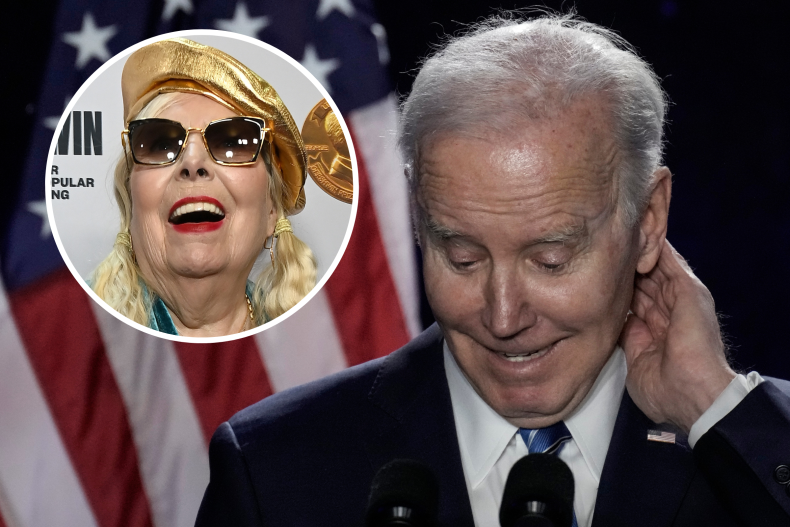 During his speech, Biden discussed implementing the policies Democrats were able to pass under their legislative trifecta over the last two years—unprecedented infrastructure spending, gun reforms, climate and healthcare reforms—and how to protect them in the face of a Republican House Majority now on the offensive.
Biden also met privately with some members to discuss his administration's response to disasters like a train derailment in East Palestine, Ohio, which he has faced heavy criticism for not yet visiting.
And he offered members some levity, suggesting hardline politicians like Georgia Republican Marjorie Taylor Greene were forcing Republicans to reckon with their overarching appeal to the party base, alienating more moderate voters.
"A little bit more Marjorie Taylor Greene, a few more and you're gonna have a lot of Republicans run on our way," Biden joked Wednesday night. "Isn't she amazing? Oof."
According to an accounting of the list by Punchbowl News, those skipping out on Biden's speech included: Reps. Maxwell Alejandro Frost (Fla.), Earl Blumenauer (Ore.), Steve Cohen (Tenn.), Dan Kildee (Mich.), Mark Takano (Calif.), Andy Kim (N.J.), Katie Porter (Calif.), Pramila Jayapal (Wash.), Lloyd Doggett (Texas), Hillary Scholten (Mich.) and Greg Casar (Texas).
While it is possible the members of Congress may have had a prior commitment (Newsweek reached out to the Library of Congress to confirm when invitations for the event were sent out), the Gershwin Prize is a significant distinction for any artist, awarded to just one person each year as a lifetime recognition of their contribution to popular music.
Past honorees to the invitation-only affair have included everyone from Paul Simon and Stevie Wonder to Paul McCartney, who made headlines for singing the band's hit ballad, 'Michelle' to then-First Lady Michelle Obama in an intimate East Room ceremony in 2010.
The 2023 award show featured performances by James Taylor, Brandi Carlile, Annie Lennox, Herbie Hancock, Cyndi Lauper, Marcus Mumford, Diana Krall, Lucius, Angelique Kidjo and Graham Nash, who personally acknowledged Representative Frost following his performance.
"Still reeling over walking up to Graham Nash and him saying 'Maxwell Frost!'" the Florida congressman tweeted after the concert. "I was like 'you... know... who I am????'"
Still, the optics of Democrats skipping a presidential address are hard to ignore. A February 15-16 national poll from Harris/the Harvard University Center for American Political Studies showed Biden receiving just over one-third of his party's support for renomination, with the rest of the field opting for the likes of former candidates like Vice President Kamala Harris, former Secretary of State Hillary Clinton or Senator Bernie Sanders—all of whom are highly unlikely to challenge him in 2024.
First Lady Jill Biden, however, has sought to affirm her husband will be returning to the ballot.
"He says he's not done," she told the Associated Press in a recent interview. "He's not finished what he's started. And that's what's important."
"How many times does he have to say it for you to believe it?" she added.