Democrats Slam Trump for Refusing to Consult Congress Before Syria Strikes
Senior Democrats criticized President Donald Trump Friday for launching air strikes against the Syrian government without first consulting Congress.
Trump announced Friday that the U.S. and its allies the U.K. and France were launching "precision" air strikes in response to Syria's alleged use of chemical weapons in an attack on civilians in Douma, eastern Ghouta, a week ago.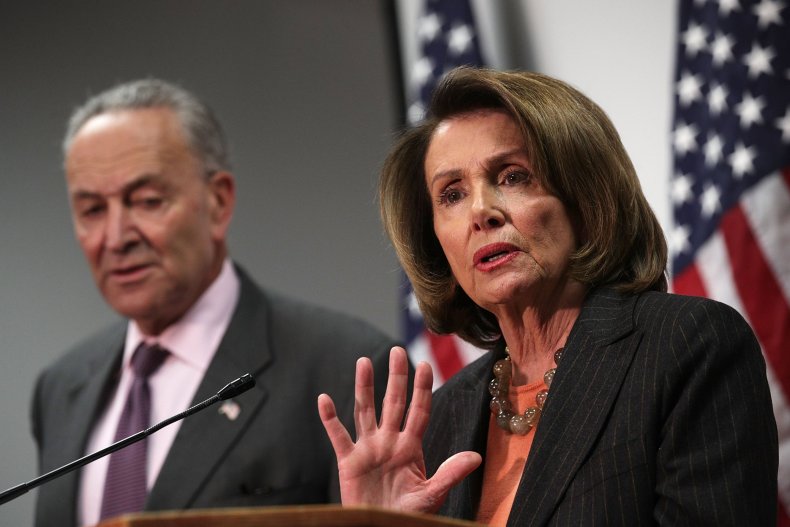 Minority House Leader Nancy Pelosi said that though the Syrian government's use of poison gas was a "brutally inhuman war crime," she warned, "Yet one night of airstrikes is no substitute for a coherent strategy."
"The President must come to Congress and secure an Authorization for Use of Military Force (AUMF) by proposing a comprehensive strategy with clear objectives that keep our military safe and avoid collateral damage to innocent civilians," Pelosi added.
Speaking shortly after the president announced the airstrikes, Senate Minority Leader Chuck Schumer described the military strikes as "appropriate," but warned against further embroilment in the Syrian civil war.
"A pinpointed, limited action to punish and hopefully deter Assad from doing this again is appropriate, but the administration has to be careful about not getting us into a greater and more involved war in Syria," Schumer said in a statement.
Senator Tim Kaine, Hillary Clinton's 2016 running mate, had stronger criticism for the president.
"Trump's decision to launch airstrikes against Syria without Congress's approval is illegal. We need to stop giving presidents a blank check to wage war," he tweeted Friday night. "Today it's Syria, but what's going to stop him from bombing Iran or North Korea next?"
Vice President Mike Pence, who is currently on an official trip to Peru, reportedly called congressional leaders to notify them military action was going to be taken on Friday night. He spoke to Pelosi, but was unable to reach Schumer who was on a flight at the time.
Trump's Syria policy has contrasted with that of former President Barack Obama, who took no military action against the Syrian government during his time in the White House despite declaring the use of chemical weapons by the regime constituted a "red line" in 2013.
Obama mulled military action against Syria in 2013 following a Sarin attack on civilians in a Damascus suburb and even prepared Congress for an emergency vote on the issue. But he backed away at the last minute when the Assad regime declared that it would give up its chemical weapons and allow international inspectors to search its munitions sites for banned chemical agents.
Only months into his presidency, Trump authorized missile strikes against a Syrian airbase in response to the sarin gas attack on the town Khan Sheikhoun last April.
On Saturday morning Trump tweeted "mission accomplished," and praised the U.K. and France for their support in the military strikes.