The Democrats Sold Their Soul for a Congressional Seat. Was It Worth It? | Opinion
If you're going to sell your soul, you might as well get a good price. Democrats seem to at least have struck a bargain in exchange for their principles, picking up a hotly-contested congressional seat representing my home, Grand Rapids, in Tuesday's election.
Democrat Hillary Scholten defeated Republican candidate John Gibbs by a margin of roughly 55 percent to 42 percent in their face-off to represent Michigan's 3rd Congressional District. But here's the thing: If not for Democrats meddling in the GOP primaries, Scholten would have faced an entirely different Republican—incumbent Rep. Peter Meijer, a moderate perhaps most known for voting to impeach former President Donald Trump. Meijer narrowly lost to Gibbs, a Trump-endorsed, far-right challenger, in the GOP primary, thanks to the uniquely cynical tactics Democrats employed to achieve this victory.
The Democratic Congressional Campaign Committee donated funds to Gibbs, who denies the legitimacy of Biden's election, at the expense of Meijer, who has told the truth about 2020 even when unpopular among his own party. In other words, amidst all their pieties about democracy being on the line, the Democrats funded an election denier because they thought he'd be easier to beat in the general election.
Democrats nationwide have, quite rightfully, blasted Donald Trump and other Republicans who wrongfully deny the legitimacy of the 2020 presidential election results. They argue, not without merit, that such denials and baseless claims about fraud constitute a threat to our democratic system. So why would the Democrats fund someone engaging in exactly those kinds of denials while claiming to be mortified by the far-right's threat to "democracy?"
It's simple: cynical calculation for political advantage. The redrawn district for Michigan's 3rd Congressional District comprises most of Grand Rapids and it is now a moderate, swing district. Democrats knew that a respectable incumbent Republican, fiscally conservative but socially moderate, with huge name ID—any Midwesterner will have heard of Meijer grocery stores—would be much harder for their candidate to beat.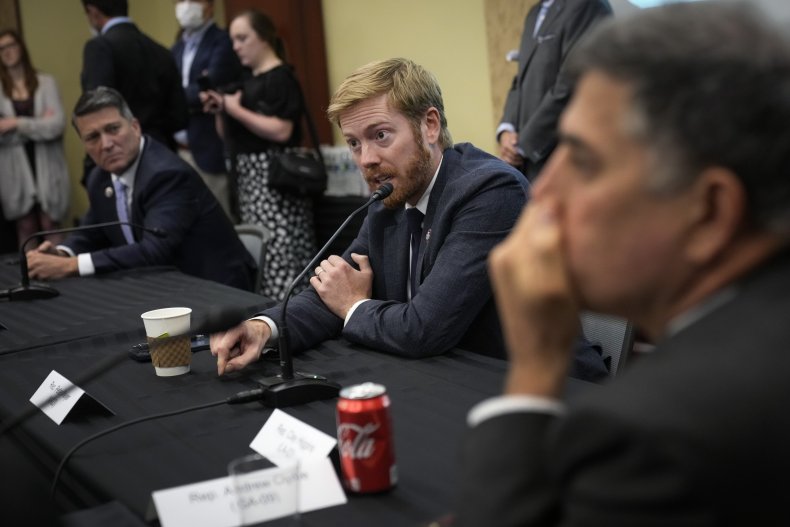 So the DCCC spent $435,000 on a late ad buy to undermine Meijer and boost Gibbs. As Meijer explained, "This is not an insignificant amount of money for the Gibbs campaign, nor is it an insignificant act by Democrats." The DCCC's ad buy was more than Gibbs raised over his entire campaign, as well as 100 times what Trump himself offered to Gibbs, Meijer pointed out. "The Democrats are not merely attempting to boost a candidate over the finish line: They are subsidizing his entire campaign," Meijer complained.
Well, it worked: Gibbs bested Meijer by less than 4,000 votes.
That's right: Democrats openly funded a candidate who they've dubbed a threat to our very democracy because they thought doing so might help them pick up an extra seat in the House.
Have you ever heard of anything so cynical?
And it wasn't a one-off tactic, but rather part of a national strategy; all told, Democrats spent $43 million promoting far-right, election-denying Republican primary candidates in races across the country.
Even some members of their own caucus have spoken out against this Democratic depravity. "No race is worth compromising your values in that way," Rep. Stephanie Murphy, a Florida Democrat, said. "Many of us are facing death threats over our efforts to tell the truth about Jan. 6. To have people boosting candidates telling the very kinds of lies that caused Jan. 6 and continues to put our democracy in danger, is just mind-blowing."
"It's dishonorable, and it's dangerous, and it's just damn wrong," remarked Rep. Dean Phillips, a Minnesota Democrat. "I think it erodes the high ground that we had been staking and claiming, relative to electoral integrity."
These representatives are right and deserve credit for speaking out against their own party leadership. But a few individuals condemning the actions can't remove this stain from the Democratic Party.
The next time you hear Democrats preen about "democracy," remember that they were willing to sell democracy out for a single congressional seat—and that their cynical gambit, unfortunately, worked.
Brad Polumbo (@Brad_Polumbo) is a libertarian-conservative journalist who lives in Grand Rapids, the co-founder of BASEDPolitics, and a Washington Examiner contributor.
The views expressed in this article are the writer's own.