Democratic Primary Candidates Slam Republicans' Record On Abortion As They Outline Plans For Reproductive Rights At Debate
After three Democratic primary debates in which reproductive rights received little attention, the issue took center stage Tuesday night as candidates slammed the rise of Republican attacks on abortion access.
Kamala Harris kicked off the conversation before even being asked about the issue from CNN/New York Times moderators. The California senator said it was "outrageous" that the topic hadn't received more air time during the previous debates.
"This is the sixth debate we have had in this presidential cycle," Harris said, counting two-night debates in June and July. "And not nearly one word, with all of these discussions about health care, on women's access to reproductive health care, which is under full-on attack in America today. And it's outrageous."
Nearly early a dozen states have passed legislation this year restricting abortion access. Alabama's law is among the strictest in the nation because they make it a felony for doctors to terminate pregnancies even in the case of rape or incest. Georgia, Kentucky and Ohio made it illegal to perform abortions after the detection of a "fetal heartbeat," which can happen as early as six weeks into a pregnancy.
Many state leaders have confessed that the laws (nearly all of which are being challenged in court) are part of an effort to dismantle Roe v. Wade, the 1973 Supreme Court decision recognizing a woman's constitutional right to an abortion.
"It's not an exaggeration to say women will die because these Republican legislatures in these various states, who are out of touch with America, are telling women what to do with their bodies," Harris added.
Cory Booker quickly praised Harris for bringing up the issue but added that "women should not be the only ones taking up this cause and this fight." The New Jersey senator noted that two Planned Parenthood clinics recently closed in Ohio, where the debate took place, after losing state and federal funding. He added that closing abortion clinics represents a "clear and existential threat" in our country.
Booker later said he'd create an office of reproductive freedom and rights if elected. The senator also repeated his commitment to repealing the Hyde Amendment, which prohibits the use of federal funds to pay for abortion except when a woman's life is in danger or if the pregnancy arises from rape or incest.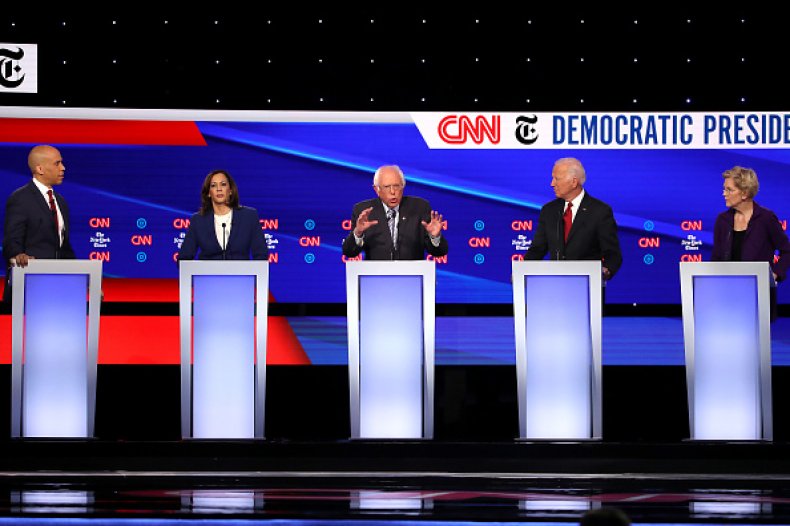 The debate moderators later in the event asked all of the candidates about what they would do, if elected, to stop conservative states from passing laws that restrict reproductive rights and access to health care.
Booker, Julián Castro, Amy Klobuchar and Elizabeth Warren all said they supported codifying Roe v. Wade into law.
"On Roe v. Wade, can we just pause for a minute here," Warren said. "I lived in an America where abortion was illegal. And rich women still got abortions. What we're talking about now is that the people who are denied access to abortion are the poor, are the young, are 14-year-olds who get molested by their family members."
Former Vice President Joe Biden also called for federal protections for abortion rights, saying that "the public is already there." He added that he would campaign against lawmakers that have supported restrictive abortion bills.
South Bend, Indiana Mayor Pete Buttigieg was one of the only candidates to support expanding the Supreme Court from nine to 15 justices and that he would appoint justices that support reproductive freedom.
Klobuchar asserted that she would fund Planned Parenthood again after the Trump administration created a regulation that cut Title X funding to clinics that refer patients for abortion services. The Minnesota senator also took the opportunity to directly slam President Donald Trump, accusing him of not being on "the side of women."
Representative Tulsi Gabbard said that she believed there should be some restrictions in place when it comes to abortion, including barring access to the procedure in the third trimester unless there is risk to the mother's life.
Following the debate, Planned Parenthood Votes executive director Kelley Robinson praised the candidates for discussing the issue at length and for their commitment to protecting reproductive rights.
"I'm pleased that the Democratic candidates for president were given the opportunity to share their plans to restore, protect, and expand the reproductive freedoms that have been weakened by Donald Trump and his allies," Robinson said in a statement, adding that there's never been a slate of candidates "this committed to protecting reproductive health care for all people."