Democrats Tear Into Alan Dershowitz for Arguing Anything Trump Does to Get Reelected Is Not Impeachable
Alan Dershowitz, one of President Donald Trump's defense attorneys in his impeachment trial, was slammed by Democrats Wednesday for providing the extraordinary legal argument that any actions a president takes are not impeachable, so long as they are in the quest for reelection.
"That would literally turn the Nixon arguments on their heads," said Sen. Kirsten Gillibrand (D-N.Y.).
"That was one of the most bizarre things I've ever heard as a response," Sen. Mazie Hirono (D-Hawaii) said. "It made no sense at all."
Amid the trial's first day of questions and answers from senators to the House impeachment managers and the president's defense team, Dershowitz made the argument that even if the allegations that Trump withheld military aid from Ukraine to push them to investigate the Bidens were true, it's not impeachable because a president's actions in the course of seeking reelection are in the "public interest" and justified.
Dershowitz said there were three possible motives behind quid pro quos involving foreign policy: public, political and personal financial interest. Only the financial interest motive is corrupt, he argued.
"Every public official I know believes that his election is in the public interest. Mostly, you're right," Dershowitz said. "If the president does something that he thinks will help him get elected, in the public interest, that cannot be the kind of quid pro quo that results in impeachment."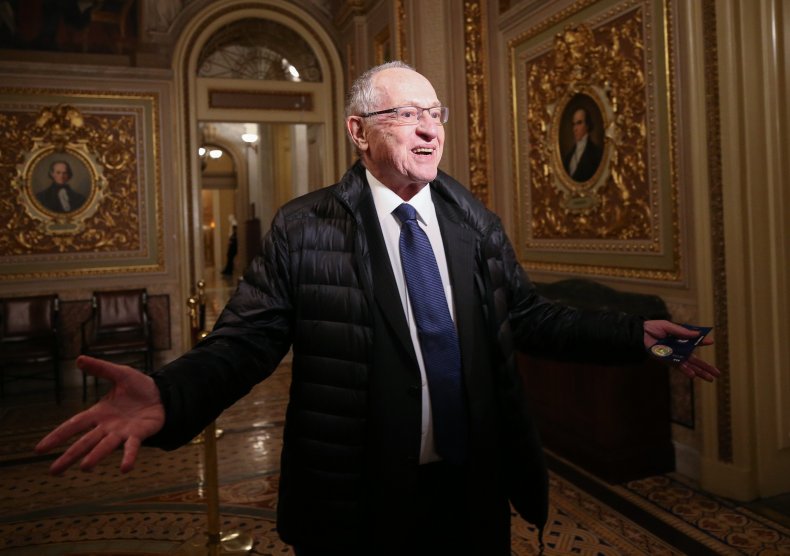 What Dershowitz described was a broad view of executive power. It was in response to question posed by Sen. Ted Cruz (R-Texas) about if a quid pro quo in the foreign policy realm pushed by a president could be deemed appropriate. Trump and Republicans have said the withheld aid was justified because he was tackling corruption in the region that involved former Vice President Joe Biden and his son, Hunter, in addition to concerns over burden-sharing about how much other countries were contributing to NATO.
There has been no evidence of wrongdoing by the Bidens.
Democrats were quick to lunge onto Dershowitz's claim, saying the logic would set a dangerous precedent for future presidents to act as corrupt as they please in elections.
"If you say you can't hold a president accountable in an election year where they're trying to cheat in that election, then you are giving them carte blanche," said Rep. Adam Schiff (D-Calif.), the lead impeachment manager. "All quid pro quos are not the same. Some are legitimate and some are corrupt."
Senate Minority Leader Chuck Schumer (D-N.Y.) later applauded Schiff, saying the "student decimated the professor." He also seized on the moment to advocate for witnesses that the vast majority of Republicans have opposed, such as former national security adviser John Bolton and acting White House chief of staff Mick Mulvaney.
"They said, 'Well, there might be several motivations and you have to judge if one was okay.' And the answer, which loomed large: wanna hear what the motivations are? Call the eyewitnesses," Schumer said. "Call Mr. Bolton. Call Mr. Mulvaney. No one would better understand the president's motivation than they would."
Some Republicans came to the defense of Dershowitz and accepted his explanations about the various proper and improper motives with quid pro quos. They said it's impossible to know Trump's motives, a point that played into Schumer's argument for witnesses.
"How do you factor in the president's unspoken motive?" Sen. Tim Scott (R-S.C.) said. "We're going into reading minds, and that's what the House managers have tried to do."
Sen. John Barrasso (R-Wyo.), a member of GOP leadership, said there "could be mixed motives" and questioned how to decide what they were.
Sen. Mike Braun (R-Ind.) said Dershowitz did well in differentiating the types of acceptable quid pro quo motives.
"The three of them are different, and the imputed motives, which I think many of us understood that because the essence of their case has been quid pro quo, there's no way to separate that. And then, in some cases, it's bonafide," he said.