Democrats and Their Media Allies Are Lying About Georgia's Election Law | Opinion
Last month, Georgia's Republican governor, Brian Kemp, signed legislation to make the state's election process more secure, accessible and fair. Contrary to the avalanche of criticism from the media and the Democratic Party, this law takes sensible steps to improve the state's elections process.
The New York Times called the law "the most extensive restriction of voting access in generations and a "breathtaking assertion of partisan power in elections," while President Biden slanderously labeled the law "Jim Crow on steroids." Long-time observers of The New York Times and Joe Biden will not be surprised to learn that virtually every attack they make is wrong, unsupported or misleading.
This bill expands early voting by requiring weekend early voting for a minimum of 17 days. It codifies ballot drop boxes in Georgia state law for the first time ever and accommodates more ballot drop boxes than President Biden's home state of Delaware does. It allows Georgians to request an absentee ballot and vote absentee for any reason—while prohibiting mass unsolicited mailing of absentee ballots, which is a process plagued by errors and vulnerable to fraud. The new law authorizes mobile voting centers in case of emergency and ensures that absentee ballots can be counted earlier so that election results are not delayed, as they have been in recent Georgia elections.
The law requires that Georgians provide a driver license or state ID number when they vote absentee. This is a modern step that is an improvement over the current process of signature verification on absentee ballots—which is far more difficult, subjective and speculative. Three-quarters of Americans, including 69 percent of black respondents, think voters should have to present a photo ID in order to vote. Voter ID laws are overwhelmingly popular with Americans of all races. If you need an ID for in-person voting, it is reasonable that you should provide proof of one for absentee voting, as well.
The Georgia law also establishes timelines to request absentee ballots that are well within the norm for other states. Georgia's absentee voting laws are more generous, for instance, than those in Democratic-run states such as Rhode Island, Maryland, Nevada, New Jersey and New Mexico. Joe Biden has not accused any of these states of having "Jim Crow" laws, and we all know why. The president directs his racially inflammatory, divisive and unfair criticisms against Republican-led states, but not Democratic ones.
The legislation also improves election integrity in other ways. Election officials can no longer accept third-party funding from corporations and wealthy foundations, which prevents undue and corrupt influence by powerful interest groups and individuals. The law creates a voter fraud hotline in the state attorney general's office and empowers ordinary citizens to report potential violations of the law.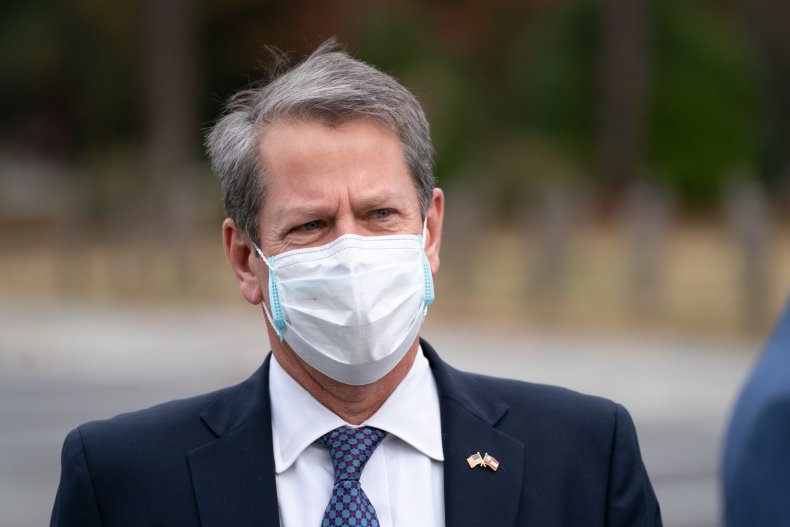 Reporters and other liberal activists have obsessed about one provision of the bill, which prohibits giving food and water to voters waiting in line. The absurd implication behind this attack is that Republicans want to starve or dehydrate voters waiting in line. In reality, this provision simply prevents electioneering near polling places—a common practice banned in other states, including New York. The law explicitly states that election officials may provide water to voters waiting in line. And a key goal of the entire law is to streamline elections so that voters don't need to wait in line for more than a few minutes.
The law makes other, more technical changes to the Georgia law that liberals have misrepresented. It requires voters to cast their ballots at the correct polling place while also allowing the flexibility to cast a provisional ballot at the wrong location, provided the voter signs a statement affirming he/she couldn't get to the correct polling place in time. It ensures that all polling places are open for the same number of hours, so that local officials don't give voters uneven opportunities to vote. It shortens runoff elections from two months to one month after the general election, which clearly presents no advantage to either party. The law also curbs the power and influence of Georgia's secretary of state and replaces him as the chair of the state board of elections with an appointed, nonpartisan, neutral figure. All of these are small and common-sense steps that are hardly national news.
In sum, Georgia's voting laws are well within the mainstream of American election law and are better than voting laws in states that liberal Democrats have run for decades. Coca-Cola may well swallow the carbonated lies of the Democratic Party, but the American people are not so gullible. Recent polling shows that a plurality of Americans support the Georgia law. So why are liberal elites and multinational corporations denouncing Georgians as racist? They are doing it to silence normal Americans and to ensure that the various changes to our nation's voting laws during the COVID pandemic become permanent.
Sadly, the Left's dishonest crusade has real victims. Major League Baseball has decided to move its All-Star Game to Denver, which will cost the Atlanta economy $100 million as the city desperately tries to recover from the COVID downturn. Many Georgians will go without jobs, restaurants and stores will lose business, and a point of Atlanta pride has been tarnished. The silver lining? Georgians now have a more convenient, secure and fair method by which to punish those responsible for this dishonest smear.
Tom Cotton, a Republican, is the junior U.S. senator from Arkansas.
The views expressed in this article are the writer's own.