'Much That Remains to Be Done': Democrats Think Mueller Moved the Impeachment Needle, But That's Unlikely
House Democrats on Wednesday were confident that by hearing the testimony of Robert Mueller, the former special counsel would convince more of the general public to support an impeachment inquiry and, in turn, would sway some of their colleagues who are on the fence.
Several members of the House Judiciary Committee, one of two panels Mueller was grilled by, expressed confidence that by Mueller confirming various incidences of alleged obstruction of justice that are detailed in his 448-page report, support would grow for initiating an inquiry, despite very little new information being revealed throughout his testimony.
But there was no stampede by Democrats to rush toward calling for an impeachment inquiry, with nearly all members appearing to publicly remain within their respective anti- or pro-impeachment camps. Some doubled down in their opposition to take a new stance on such a drastic measure.
"There's so much that remains to be done in order to put this in a posture where, in my opinion, we could reasonably look at impeachment as an outcome," Democrat Hank Johnson told Newsweek. "We don't have a record of evidence. We don't have a case that—we don't have the witnesses to go over to the Senate and hold a trial in order to convict."
And Democratic leadership, including House Speaker Nancy Pelosi, continued to pour cold water on the idea of the chamber immediately moving forward with an inquiry, an indicator that the number of Democrats who will come out in support of an inquiry could remain minimal.
"My position has always been whatever decision we made in that regard would have to be done with our strongest possible hand, and we still have some outstanding matters in the courts," Pelosi told reporters. She was flanked by Democratic House members Adam Schiff, Elijah Cummings and Jerrold Nadler, chairmen of the Intelligence, Oversight and Judiciary Committees, respectively.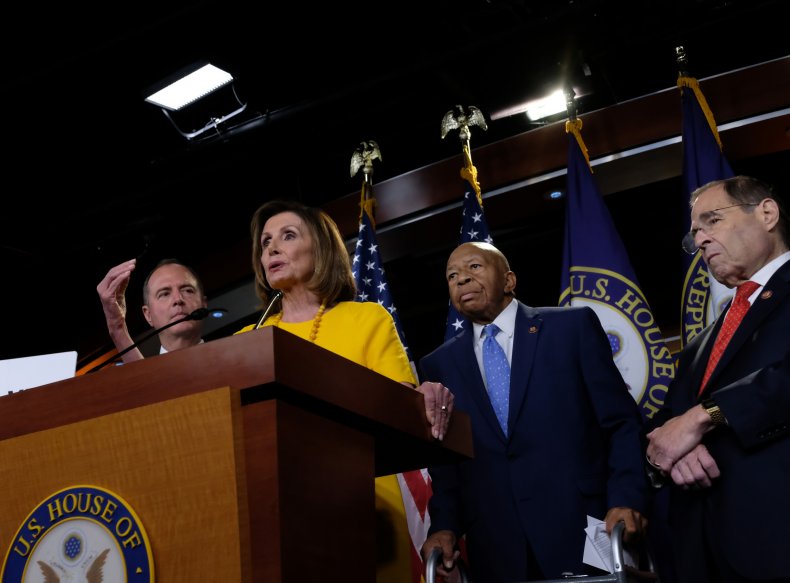 Schiff, whose panel also heard from Mueller on Wednesday, concurred with the Speaker.
"There are two juries in an impeachment," the California lawmaker said. "There is the jury that is the Senate, which decides the removal from office, and then there is the jury of the American people. And I'm most concerned about the jury that is the American people."
Nadler said the immediate next steps, "either tomorrow or Friday," would include going to court to request the redacted grand jury material from the Mueller report and enforcing a subpoena to former White House counsel Don McGahn, a pivotal figure mentioned in the Mueller report hundreds of times. One of the potential obstruction incidences mentioned by the report include Trump instructing McGahn to have Mueller removed as special counsel. The White House has instructed him not to comply with the congressional subpoena for documents and testimony.
Johnson, a Judiciary Committee member who represents Georgia, is part of roughly 60 percent of the caucus that does not support an inquiry. He told Newsweek that, despite believing Trump has committed impeachable offenses, Mueller's testimony failed to sway his stance against an inquiry.
"We still only have Bob Mueller's report," he said. "We can't walk over to the Senate with Bob Mueller's report and convince the Senate to convict the president based on Bob Mueller's report."
Johnson indicated that he may very well never join his colleagues in supporting an inquiry. He still wants to see the report's underlying evidence and its unredacted portions, in addition to hearing the testimonies of McGahn, former Trump attorney Michael Cohen (currently serving a 3-year prison sentence), former Trump campaign chairman Paul Manafort (currently serving a more than 7-year sentence), eldest Trump son Don Jr., former White House Communications Director Hope Hicks and McGahn's former chief of staff, Annie Donaldson.
Freshman Democrat Jeff Van Drew, who represents a New Jersey swing district, told CNN that he, too, was not prepared to change his mind.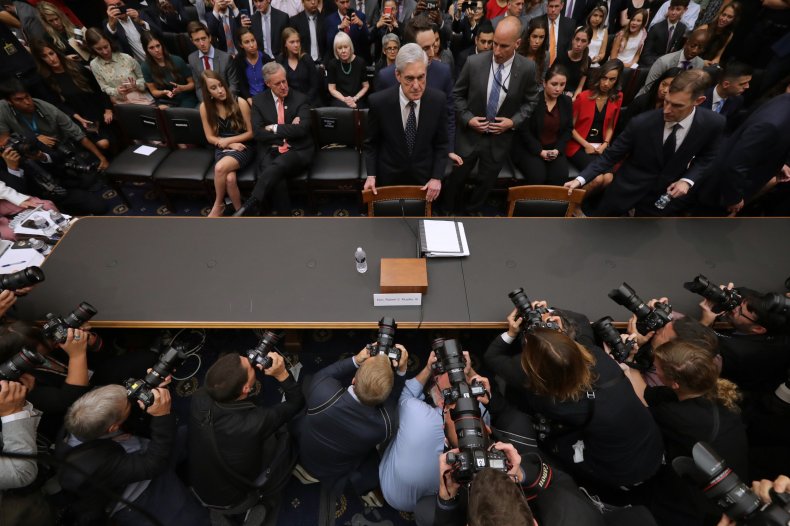 Still, those advocating for the House to initiate an inquiry said they believed public sentiment, and soon their colleagues, would change their minds.
"I think it definitely will, because Mr. Mueller made the clear point that any other person, other than a person hiding behind a Justice Department policy... would have been indicted," Representative Steve Cohen, a Judiciary Democrat who's long favored impeachment, told Newsweek. "And he can be indicted once he leaves office, if it's after one term, because the statute of limitations will not have run."
Mueller reiterated to lawmakers that he did not determine whether Trump committed a crime and that he could not have charged the president due to longstanding DOJ guidelines prohibiting the indictment of a sitting president. Once Trump leaves, however, Mueller said he believed he could be charged with obstruction.
"We need public persuasion, and we need fully informed colleagues," Representative Madeleine Dean, another Judiciary Democrat within the inquiry camp, told Newsweek. "And I think the end will paint itself."
If a "picture is worth 1,000 words," said Democrat Cedric Richmond, a pro-impeachment inquiry Judiciary member, "a video and a hearing I think is worth more than that."
"It was new to about 99 percent of the American people," Democrat Jamie Raskin, another Judiciary member in favor of an inquiry, told Newsweek. "I think the public is going to be shocked to learn of the multiple episodes in which the president tried to fire the special counsel, tried to lie about firing the special counsel, tried to tamper with witness testimony, tried to coax a witness testimony."
CNN reported earlier in the day that Representative Sean Patrick Maloney of the Intelligence Committee had changed his position to now support an inquiry. He later said on the network Wednesday evening that that was incorrect. Stopping short of formally calling for an inquiry, Maloney said "the president deserves it."
Representative Al Green, the Texas Democrat who, for the third time in recent years, attempted to oust Trump with articles of impeachment last week, said the evidence to impeach the president has been available for some time, rendering Mueller's trisomy as something "we really did not have to have... to move forward with impeachment."
"I think that some of my colleagues will say, regardless as to how this impacts public opinion, 'I will move forward with impeachment.' You can't say that the president has committed impeachable acts and then say, 'but we're not going to impeach him,'" Green predicted to Newsweek. "Mr. Mueller would show up, that he would be terse, laconic and concise, that he would refer to the report, that he would have members read the report—by that standard, he's done what I expected. But if you were expecting a seminal moment, a 'wow' moment or 'aha' moment, then you may be disappointed."
This story was updated to correct Rep. Sean Patrick Maloney's stance on initiating an impeachment inquiry.