'Utter Disregard for National Security': Democrats Threaten Subpoenas Over Jared Kushner Controversy
Congressional Democrats had already begun to investigate the White House security clearance procedure, and Thursday night's report by The New York Times that President Donald Trump had ordered a top-secret security clearance for his son-in-law and senior adviser, Jared Kushner—against the objections of intelligence and senior administration officials—had Democrats ready to subpoena documents and witnesses.
Since the House Oversight Committee launched its wide-ranging inquiry into the security clearances of several current and former administration officials, including Kushner, in January, Committee Chairman Elijah Cummings said that over the past five weeks, the White House "has stalled, equivocated and failed to produce a single document or witness to the Committee."
As a result, Cummings demanded Friday in a letter to White House Counsel Pat Cipollone for the administration to be in "full and immediate compliance" and begin "scheduling transcribed interviews... and producing all responsive documents immediately." The chairman said he expects a response by Monday, making it clear this would be the "final time" he requests "voluntary cooperation."
"The Committee expects full compliance with its requests as soon as possible, or it may become necessary to consider alternative means to compel compliance," Cummings said in a statement Thursday night.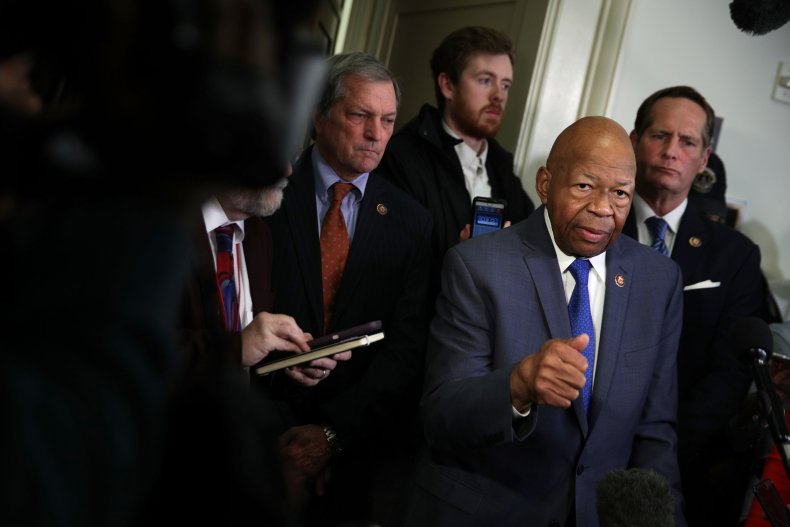 General John Kelly, who was chief of staff at the time, disagreed with Trump's order to grant Kushner's top-secret clearance, which was received in May 2018, so strongly that he wrote an internal memo about the president's "order," according to The Times. Don McGahn, who was then White House counsel, did the same, outlining the concerns that both he and the CIA had about Kushner receiving such top-secret and sensitive information.
These documented objections by Trump's inner circle fly in the face of the president's previous denials. Trump told The Times in January that he "was never involved" in Kushner's security clearance and denied ordering Kelly to approve it. Previously, Kushner had been operating under a temporary security status. The president's oldest daughter, senior adviser and wife of Kushner, Ivanka Trump, made similar denials to ABC News last month. She said that despite "anonymous leaks" about issues involving security clearances, "the president had no involvement pertaining to my clearance or my husband's clearance, zero."
As for the White House response, press secretary Sarah Sanders said, "We don't comment on security clearances."
House Intelligence Committee Chairman Adam Schiff said in a statement this was the "latest indicator of the president's utter disregard for our national security and for the men and women who sacrifice so much every day to keep us safe. Worse still was the White House's oft-repeated lie that Kushner had been granted the clearance at the conclusion of a normal process."
Schiff vowed to work closely with the Oversight Committee's investigation into the White House security clearance process.
The president does have the legal authority to overrule security and intelligence officials when granting top secret security clearances. While not all details surrounding the objections to Kushner receiving a top-secret security clearance are known, it is believed his family's real estate ties and his previous foreign and business contacts with Israel, the United Arab Emirates and Russia worried the FBI and CIA, according to The Times.
"If true," Cummings said in his letter to Cipollone, "these new reports raise grave questions about what derogatory information career officials obtained about Mr. Kushner to recommend denying him access to our nation's most sensitive secrets," why Trump may have "concealed his role," why Kelly and McGahn documented their concerns and why the White House continues to "withhold key documents and witnesses."
Citing Kelly's concession that there were major "shortcomings" in the security clearance process in a letter he sent to the White House in January, Cummings requested documentation on the policies, protocols and practices pertaining to background checks and various levels of security clearances. The letter also asked for a list of all White House employees or contractors who applied for clearances, including anyone who was denied, and details regarding the background investigations of several administration officials, including former National Security Adviser Michael Flynn and Kushner.
Amid controversy following the revelation that former White House staff secretary Rob Porter operated under temporary clearance status because of allegations of domestic abuse against him, Kelly amended the process. In a five-page memo in February 2018, Kelly conceded to the "shortcomings" in the process, and said the White House "should—and in the future, must—do better." He added that "now is the time to take a hard look at the way the White House processes clearance requests."
Kelly revoked the interim security clearance status of anyone whose background check had been pending since June 1, 2017, which included Kushner and reportedly Ivanka Trump, too.
This story has been updated with information from a letter from House Oversight Chairman Elijah Cummings to White House Counsel Pat Cipollone.