Republican Says Democrats 'Throwing a Hail Mary' By Asking 'Master of Criminality' John Dean to Testify
Republican Representative Andy Biggs mocked Democrats for asking John Dean to testify before the House Judiciary Committee on Monday, arguing that the move was an act of "desperation" and calling former President Richard Nixon's White House counsel the "cover up master of criminality."
Saying that he thought his staff was "punking" him when he was informed about Dean being asked to testify, Biggs told Fox News co-anchor Sandra Smith on Monday morning that he thought "it can't be true."
"Here's a guy who has no veracity at all. Nobody can trust what he says," Biggs, who represents Arizona, said. "He was the cover up master of criminality, that's what every investigation said. Nineteen discrepancies that the Senate committee found, and here he is, he spent 45 years trying to make money off rehabilitating himself."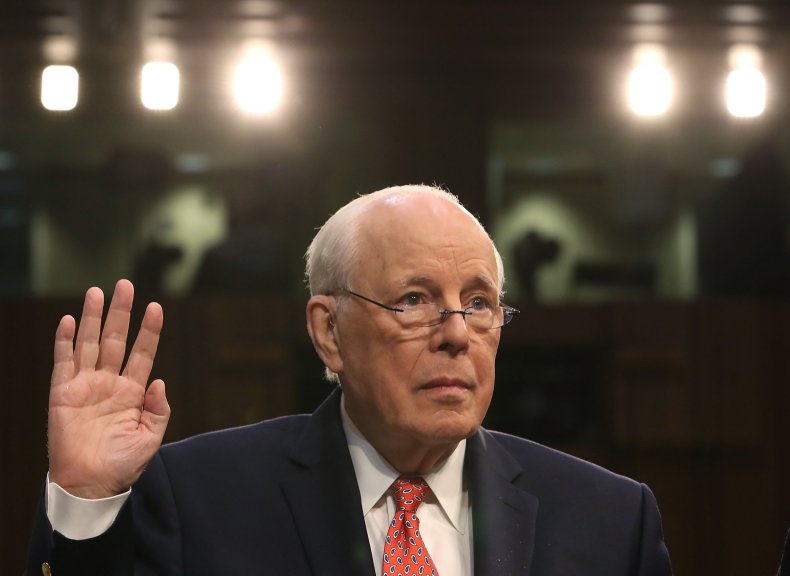 Dean famously testified against his boss, Nixon, during the Watergate scandal back in 1973. As White House counsel, he infamously warned his boss that there was "a cancer growing on the presidency" that may prove fatal. Nixon inevitably resigned from office, choosing to step aside instead of facing removal for obstruction of justice, abuse of power and contempt of Congress.
Numerous analysts have drawn comparisons between the impeachment allegations against Nixon and the current accusations levied against Trump. Dean himself went on CNN in April, just after special counsel Robert Mueller's report was released, and said it was "more damning" than the report against Nixon as well as the report that led to former President Bill Clinton's impeachment.
"This is really a devastating report," Dean said at the time.
But Biggs attempted to dismiss Dean's Monday afternoon testimony before it began, arguing that he knew nothing more than anyone else about Mueller's investigation and calling into question his credibility.
"He has no more information than you or I can get from reading the Mueller report," the congressman said. "It just kind of represents, kind of this real sense of desperation on their [Democrat's] part, where they're throwing a hail Mary today, I think," he asserted.
Trump also attacked Dean's credibility on Monday, posting to Twitter:
"Can't believe they are bringing in John Dean, the disgraced Nixon White House Counsel who is a paid CNN contributor," he wrote. "No Collusion - No Obstruction! Democrats just want a do-over which they'll never get!"
Earlier in the day he lashed out at Dean as well, writing: "They [Democrats] are even bringing in @CNN sleazebag attorney John Dean."