Plurality of Democrats Now Say Trump, Not Obama, Is Responsible for U.S. Economy, Poll Finds
A plurality of Democrats have indicated that President Donald Trump—not his predecessor Barack Obama—is responsible for the current state of the country's economy, a tonal shift from earlier this year when top members of the party argued the economic conditions were still due to former President Barack Obama.
As of April 9, 46 percent of Democrats agreed that the United States economy was down to Trump, according to a Quinnipiac University poll released earlier this week. The results suggest the current occupier of the White House is getting more credit for the economy, although the view that the current state of the economy is healthy was not a uniform one.
In the poll, 51 percent of American voters said the economy was in "good" condition, while 27 percent thought the state of the economy was "not so good" and 12 percent thought it "poor." Just nine percent of participants in the survey felt that the economy was in "excellent" shape.
In January, ahead of Trump's first State of the Union address, Democrats had gone on offense, anticipating that the president might take credit for the economy.
"Here are two words we won't hear President Trump say tonight about the economy: 'Thanks Obama,'" Senate Minority Leader Chuck Schumer said on the Senate floor hours before the speech. "President Trump was handed an already healthy economy by his predecessor."
During his address, Trump boasted about the country's "roaring" economy and said there's "never been a better time to start living the American dream." In the face of these claims, Democrats continued to insist that Trump had merely inherited the country's healthy economy, and some economists bolstered their argument, stating that Trump had not been in office long enough to take credit for overall economic performance, good or bad.
Polling at the time showed many Americans agreed: A January ABC News/Washington Post survey found that only 38 percent of Americans believed Trump deserved a "great deal" or "good amount" of credit for the economy, while 50 percent thought credit was owed to Obama.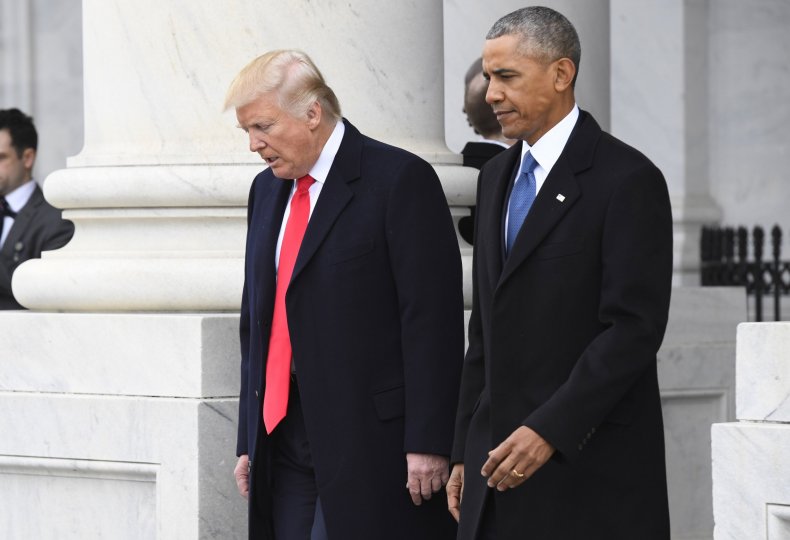 Others shifted responsibility to Trump months ago, if only to criticize the president for not delivering on his economic promises fast enough.
Trump—who many believed was carried to victory in 2016 with the help of a large voting bloc suffering from "economic anxiety"—had promised supporters he could increase the country's rate of economic growth to 4 percent, more than double the rate at the time.
But just over a month into his presidency, the Trump administration had already dropped its forecasted boost to 3 percent. More than a year out, the president remains shy of that 3 percent mark, having grown the economy at a 2.6 percent annual rate in 2017.