Democrats Urge Biden to Turn Cuba Crisis Into 'Tear Down This Wall' Moment With Miami Trip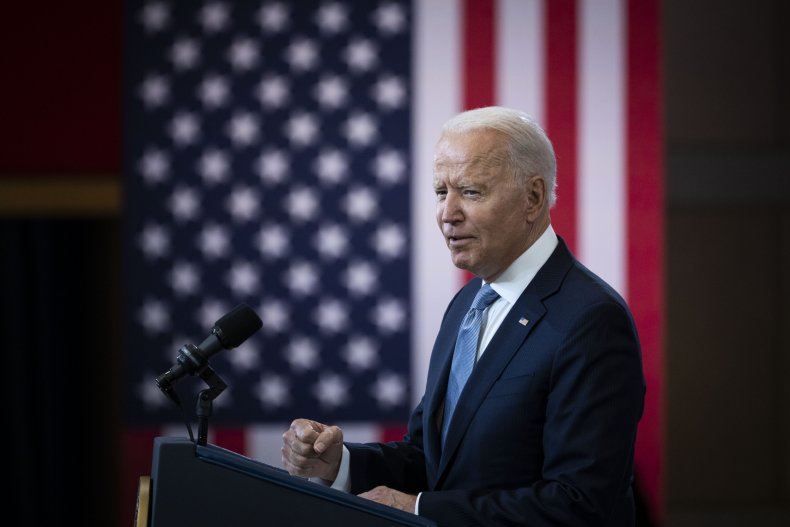 Florida Democrats are urging President Joe Biden to address pro-democracy protests in Cuba in a speech from Miami that would could cues from former Republican President Ronald Reagan.
In comments to The Miami Herald, Democratic Florida state Sen. Annette Taddeo urged Biden to emulate Reagan's famous "tear down this wall" speech—when, during a June 1987 visit to West Berlin, Reagan directly addressed Soviet Union leader Mikhail Gorbachev and demanded that he dismantle the Berlin Wall. The wall came down a little more than two years later, marking the beginning of the end for communism in Eastern Europe and the eventual breakup of the Soviet Union.
"I really believe this is one of those moments, I put it up with the moment of 'Mr. Gorbachev, tear down this wall' because I do believe we can give the hope to the people in Cuba," Taddeo told the paper. "It's really about the people in Cuba who need to hear it. The words of the president of the U.S., be it Republican or Democrat, should matter."
"Actions speak louder than words and again, to me, coming to Miami is an action in itself that is very strong," added Taddeo. "We've got a real crisis. We need to grab that opportunity, which is why I compare it to the moment of Mr. Gorbachev."
Taddeo is not the only Democrat hoping that the president will travel for a speech in South Florida, which is home to the country's largest population of Cuban Americans. Miami-Dade Democratic Party chairman Steve Simeonidis warned that Republicans like Florida Governor Ron DeSantis were using the current protests as a partisan "political game."
Biden struggled with Hispanic voters during Florida's 2020 presidential election, with his loss in the state partly attributable to former President Donald Trump winning a majority of votes among Cuban Americans, who tend to be more conservative than the Hispanic population as a whole.
Democratic state Sen. Shevrin Jones told The Herald that a Miami trip could present Biden with an opportunity to connect with the Cuban American community as well as the area's Haitian Americans, many of whom are still processing last week's assassination of Haitian President Jovenel Moïse.
"This is a prime opportunity for the president to engage with not only the Cuban leadership in South Florida but also the Haitian leadership in South Florida," Jones said. "It's clear there's a disconnect between Cuban-Americans and the Democrats."
While Biden has not announced any plans for a Miami trip, he did express support for the ongoing protests in a statement issued on Monday, while condemning the actions of "Cuba's authoritarian regime." At least 148 people have were detained or disappeared amid protests in Cuba between Sunday and Tuesday, according to Cuban exile group Cubalex.
"We stand with the Cuban people and their clarion call for freedom and relief from the tragic grip of the pandemic and from the decades of repression and economic suffering to which they have been subjected by Cuba's authoritarian regime," Biden said. "The Cuban people are bravely asserting fundamental and universal rights."
"Those rights, including the right of peaceful protest and the right to freely determine their own future, must be respected," he added. "The United States calls on the Cuban regime to hear their people and serve their needs at this vital moment rather than enriching themselves."
Newsweek reached out to the White House for comment.