House Democrats unveiled a new proposal Thursday that they say would lower the cost of prescription drug prices, urging President Donald Trump and Senate Republicans—in addition to some of their own liberal members—to support the measure that will be debated and amended in the coming weeks.
"I will say that the American people need this. We want to get it resolved," House Speaker Nancy Pelosi (D-CA) said at a news conference presenting the legislation. "And we're going to work together to get the strongest possible results for them."
The plan, known as the Lower Drug Costs Now Act, would seek to lower prescription drug costs by allowing the federal government to negotiate prices with drug companies—something that is not currently permitted by law. (More details about the plan can be found toward the bottom of this story).
But with any substantial proposal in Congress that's on contentious issues, such as health care, there's always roadblocks. If House Democrats hope to succeed in their plan someday becoming law, they must navigate the criticism and address the concerns levied by Republicans, Trump and even some of their own members.
Flanked by other Democratic House leaders, Pelosi and her colleagues championed the proposal as a pillar of their "For the People" Agenda. They expressed confidence it is a middle-of-the-road approach, engaging in a balancing act that they hope can appease everyone from progressives to Trump.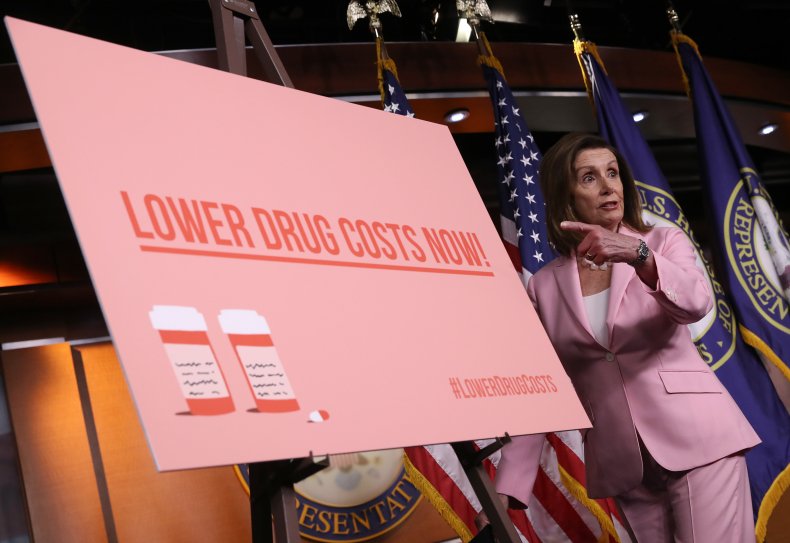 They also challenged the president to hold good to past promises. While on the campaign trail and throughout his presidency, Trump has said it is a priority for his administration to curtail the sky-rocketing costs of prescription drugs. The Democrats said committee hearings and proposed amendments would start taking place as soon as next week, part of an ambitious timeline with the goal of passing the measure this fall—a move that will put pressure on Trump.
"In the president's State of the Union address, he aggressively raised this question in front of the American people," said Rep. Richard Neal (D-MA), chairman of the Ways and Means Committee. "Time and again, in talking to members of the administration, they seem intent on pursuing the same—I think—general path that we're currently on."
Pelosi said that in talks with the president, she believed lowering the cost of prescription drugs is one of the few subject areas where the two political foes can find common ground.
She also petitioned to Senate Majority Leader Mitch McConnell to work with Democrats in creating a final piece of legislation that will pass Congress and earn the president's signature, citing the Kentucky Republican's refusal to act on various bills House Democrats' have passed. The Senate has advanced a bipartisan prescription drug reduction plan, spearheaded by Sens. Chuck Grassley (R-IA) and Ron Wyden (D-OR).
McConnell told Politico Thursday afternoon that Pelosi's drug pricing plan was already dead on arrival because of its "socialist price controls," despite it not yet being officially filed. A detailed summary of the proposal was passed around to reporters.
"He's holding up so much legislation that were our top 10 priorities, which had bipartisan support in the public. We weren't looking for a fight, we're looking for a result," Pelosi said. "This not even obstruction, it's just abandonment of your responsibility as a leader in the Senate of the United States."
House Republicans, however, were quick to decry their Democratic counterparts' prescription drug plan as "more socialism," categorizing it as "total government control" and accusing Democrats of keeping it safeguarded and barred from GOP input until they had already unveiled it to the public.
"What they want to have is government controlling the medicine because government is going to control the prices," Minority Leader Kevin McCarthy (R-CA) said at a news conference. "If you don't play by that rule, then they're going to raise the tax within health care for the prescription drugs. How is that going to lower the price? What is that going to do to innovation?"
The drug cost reduction plan would allow Medicare to negotiate—a process that would be overseen by the secretary of Health and Human Services—the prices of at least 25 and as many as 250 drugs per year. The negotiated prices would likely focus on more popular medicines and would require that Insulin be one of them, a life-saving drug that in recent years as increased exponentially in price.
Medicare would be prohibited from paying more than 1.2 times the average price of drugs in Australia, Canada, France, Germany, Japan and the United Kingdom. Drug companies would be forbidden from raising the negotiated price above inflation, absent appropriate competition.
For the drug companies who refuse to play ball with the federal government and negotiate a fair price based on the proposal's outline, they'd face an excise tax starting at 65 percent of the pharmaceutical manufacturer's annual gross sales, growing by an additional 10 percent every quarter. The maximum tax would be 95 percent of annual gross sales.
The minimum requirement for the government to negotiate the prices of 25 drugs was cited by progressives as too low, arguing the floor should be much higher. They also wanted to see protections put in place for curtailing the prices of new drugs, not just those already on the market with established international prices.
The Democratic leaders said there are safeguards in the plan that protect against companies overcharging new drugs, such as a mandatory 15 percent discount when negotiating for drugs that lack an average international price.
Pelosi also expressed a willingness to further amend the legislation to bring more of her Democratic colleagues on board, saying this outline was just the first step in trying to assure the plan has a realistic chance at becoming law.
"This really is about the absorptive capacity to be able to produce a result and I want to be able to indicate a result that is possible and doable," the Speaker explained. "If there are more resources and the [HHS] secretary says, 'I can do more if I have more resources,' then we should make that available."