Democrats Warn Donald Trump Against Pardoning Paul Manafort: 'It Would Cause Congress to Erupt'
On the heels of President Donald Trump's former campaign chairman Paul Manafort being sentenced to an additional 43 months in prison on Wednesday, Democrats warned the president not to pardon him, with some telling Newsweek that such an act could be evidence of Trump having an ulterior motive of influencing those enveloped in the Russia probe.
The president continued to avoid explicitly ruling out a pardon after the latest sentencing, telling reporters he had "not even given it a thought as of this moment." White House press secretary Sarah Sanders offered a similarly vague answer earlier in the week, saying, "He'll make a decision when he's ready." And in a New York Post interview in November, Trump said a potential pardon was not "off the table. Why would I take it off the table?"
"If the president were to pardon Manafort, it would cause Congress to erupt," Senator Tim Kaine, a Virginia Democrat, told Newsweek shortly after Manafort's sentencing.
Minutes after his latest sentencing, Manafort was slapped with a Manhattan grand jury indictment on 16 additional charges involving residential mortgage fraud, conspiracy and falsifying business records. Since those are state charges, Manafort would be exempt from a presidential pardon on those charges if he was convicted.
Manafort has been scolded by a federal judge throughout his D.C. case for breaking his plea agreement after it was ruled that he repeatedly lied to investigators about his contacts with a senior administration official. U.S. District Court Judge Amy Berman Jackson said Wednesday during his sentencing that it was "hard to overstate the number of lies and the amount of fraud and the extraordinary amount of money involved" in his case.
Kaine and Representative David Cicilline, a Rhode Island Democrat, suggested to Newsweek that despite Trump's executive authority to issue pardons to whomever he pleases, a pardon for Manafort could be seen as an attempt to interfere in special counsel Robert Mueller's investigation. Kaine said he would view it as trying to "suborn perjury by other witnesses," while Cicilline, a member of the House Judiciary Committee, categorized it as rewarding Manafort for his part in "not being forthcoming with law enforcement."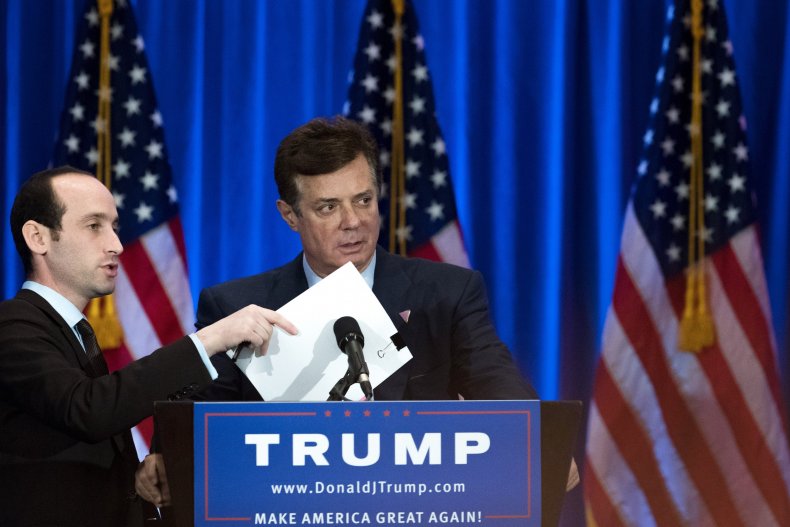 Trump's former attorney Michael Cohen came under Republican scrutiny for testifying to Congress last month that he "never asked for, nor would I accept" a pardon, after the president and the White House suggested Cohen lied when making that claim.
"I don't accept the notion that simply because he has the pardon power, he can just pardon everybody," Cicilline said. "Let's imagine if he pardoned everybody who had evidence of criminality as it related to the president of the United States. And it was for the purpose of concealing that, I'm not sure he's off the hook for obstruction of justice or a conspiracy to obstruct justice simply because he has the legal authority to do it."
Should Congress or authorities find evidence Trump issued a pardon in lieu of Manafort not cooperating, Cicilline said he would consider it "an impeachable offense."
Articles of impeachment would originate in the House Judiciary Committee. Democratic leadership, particularly Speaker Nancy Pelosi, has tried to tamp down calls for impeachment spearheaded by freshmen Congress members, such as Representative Rashida Tlaib.
Kaine said he thought that GOP lawmakers' support for Trump's presidential authority was eroding, pointing to the Republicans who were poised to side with Democrats in the upcoming resolution votes, one to terminate Trump's national emergency declaration and the other to end U.S. support for the Saudi-led war in Yemen, as evidence. The president has promised to veto both resolutions.
"More unilateral use of executive power and really questionable circumstances would, I think, really galvanize a reaction here in Congress," he said. "We can't affect his pardon power, but we would view it as a sign of a guilty conscience."
Representative Sheila Jackson Lee, another Democratic member of the House Judiciary Committee, said that while she was not advocating for Trump to pardon Manafort, "the pardon power is an unquestioned power." And for that reason, "a pardon would be a difficult space to be able to use for grounds of impeachment," she said.
"The Mueller report will come. Simultaneously, there are Intelligence Committee investigations that are methodically going forward," Jackson Lee told Newsweek. "The Judiciary [Committee] is going to be focusing on public corruption, obstruction and abuse. I think it is much better to look factually at those themes, to see the substance of what could be considered high crimes and misdemeanors."