Democrats Who Flipped House in 2018 Endorse Joe Biden For President Ahead of Super Tuesday
Two Democratic members of Congress who helped their party flip the House of Representatives in the 2018 midterm election have put their weight behind former Vice President Joe Biden just ahead of Super Tuesday.
Representatives Jennifer Wexton of Virginia and Gil Cisneros of California joined a slew of Democratic lawmakers in endorsing Biden's presidential bid over the past few days, as the moderate Democrat trails frontrunner Senator Bernie Sanders of Vermont in national and state-level polls. After a big win in South Carolina, Biden is currently in second place after the first four contests, which also included Iowa, New Hampshire and Nevada.
"Today, I'm proud to endorse @JoeBiden for President of the United States. From New Castle County Council to the US Senate to the right-hand man of President Obama, Vice President Biden has proven time & time again he has the experience & temperament to unite our country," Cisneros, who represents California's 39th district and notably has said he voted for Sanders during the 2016 primary, posted to Twitter on Monday.
"Residents in #CA39 deserve a President who will put their needs first and work with Democrats and Republicans in Congress to get things done," he wrote. "Come November, I believe Vice President Biden will beat Donald Trump and become the 46th President of the United States."
Wexton similarly endorsed Biden via Twitter on Sunday.
"We need a leader who will bring us together, unite us as one country, and restore the promise of America. I know that @JoeBiden is that leader," the congresswoman for Virginia's 10th district tweeted. "He has the vision and experience to deliver results on the issues that matter most to Virginians. This Tuesday, I'm voting for Joe."
Senator Tammy Duckworth of Illinois, who unseated a Republican incumbent during the 2016 election, also endorsed Biden on Monday. The Iraq War veteran touted Biden's support for veterans and those in the military in a Monday statement.
"As a combat Veteran and former Assistant VA Secretary, I know that Joe Biden won't just pay lip service to those sacrifices, he'll make sure our troops and Veterans receive the support, care and respect they've earned," Duckworth said. "Joe also has a proven record of not just promising to help the little guy and communities of color like Donald Trump, but Joe actually delivers for them — he's earned our trust."
Other current and former members of Congress endorsed Biden's campaign over the weekend, as the Democratic contender hopes to counter the momentum of Sanders' campaign. Representatives Bobby Scott and Don Beyer of Virginia publicly backed the former vice president, as did Florida Representative Debbie Wasserman Schultz and Arizona Representative Greg Stanton.
Whether the endorsements sway voters' decisions remains to be seen. Sanders appears to have a significant lead over Biden in Virginia and California, as well as many other Super Tuesday states. Fourteen states and American Samoa will cast ballots in the Democratic primary on March 3.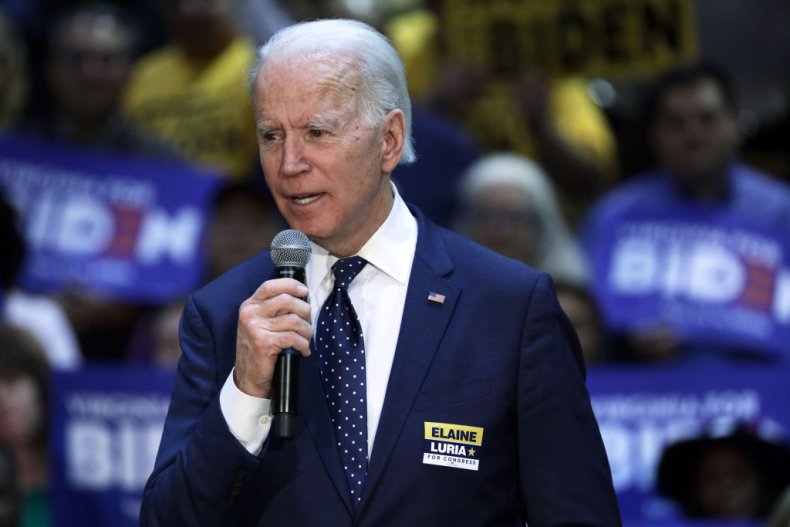 A new Emerson poll of California's Democratic voters showed Biden trailing Sanders by 17 points, 38 percent to 21 percent. Senator Elizabeth Warren of Massachusetts, who is now the third-place contender in the race following former South Bend, Indiana Mayor Pete Buttigieg's decision to drop out on Sunday, came in third with support from 16 percent of voters.
A Data for Progress poll in Virginia from late February showed Sanders ahead of Biden by 9 points. The senator from Vermont had support from 28 percent of voters, while Biden was backed by 19 percent. Billionaire former New York City Mayor Mike Bloomberg, a former Republican, came in third with 17 percent.
The most recent national polling data from Morning Consult also shows Sanders ahead of Biden by double digits. Sanders has 33 percent, while Biden has 21 percent – a 12 point difference. Bloomberg is third, with the backing of 17 percent of respondents.