Democrats Who Voted for Acosta Say They Lacked Epstein Case Details, Despite Confirmation Hearing Questions
The remaining Senate Democrats still in Congress who voted to confirm embattled Labor Secretary Alexander Acosta rebuked the former U.S. attorney Tuesday, with some going so far as to call for Acosta's resignation—a change of pace from the more muted or neutral responses offered the day prior.
But in offering their condemnation for Acosta, who issued a mild plea deal to multimillionaire Jeffrey Epstein in 2007 for sex crimes involving minors, several Democrats claimed they lacked prior knowledge of the events surrounding the case, despite published news reports and it being a topic of discussion during the Trump cabinet official's confirmation hearing in 2017.
Four of the five Senate Democrats who voted to confirm Acosta—Catherine Cortez Masto of Nevada, Bob Menendez of New Jersey, John Tester of Montana and Mark Warner of Virginia—told Newsweek they believe he should now step aside.
Senator Joe Manchin of West Virginia was the lone Democrat to say he had not yet come to a conclusion. "I'm getting all the information I can to make that decision," he said.
In explanations for their confirmation votes on Acosta, the four Democrats who want him to resign claimed they were only just recently made aware of how he handled Epstein's case in Florida, which entailed forgoing federal sex crime charges involving a minor in exchange for a single state charge of soliciting a minor for prostitution. The result was an 18-month-long prison sentence, which Epstein served 13 months of, and the ability to come and go as he pleased for work.
A federal judge has ruled that offering such a deal without notifying the alleged victims was against the law, and the Justice Department has said it's reviewing Acosta's handling of the matter.
"I've already stated I think he should resign. And what I regret is we didn't have all of this information at the very beginning," said Masto.
Warner said his calls for resignation were, in part, thanks to "enormous new information about Mr. Epstein."
Epstein on Monday was charged with operating a child sex trafficking ring involving "dozens of minor girls" between 2002 and 2005, the indictment read, putting Acosta's handling of Epstein's crimes in Florida years later in the spotlight and prompting swift calls from Democrats to demand Acosta's resignation.
"I wanted to give the Secretary Acosta a chance to lay out his side of the facts," Warner said. "I don't think he's done that. I think his answers have been inadequate. I think it's time for him to resign."
Tester "voted on the best information I had at the time," he said, adding, "obviously, I didn't have all the information."
"I think what he did is a fatal flaw," Tester continued. "Not to bring in the folks who had the crime committed—victims—and do what he did, I think is—that kind of stuff doesn't happen by accident."
Menendez declined to provide further comment than what was stated in a press release. It said, in part: "At the time that I voted to confirm Mr. Acosta... I wasn't fully aware of the scope of the Epstein case or that the victims were kept in the dark over the deal that was struck."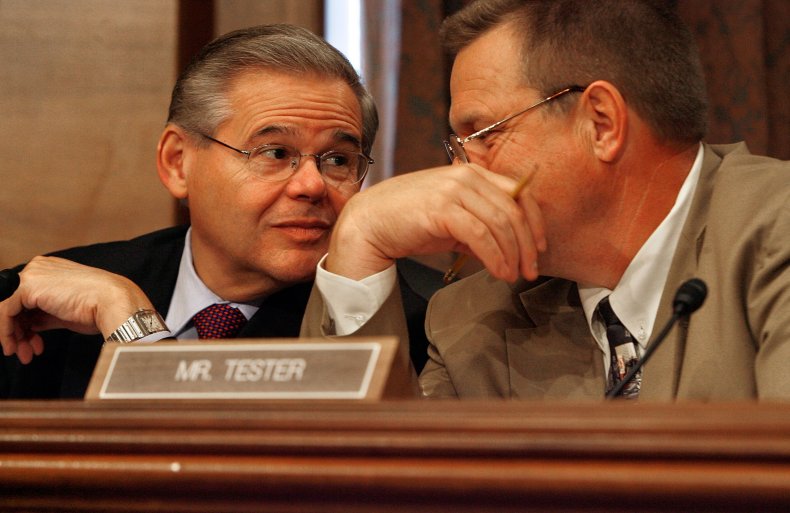 Based on video footage of Acosta's confirmation hearing before the Senate Health, Education, Labor and Pensions Committee, Democratic Senator Tim Kaine questioned Acosta about the Epstein case and why the lenient plea deal was kept secret from the accusers. None of the Democrats who voted to confirm Acosta sat on the committee.
Acosta suggested that the safest way for he and his team of prosecutors to guarantee a conviction was for the non-prosecution agreement to be made, saying that a draft indictment with dozens of federal charges that was reportedly shelved would "not consider, often, the strength of the underlying case."
"[O]ften a very positive outcome — again, not talking about this case, but generally — a very positive outcome can become a negative outcome," Acosta told Kaine. "Not because of a change in the underlying substance, but because by something not looking public, it is looked at with suspicion."
A deep dive into Acosta's handling of the Florida Epstein case by the Miami Herald that was published in December brought to light many of the new details now known about the allegations. In announcing Epstein's child sex trafficking charges on Monday, U.S. Attorney for the Southern District of New York Geoffrey Berman said the indictment was "assisted by some excellent investigative journalism."
However, the gist of the story—that Acosta had cut a deal with Epstein involving sex crimes with underage women and that the financier was now a convicted sex offender—was publicly known.
Acosta again defended his decision on Tuesday to handle Epstein's charges the way that he did more than a decade ago, saying in a series of tweets: "With the evidence available more than a decade ago, federal prosecutors insisted that Epstein go to jail, register as a sex offender and put the world on notice that he was a sexual predator. Now that new evidence and additional testimony is available, the NY prosecution offers an important opportunity to more fully bring him to justice."
Some Republicans have said they wish to see the Justice Department's review of the Acosta-Epstein case before calling for the Labor secretary's resignation.
"I think there are a lot of questions about how an agreement was reached with Mr. Epstein," GOP Senator Mitt Romney of Utah told reporters. "That strikes a lot of us as being out of the ordinary."
Senator John Kennedy of Louisiana, a conservative Republican who often backs the president, advocated for Acosta to face the concerns of lawmakers and to address the controversial plea deal head on.
"If I was the secretary, I would call a press conference... I would also bring along my assistant U.S. attorneys at the time who worked up the case. Every plea bargain has trade offs," he told a small group of reporters. "And I would stay at that press conference until people ran out of questions."