'Buyer's Remorse': Democrats Who Voted for William Barr Show Concern, but Stop Short of Regret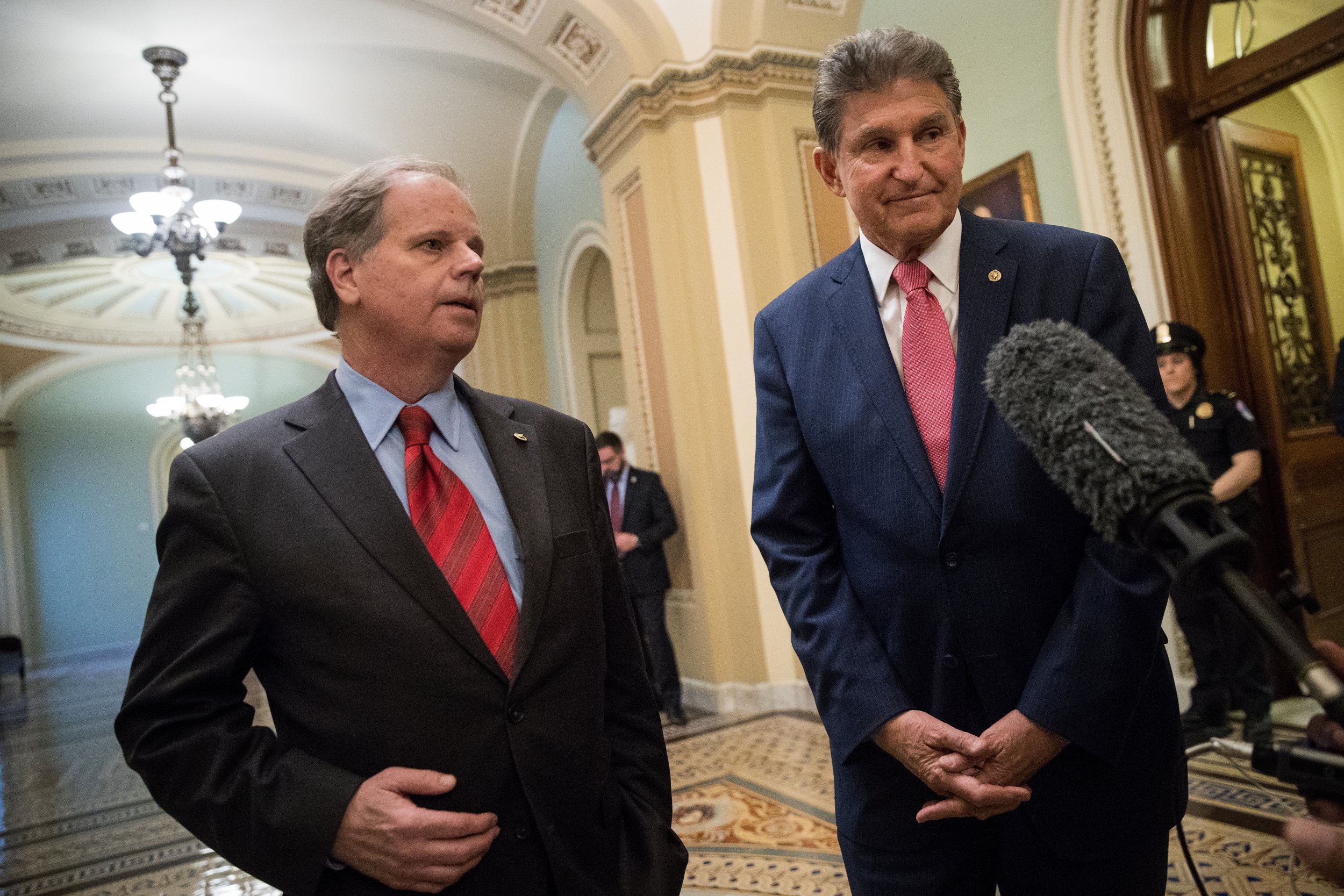 Attorney General William Barr was confirmed by the Senate in February with a vote of 54 to 45, which included the support of three Democrats. Now, less than three months later, Democrats across Capitol Hill are calling for his resignation or impeachment, as well as preparing to hold him in contempt of Congress.
But, while recent events concerning Barr and the Mueller report have at least two of those three Democrats experiencing a little "buyer's remorse," the attorney general's actions have not yet caused the moderate lawmakers to regret their confirmation vote.
"I felt like he would be a very calming, stable voice that we needed," Senator Doug Jones, a Democrat from the heavily Republican state of Alabama who voted for Barr, told Newsweek Thursday. "Unfortunately, he has seemed to shift more toward being the president's lawyer and not the people's lawyer."
Calls have mounted among Senate and House Democrats for Barr to either resign or be impeached, in large part due to revelations that Mueller was troubled by the way Barr unveiled his 448-page report, urging him twice to immediately release the executive summaries and unredacted report prepared for the public. Barr never released the summaries, instead writing one of his own, and waited nearly a month to release the report. Weeks after Mueller privately communicated his concerns to Barr, the attorney general told Congress he was unaware of whether the special counsel supported his summary, causing top Democrats to say he committed a "crime" by "[lying] to Congress."
"What I am disappointed in now is he's not fulfilled my expectations about being an independent attorney general," Jones said. "The cheerleading has very, very, very, very, very much disappointed me. I'm concerned that some of the things he's said in the past were just not true."
However, Jones said Barr did please him by "[protecting] the Mueller investigation" and issuing "a report that I think is as public as I think you can do." And he indicated that he may very well never get to the point where he regrets voting for Barr, due to what he knew at the time.
"I'm not going to go with regret—buyer's remorse," he continued. "I probably will not get [to regret] because of the information I had at the time. That's how I have to look at it."
Senator Joe Manchin, a fellow moderate Democrat from the conservative state of West Virginia, expressed similar sentiments.
"I voted for AG Barr because I thought—and I still think—he was well qualified," Manchin told Newsweek. "But I also thought he would be impartial, and I'm concerned about that."
Last month, Manchin expressed frustration to Newsweek about Barr's claim of the FBI "spying" on the Trump campaign and his refusal to provide the full Mueller report to Congress, but said he would first "give the man the chance to release that report, let us see everything" until determining whether he felt regret.
The nation's top law enforcement official has found himself immersed in a fierce battle with House Democrats on the Judiciary Committee. He refused to appear for a pre-scheduled, voluntary interview Thursday morning over Chairman Jerrold Nadler's insistence that he be questioned by Republican and Democrat committee staff attorneys. Barr's absence left Democrats fuming and threatening to hold him in contempt of Congress for defying a subpoena by missing Wednesday's deadline to provide the unredacted Mueller report and its underlying evidence, while Republicans accused their counterparts of hosting a political circus.
"This is why this place is so toxic. It is so toxic," Manchin said of the events unfolding in the House. "Let's get the facts. You're entitled to your own opinions, but it shouldn't stop the whole darn process of government."
Manchin emphasized his desire to hear from Mueller in order to sort out the discrepancies with Barr before determining whether he regrets his confirmation vote. Senate Judiciary Committee Chairman Lindsey Graham reiterated Wednesday that he has no intention on asking Mueller to testify, but Nadler has said he's in discussions with the Justice Department about scheduling a May 15 testimony.
"Right now, I have concerns and am going to ask the legitimate questions," Manchin continued. "The Mueller thing will be most important for me so I can make a final say."
The third Democrat who voted for Barr was Senator Krysten Sinema of Arizona. Her office did not respond to Newsweek's request for comment.