Democrats Win Court Battle Over Texas Drive-Thru Ballots
A federal judge ruled against a last-ditch effort from Texas Republicans to throw out 127,000 ballots already cast via drive-thru polling stations in the state's most populous county.
The last-minute hearing, 24 hours before Election Day, brought the final decision on these disputed votes in what was the last available lawsuit for GOP plaintiffs to argue that drive-thru voting is unconstitutional.
U.S. District Judge Andrew Hanen ruled that the votes in Harris County will be counted despite Republican efforts to invalidate these ballots in the largely Democratic county. Hanen, who was appointed by President George W. Bush, said he did not believe the plaintiffs had a legal standing to sue.
"When you balance the harms, you've got to weigh in favor of that—in counting the votes. I don't find harm to the defendant," Hanen said.
Before the hearing, he told the Republican plaintiffs that they would need to convince him that Harris County had an "evil motive" in allowing drive-thru voting.
The ruling follows Sunday's decision from the all-Republican Texas Supreme Court, which also rejected the GOP petition to throw out these votes.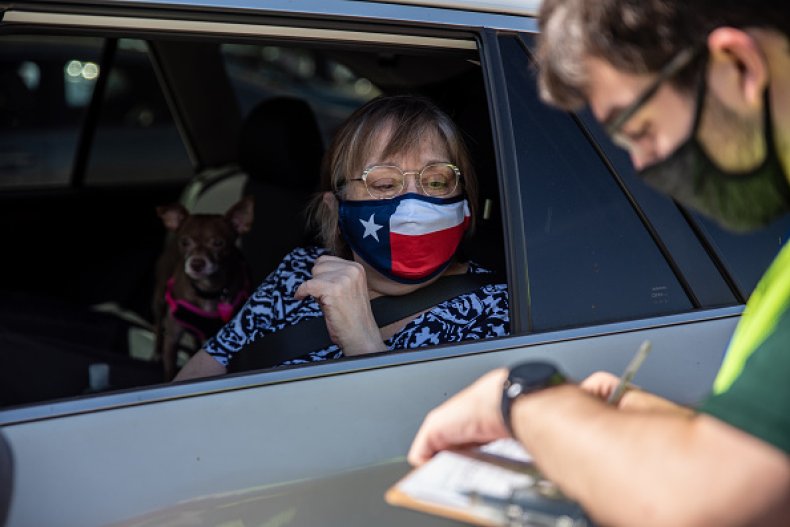 Despite the win for the Democrats, the state's party chair argues the lawsuit should have never been brought forth.
"The ruling to let the nearly 127,000 drive-thru votes stand was the correct decision, but it doesn't change a simple fact: This should have never been an issue in the first place," Texas Democratic Party Chair Gilberto Hinojosa said in a statement. "Texans who lawfully voted at drive-through locations should have never had to fear that their votes wouldn't be counted and their voices wouldn't be heard. This lawsuit was shameful, and it should have never seen the light of day."
Hinojosa continued, "Once again, Texas Republicans sought to threaten Texans' right to vote and they lost, but this election is not over. We must send them a message and vote them out. The future of our state is entirely in our hands now."
Monday's ruling is a win for Texas Democrats, who suffered a blow last week when the state Supreme Court upheld Governor Greg Abbott's order limiting one ballot drop-off box per county.
Joe Biden's campaign called Hanen's ruling a victory for the Democratic nominee's supporters.
"Today is a victory for Texas voters and the more than 120,000 Texans who followed the rules, made a plan to drive-in vote and exercised their constitutional right," the campaign said in a statement. "Make no mistake: This is not a partisan victory."