Democrats Won't Rule Out 'Additional' Impeachment Articles Against Trump, Offering Fresh Ammo for GOP
A new legal filing offered by House Democrats Monday said the chamber cannot rule out the possibility of "additional articles of impeachment" until it hears from former White House counsel Don McGahn.
The argument undercuts the sentiment of Democratic members, who indicate no desire to rehash a partisan battle in the middle of an election year and assert the party must shift its focus to legislative matters.
The suggestion of more articles would likely bolster the accusations by Republicans that Democrats are fueled by a political vendetta to oust Trump and will never cease trying to uncover impeachable conduct, even amidst impeachment proceedings that will undoubtedly end with an acquittal by a GOP-controlled Senate.
"You've got to be kidding. They may impeach Trump again?!" Rep. Matt Gaetz (R-FL) wrote on Twitter. "It's gone from the Kangaroo Court Impeachment......to the Keystone Cops Impeachment(s)..Will Pelosi send the Articles from the last Impeachment before drafting the next ones?!"
Sen. Lindsey Graham (R-SC) had a similar reaction, writing on the social media platform the claim is "Best evidence yet that Democrats don't believe they can beat president @realDonaldTrump at the ballot box."
The legal reasoning came from House counsel Douglas Letter to a federal judge about why McGahn should be forced to comply with a congressional subpoena for testimony over Trump's attempts to thwart the Mueller probe. Barring "new evidence" from McGahn, Letter wrote, "new articles of impeachment" may arise.
The Democratic-led House last week passed two articles—abuse of power and obstruction of Congress—forgoing a potential third for obstruction of justice related to the Russia investigation.
Several Democrats have told Newsweek that while the committees of jurisdiction, such as Judiciary and Oversight, should continue to investigate potential wrongdoing, the focus needs to pivot back toward legislative matters. The remarks were made last week, prior to Congress embarking on a multi-week Christmas recess that will last through the new year.
But what if further conduct is uncovered that Democrats say is impeachable, as Letter suggested?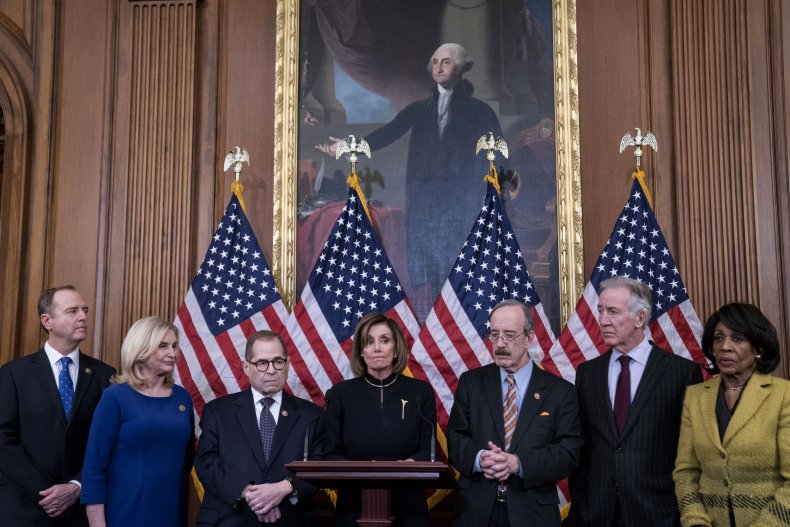 "It's only because we've had a president who has engaged in such pervasive wrongdoing, that that's a fair question," said Rep. David Cicilline (D-RI), a Judiciary member who's also part of leadership. "You hate to rule it out because that's an invitation to this president to engage in the most serious kind of criminal behavior imaginable, so I think it is always a prerogative of Congress to move forward with or to take action against the president who commits serious misconduct."
Cicilline and others noted the traditional objective of congressional oversight is to help an administration improve its policies. They feel that in an election year, conducting some degree of oversight while focusing on more substantive policy matters could compel the administration to make changes while showing the public Democrats can simultaneously "walk and chew gum."
"We can still use our oversight to tell the American people the corrupt nature of this administration, which is so obscured by the president's own behavior," said Rep. Madeleine Dean (D-PA), also a member of Judiciary. "Impeachment is complete, and I believe we did it with dignity and fairness and integrity."
Although the "investigations must continue" with the goal to "find the truth," Dean said, her panel needs to tackle issues such as gun control and reform for America's criminal justice and immigration systems.
"I want to be doing more of that," she added.
Rep. Ted Lieu (D-Calif.), also a Judiciary member, said although come January there "should be a lot of things" not related to Trump that the committee will be doing, they will in some capacity continue their oversight work.
"We have a duty to look into wrongdoing and to disclose it," he said. "And we'll continue to keep doing that."