Democrats Would Back Biden in 2024 Despite Strikingly Low Approval: Poll
An overwhelming majority of Democratic voters said they would vote for a second term for President Joe Biden, even as his approval rating falls to record lows.
A poll released by POLITICO/Morning Consult on Wednesday found that 72 percent of Democrats and Democrat-leaning independents would back Biden if he ran for re-election in 2024. Twenty percent said they would support someone else, while 8 percent said they would not vote.
Even though Biden is holding onto support among his party's voters, only 38 percent of Americans said they approve of the job he is doing as president. Nearly 60 percent said they disapproved of him.
Biden fared even worse in another poll published by Reuters/Ipsos on Tuesday that recorded the president with a 36 percent approval rating.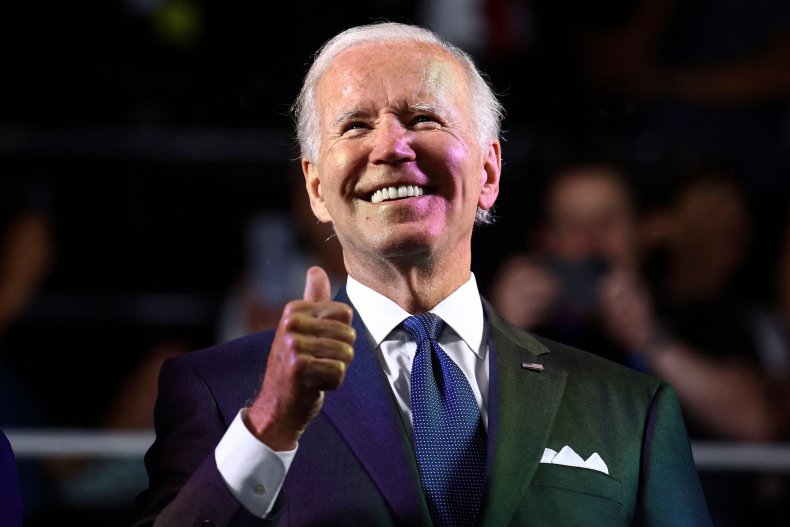 The low polling numbers are part of a downward trend that Biden has seen since last August. In recent months, his approval has taken an even harder hit due to surging inflation in the U.S., which rose to a 40-year high last month at 9.1 percent.
Wednesday's poll also found that even though most Americans think the country is going in the wrong direction, many want to see the Democratic Party hold on to both chambers of Congress.
With only 22 percent of voters saying that things in the country are on the right track, congressional Democrats still hold a four-point advantage over their Republican counterparts. Forty-five percent of voters said they'd be most likely to vote for a Democratic candidate if a congressional election was held today, compared to the 41 percent who said they'd back a Republican candidate.
The numbers are a hopeful sign for the Democrats, who have been projected to lose to the Republicans in a landslide in November.
Republicans in Congress received better marks on inflation, the economy, jobs, immigration and national security. Forty-seven percent said they trusted Republicans more on both the economy and inflation, compared to 36 percent and 34 percent, respectively, who think Democrats would be better at handling those issues.
The poll was also good news for former President Donald Trump, who is deciding when to announce a possible 2024 campaign.
Trump has held steady support since leaving office and the latest survey was no different, with 53 percent of Republican voters and Republican-leaning independents saying they would vote for him if the GOP primary were held today.
Of the other potential Republican candidates tested, only five polled above 1 percent: Florida Governor Ron DeSantis at 23 percent, former Vice President Mike Pence at 7 percent, Texas Senator Ted Cruz at 3 percent, and Utah Senator Mitt Romney, former ambassador to the U.N. Nikki Haley and Wyoming Representative Liz Cheney at 2 percent.
The poll was conducted between July 15 and 17 among 2,005 registered voters and has a margin of error of 2 percentage points.