Demon in Parkland Shooter Nikolas Cruz's Head Told Him to 'Burn, Kill, Destroy'
The Parkland school shooting suspect told police he had a "demon" inside his head that he described as his "evil side."
Speaking to a detective hours after he was arrested for the killing of 17 people at the Marjory Stoneman Douglas High School on February 14, Nikolas Cruz said he had a voice inside his head that "started to get worse" after his mother died the previous November.
According to a transcript of the interview, released by the Broward Sheriff's Office, the voice inside Cruz's head told him to "Burn. Kill. Destroy," and urged him to shoot people at an unspecified park one week before the massacre at the high school.
On two separate occasions during the interview with Broward Sheriff's Detective John Curcio, Cruz cursed at himself and said how he wanted to die while briefly left alone in the interrogation room.
The newly released 217-page transcript of the lengthy interview—albeit with large parts redacted—revealed for the first time what Cruz told police in the wake of the shooting after authorities had previously reported the 19-year-old admitted to carrying out the attack.
Curcio could be heard asking Cruz about the apparent voice in his head, which Cruz described as male, around his age and said only bad things.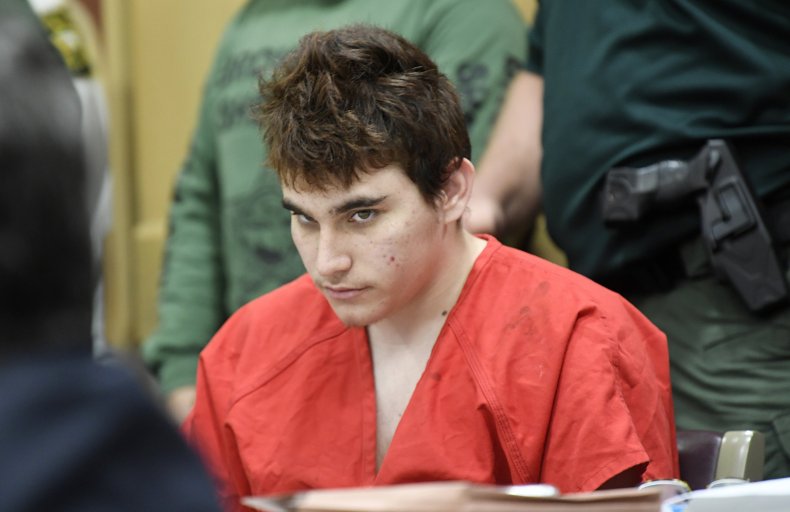 Curcio: "Tell me about them. What are the voices?"
Cruz: "It's one—it's another voice, the evil one."
Curcio: "Ok. And how long has the voice been going on?"
Cruz: "Years."
Later on in the interview, Curcio asked Cruz what the voice told him to do
Cruz: "Burn. Kill. Destroy."
Curcio: "Ok. Destroy, kill, destroy what?"
Cruz: "Anything."
Cruz also said the voice previously told him to start fires and kill animals, with the 19-year-old admitting to building fire pits and killing birds with a pellet gun.
Curcio asked Cruz if the voice told him to do anything on the morning of the shooting, but his answer is redacted from the transcript.
Later in the interview, Cruz said that a "demon" told him to go to an unspecified park and start shooting people around one week before the Parkland massacre. Cruz said he didn't know what stopped him from carrying out an attack at a park.
Cruz then described how the voice told him to purchase the AR-15 gun used to kill 17 people at the school, as well as telling him "kill yourself now" while he is being questioned by Curcio.
The transcript revealed that Cruz repeatedly expressed a wish to die when briefly left alone in the room.
On the first occasion when Curcio left, Cruz told himself: "I want to die. At the end you're nothing but worthless dude. You deserve to die because you're fucking worthless and you fucking (unintelligible) everyone. I want to die."
When the detective again left the room briefly later on, Cruz repeatedly asked, "Why didn't he kill me?" until he returned.
When Curcio left a short time later, Cruz said: "I don't understand. I just want to die, I want to die. I just want to die now."
Cruz then repeatedly said, "My eyes. My eyes. My eyes…I can't see. My eyes. My eyes," while alone in the interrogation room.
The suspect's brother, Zachary Cruz, was later allowed to enter the room and speak to him.
"You're not acting like yourself. Like, why? Like, we've…this is not who you are. Like, come on. Why did you do this? This is…don't even laugh at me," Zachary Cruz said.
The redacted transcript of the interview was allowed to be made public after a judge ruled it would not break Florida law, which prohibits a "substance of a confession" being released until it is presented at trial or the case is closed.
Cruz has been charged with 17 counts of murder and 17 counts of attempted murder in connection with the school shooting.