Demonstrators Briefly Shut Down Dodger Stadium Vaccine Site as CA Hits 40K COVID Deaths
Demonstrators protesting coronavirus vaccines briefly caused Los Angeles' Dodger Stadium to suspend immunization procedures on Saturday, after authorities resolved to halt operations as a temporary precaution.
Vaccine administration ultimately resumed, and police department officials, as well as California Governor Gavin Newsom, confirmed that all those scheduled to receive doses would not have to wait additional days for them.
"CA is working around the clock to provide life-saving vaccines to those on the frontlines of this pandemic," Newsom wrote on Twitter Saturday evening. "We will not be deterred or threatened. Dodger Stadium is back up and running."
Dodger Stadium, a sprawling sports arena located in Central Los Angeles, was recently repurposed as a mass COVID-19 vaccination site. The stadium previously served as a diagnostic testing facility and is now considered one of the nation's largest immunization locales, administering thousands of vaccine doses daily. State data showed more than 3.2 million people had received vaccines across California on Saturday, with upwards of 820,000 administered to residents of Los Angeles County, the region hardest hit by COVID-19.
Since federally approved vaccines to protect against the novel virus were first shipped out to states at the end of last year, California has offered health care workers, long-term care facility residents, individuals older than 65, and employees of other essential industries opportunities to receive immunizations.
"We are aware of social media posts referring to protestors showing up at the Dodger Stadium COVID-19 vaccination site," the police department tweeted late Sunday afternoon, local time. "Preliminary reports are that protestors remained peaceful. The LAPD did NOT close the gates, and per LA City Fire, all scheduled vaccines will bee delivered."
Los Angeles Fire Department personnel reportedly shut down the site temporarily in response to Saturday's protest, which involved about 50 participants, according to city firefighters who confirmed this decision in comments to The Los Angeles Times. Officials told the newspaper that they closed the stadium's entrance around 2 p.m. PT as a preventative safety measure, and reopened it roughly one hour later.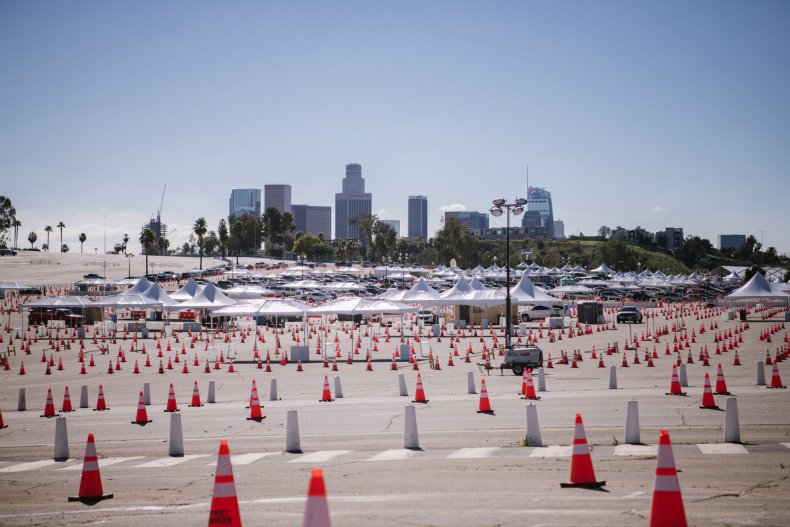 The weekend's anti-vaccine protest at Dodger Stadium came after California reached a grave milestone in terms of lives lost as a result of COVID-19. The state has recorded new virus cases, hospitalizations and deaths in staggering quantities since early December, although its outbreak curve began to slope downward again in mid-January.
While the incidence of new infections decreased, California's COVID-19 death toll continued to climb last week, surpassing 40,000 cumulative fatalities linked to the respiratory disease over the course of the pandemic. Close to 550 state residents passed away from the infection each day, on average.
Newsweek reached out to the Los Angeles Police Department and Los Angeles Fire Department for further comments, but did not receive replies in time for publication.