Demonstrators Hold Protest at California Capitol Despite Police Ban, Newsom Says State 'Days' From Lifting Some Restrictions
As hundreds of people gathered at the state Capitol building Friday to protest California's stay-at-home order, Governor Gavin Newsom said that the state was only days away from modifying the order.
Protesters were observed arguing with members of the California Highway Patrol (CHP) as officers blocked the entrance to the Capitol in Sacramento. Some individuals held American flags while others held protest signs. Several members of the demonstration were detained by law enforcement.
Showing opposition to Newsom's administration, a banner was seen flying over the demonstration in Sacramento which depicted the governor as Adolf Hitler. Video of the sign was posted on Twitter by Sacramento television station KCRA.
Protests at the state Capitol building were banned by the CHP in April after participants in an earlier protest failed to follow social distancing protocols.
"Permits are issued to provide safe environments for demonstrators to express their views," the CHP said in an April statement. "In this case, the permit for the convoy was issued with the understanding that the protest would be conducted in a manner consistent with the state's public health guidance. That is not what occurred, and CHP will take this experience into account when considering permits for this or any large group."
Sacramento's demonstration was one of several held around the state, calling for the reopening of beaches and businesses.
Newsom seemed to acknowledge the demonstrations in his remarks Friday, in which he mentioned "people protesting the status quo, which is also a wonderful point of privilege we have here in the United States and we should celebrate that. We should thank people for expressing themselves."
"But that expression obviously this year is one of frustration and concern and deeply understandable anxiety about the economy and the fate and future of their families and this state and the nation and the world collectively we're trying to build," he continued.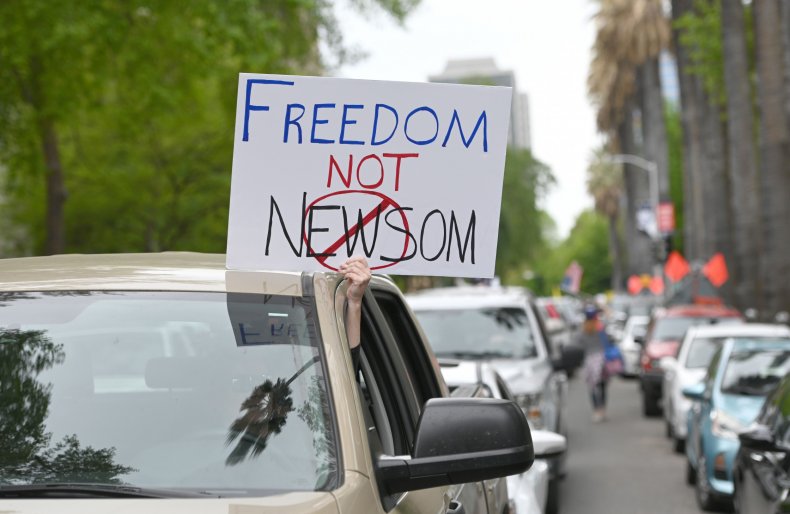 Although Newsom did not give a definite date of when California's stay-at-home orders would be rescinded, he indicated the timeframe had grown smaller.
"We're getting very close to making really meaningful augmentations to that stay-at-home order," Newsom said. "We said 'weeks, not months' about four or five days ago. I want to say 'many days, not weeks.' As long as we continue to be prudent and thoughtful in certain modifications, I think we'll be making some announcements."
"We're all impatient and we're deeply anxious and deeply desirous to start to turn the page and turn the corner," Newsom added.
Newsweek reached out to Governor Newsom's office and the California Highway Patrol for comment.
Newsom laid out a four-phase plan for reopening California on Tuesday. California is currently in the first phase of the plan. Moving on to phase two, which would reopen manufacturing and other businesses not deemed to be high-risk environments, could take weeks.
Other protests against stay-at-home orders have occurred across the country. During a Thursday demonstration in Michigan, individuals bearing firearms made their way into the state capitol building as lawmakers were debating an extension of Michigan's state of emergency.
Michigan Democratic Congressman Dan Kildee called the Michigan protest "dangerous in so many ways."
"Today's protest will come at the expense of public health," Kildee said in a Thursday statement. "Protesters openly defied the advice of medical experts, putting their own lives and the health of all Michiganders at risk."