Demonstrators Surround Mitch McConnell's Home in Early Morning to Loudly Protest Replacement of Ruth Bader Ginsburg
The same group of demonstrators who protested outside Senator Lindsey Graham's house earlier this week surrounded Senate Majority Leader Mitch McConnell's home in Washington D.C. early Thursday morning—as protests continue against the push from Senate Republicans to fill Justice Ruth Bader Ginsburg's Supreme Court vacancy.
Both Graham and McConnell have publicly expressed support for President Donald Trump's pledge to nominate a new justice this month.
Following Ginsburg's death on Friday, McConnell vowed that whomever Trump nominates will get a vote on the Senate floor. The senator's promise to confirm a nominee before Election Day has gestured what could be a monumental fight in Congress.
Youth-led climate activists from the Sunrise Movement and Shut Down D.C. were among the group outside McConnell's home.
"McConnell will move at unprecedented speed to fill a vacancy on the Supreme Court, reneging on the rationale for blocking Obama's pick for Supreme Court Justice in 2016," the Sunrise Movement said in a statement.
McConnell has been criticized for hypocritically insisting a new justice be nominated in the wake of Ginsburg's death when he took the opposite stance back in 2016.
After Justice Antonin Scalia's death more than 200 days before Election Day, McConnell argued that nominations for the Supreme Court should not be made during an election year.
"The American people should have a voice in the selection of their next Supreme Court justice," the senator said four years ago when rejecting former president Barack Obama nominee Judge Merrick Garland. "Therefore, this vacancy should not be filled until we have a new president."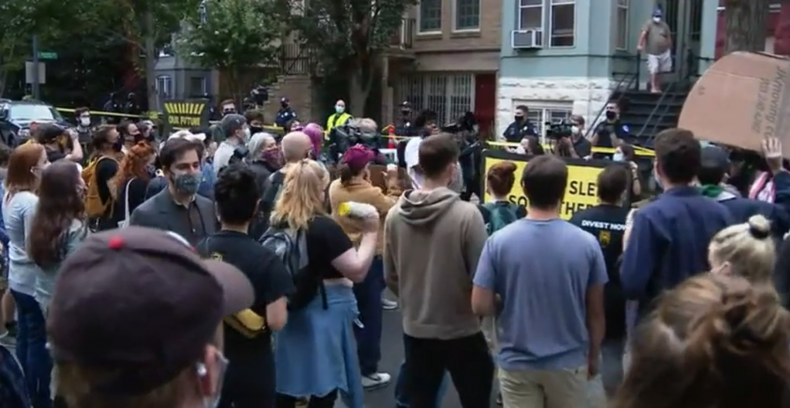 Protesters held a noise demonstration, chanting alongside a live GoGo band — the second protest of this manner in the week.
Newsweek reached out to McConnell's representatives for comment.
Early Monday morning, the same group banged drums and held signs reading, "We can't sleep so neither should Lindsey," outside Graham's home before marching to the Supreme Court building.
Groups are urging lawmakers to allow the next president make the nomination to fill Ginsburg's seat.
Only two Republican senators, Susan Collins and Lisa Murkowski, have spoken out against the party, saying they think the winner of November's election should pick the justice's replacement.
Trump is expected to name his pick on Saturday afternoon at the White House. Judge Amy Coney Barrett, a devout Catholic known for her conservative views, has emerged as the president's favorite. Many social conservatives see Barrett as a key figure in overturning Roe v. Wade, which legalized abortion in 1973.
Judge Barbara Lagoa's name has also been floated by Trump's advisers. Lagoa is one of the five female candidates Trump is considering.
The president has made two lifetime appointments to his Supreme Court during his first term —Neil Gorsuch in 2017 and Brett Kavanaugh in 2018. Another appointee from Trump would solidify a 6-3 conservative majority on the court.
The graphic below, provided by Statista, illustrates public opinion on the appointment of a new justice before and after the presidential election.
Update 9/24/20, 9:55 a.m. ET: This article was updated to include an infographic.