NATO Is Presiding Over Putin's Division of Europe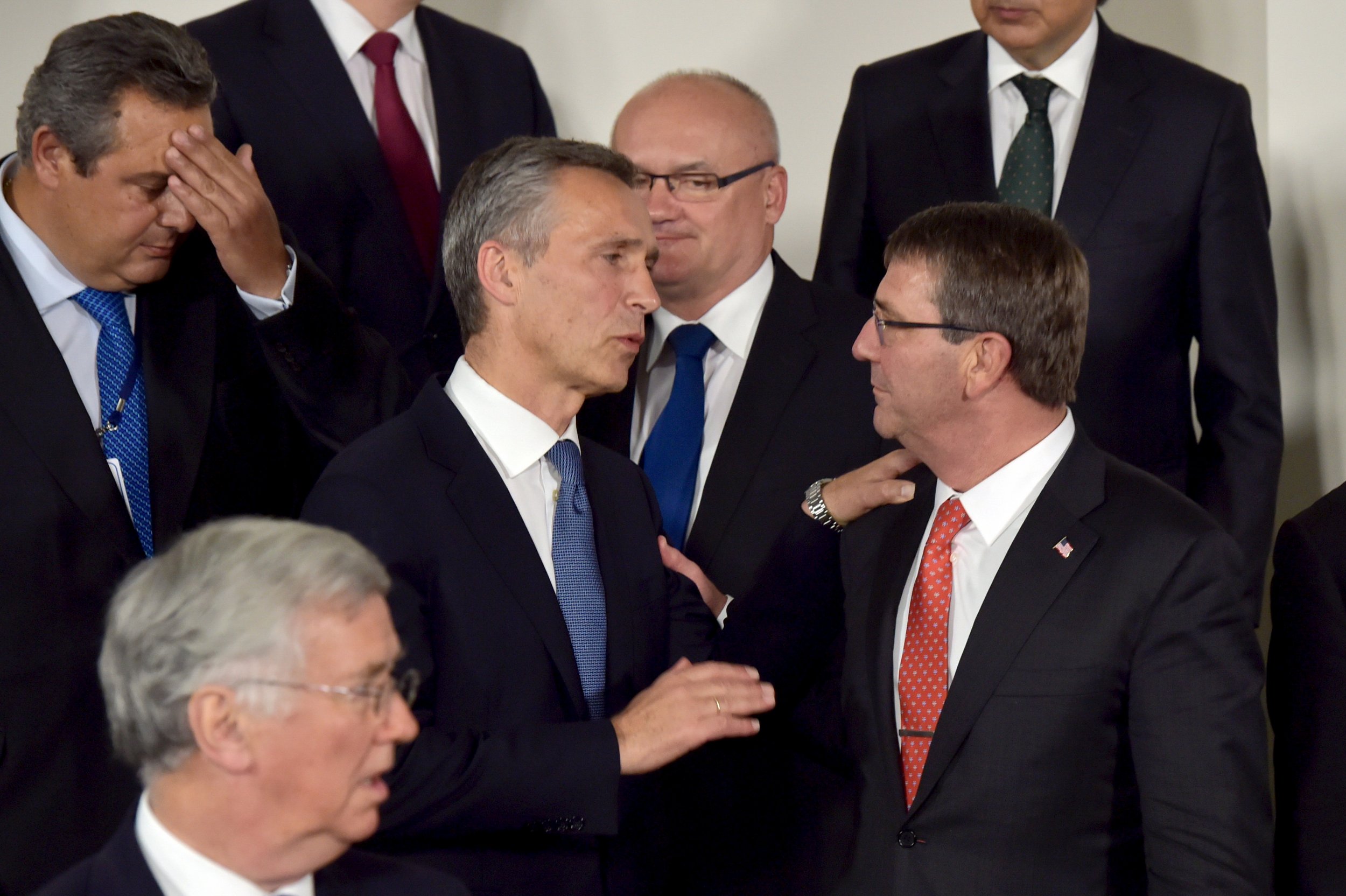 NATO has a new sense of purpose. At least, that's the message coming out of the latest meeting of the alliance's 28 defense ministers, who gathered in Brussels on June 24 to 25.
Ash Carter, the U.S defense secretary, speaking in Berlin on June 22 during the first leg of his trip to several European capitals before landing in Brussels, described the new "play book" that would allow NATO to deal with Russia. This play book would involve "an adaptive and agile NATO," he said, and would be about "deepening security partnerships throughout Europe and around the world."
Carter also insisted that the United States would "defend our allies [and] the rules-based international order" and would "stand up to Russia's actions and their attempts to reestablish a Soviet-era sphere of influence."
But that is exactly what Russia is attempting to do in Eastern Europe. From eastern Ukraine to Moldova, from meddling in Georgia to making Armenia dependent on Russia for its energy and security, not to speak of Russia's economic grip over Belarus, Moscow is carving out its spheres of influence.
The rule book that Carter referred to was torn up in March 2014, when Russia annexed Crimea and subsequently invaded eastern Ukraine.
NATO is doing little in Eastern Europe to counter that influence or restore the rule book. If anything, as the United States spurs its NATO allies to boost their defenses in the Baltic states and Poland, NATO is paradoxically becoming more inward looking.
Carter himself admitted that. "There's an undeniable tendency to turn inward here, around Europe, and also in America. We need to guard against that temptation, to move forward together," he said.
As if to confirm this, with the exception of a meeting between NATO and Ukraine, the rest of Eastern Europe hardly mattered during the defense ministers' meeting. Yet Eastern Europe, as well as the Western Balkans, needs assurances from NATO precisely because the security of these countries and of Europe as a whole is at stake.
The fear among Eastern Europeans now is that as NATO returns home to Europe after a long and difficult mission in Afghanistan, its focus on territorial defense on its own turf will unwittingly create a new cordon sanitaire on its Eastern borders. A new division of Europe is in the offing.
A further fear in Eastern Europe is that Russia will boost its own military capabilities as far as it can in Eastern Europe. This is what is happening in eastern Ukraine. Russia already has a strong presence in Abkhazia and South Ossetia, the territories of Georgia that Moscow occupied in 2008. In Moldova, Russia's influence extends beyond the breakaway region of Transnistria.
Any talk by NATO of bringing these countries closer to the alliance is off the agenda. Any mention of opening the door to membership is out of the question. As in the European Union, which is unlikely to admit any new members in the foreseeable future, it's as if NATO enlargement is taboo.
Instead, NATO's priority is the defense of its own members, which is understandable. In the meantime, Europe's East can wait or deal with its own security—which, with very few exceptions such as Georgia, it is incapable of doing.
NATO is playing down its relationships with Eastern Europe for several reasons. The big European members of the alliance do not want to antagonize Russia any further. Yet by downplaying down these ties, NATO is doing precisely what Carter warned about: It is de facto carving out spheres of influence in this part of Europe.
On the home front, the outlook isn't much better. Carter was upbeat about the 20 exercises involving U.S. forces that were taking place in Europe. The United States has already announced plans to base military equipment in Poland and the Baltic states to supply up to 5,000 troops at short notice.
Needless to say, Russia has already balked at that and threatened to retaliate by deploying nuclear missiles closer to Eastern Europe.
But if Russia looked at NATO's latest defense expenditure figures, one wonders whether it should really be worried about the alliance. The figures make for depressing reading. In 2015, only four NATO members are projected to spend the equivalent of 2 percent of GDP on defense. This is despite the pledge made at NATO's September 2014 summit in Wales to try to meet that target.
More worrying is that there is a wide discrepancy between spending on personnel, on the one hand, and equipment and research and development, on the other.
Poland is expected to spend 31.1 percent of its budget on equipment and research and development in 2015, second only to Luxembourg. Germany will spend 14.7 percent. Many European NATO members spend at least 65 percent of their budgets on personnel costs.
These figures are not lost on the United States. "Today we provide 70 percent of all defense spending in the alliance," Carter said. "But the United States cannot, should not, and will not meet these challenges in Europe alone. The transatlantic relationship and transatlantic security is, as ever, a two-sided affair."
For the United States and for Eastern Europe, this is clearly not the case.
Judy Dempsey is a nonresident senior associate at Carnegie Europe and editor-in-chief of Strategic Europe. This article first appeared on the Carnegie Europe website.