Democratic lawmakers introduced on Tuesday a bill aimed at stopping Department of Education Secretary Betsy DeVos from implementing changes to Title IX regulation they consider harmful to victims of sexual misconduct on college campuses.
"These rules could have a chilling effect on students' willingness to come forward with allegations of sexual misconduct and would be a detriment to survivors and to students in general and the academic institutions they attend," a joint statement from the bill's co-sponsors said.
In November 2018, the Education Department announced changes to Title IX regulation that would alter how schools handle reports of sexual misconduct, including the conditions of their response and liability. The bill, co-sponsored by Representatives Elissa Slotkin, Ayanna Pressley, Jackie Speier and Annie Kuster, would prohibit DeVos from implementing or enforcing the changes.
Before introducing the bill, Slotkin said in a statement that she tried to work with DeVos to influence her decision. Slotkin claimed she submitted a formal comment on the rules, sent opposition letters and Freedom of Information requests and met with the education secretary.
"I have done everything I can think of to appeal to Secretary DeVos to change course," Slotkin said. "Given that Secretary DeVos insists on moving forward, I felt compelled to introduce this legislation that prevents those rules from taking effect."
More than 96,000 comments about the proposed rule changes were submitted by the January deadline, according to Inside Higher Ed. Along with criticism that the changes weaken protections for victims, the American Council on Education (ACE), a nonprofit that represents colleges and universities, criticized the proposal for being too rigid and requiring schools to mimic civil court systems.
"The fair and equitable resolution of sexual harassment cases is rarely accomplished through a one-size-fits-all, factory-like process," the ACE wrote in a letter to DeVos in January. "Institutions require and should be granted the flexibility to treat different cases differently, adjusting their approaches as needed to address the distinct circumstances of individual cases, so long as principles of accuracy, equity, and fairness are upheld."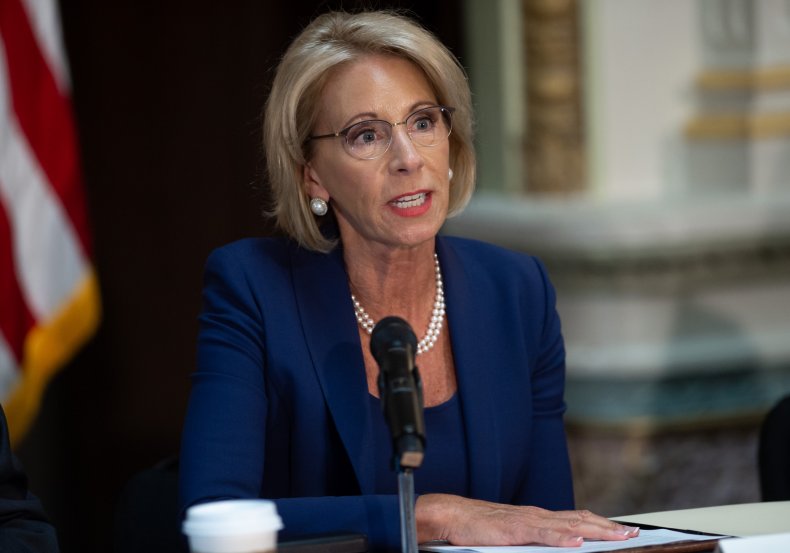 In July and August, accused students filed class-action lawsuits against Michigan State University and the University of California. They argued that the investigatory process was unfairly biased against them and didn't afford them the ability to properly defend themselves.
The proposed rule changes would require institutions to provide due process protections to accused students, including putting the burden of proof on schools and allowing cross-examination of the parties. This directly contrasts with the Obama-era "Dear College" letter that discouraged schools from allowing parties to question each other during a sexual misconduct hearing because it could be traumatizing to the victim.
Newsweek reached out to the Education Department for comment but did not receive a response in time for publication.
Passed by Congress in 1972, Title IX ensures that students' access to educational opportunities and benefits are free from discrimination based on their sex. This includes being able to learn in an environment without being sexually harassed, according to the Department of Justice.
Under DeVos' rule changes, sexual harassment under Title IX would include an employee "conditioning an educational benefit or service" on unwanted sexual conduct, as well as unwelcome conduct that is "so severe, pervasive and objectively offensive" that it denies a person's access to education or is considered sexual assault under the Clery Act.
Co-sponsors of the bill argued in their statement that narrowing the definition of harassment meant students would have to "endure repeated and escalating levels of abuse" before the school could take action.
Schools also wouldn't have to respond to harassment claims unless they had actual knowledge of the harassment and if it occurred within the institution's U.S. education programs or activities. If the harassment took place outside the United States, schools wouldn't be obligated to respond. For a school to have "actual knowledge," students would have to report harassment to a Title IX coordinator or a school employee who had "authority to take corrective action."
"It's as if fraternities around the country drafted this rule," Speier said in a statement. "The bar for proving sexual violence will be so high that survivors will be discouraged from coming forward and schools will once again be able to sweep allegations under the rug."
When DeVos announced the changes in December, she said in a statement her focus was to condemn sexual violence and punish those responsible while "ensuring a fair grievance process." No stranger to criticism since taking office, she's stood by her position on Title IX regulations.
During a speech at the Independent Women's Forum Annual Awards Gala in November, DeVos criticized the process established under the Obama administration's guidelines, telling attendees it's "no wonder so many call these proceedings 'kangaroo courts.'"
"Our proposed rule recognizes that we can continue to combat sexual misconduct without abandoning due process," DeVos said. "Some mischaracterize these reforms as tilting the scales of justice, but we believe they simply balance them."
The Department of Education was tasked with reviewing public comments on the rule and has yet to publish the final regulation. The release is expected in the next few weeks because the Office of Management and Budget has meetings scheduled at the end of January to discuss the matter.