Following an independent government watchdog report that linked Rep. Dan Crenshaw (R-Texas) to a smear campaign of a female veteran, at least two Democratic lawmakers are calling for a congressional ethics probe into his alleged role.
Last week's report from the Veterans Affairs inspector general said that, based on witness testimonies and documents, Crenshaw participated in an effort led by VA Secretary Robert Wilkie and some of his top deputies to disparage the reputation and credibility of a woman who said she was sexually assaulted last year at a VA facility.
Crenshaw's alleged actions should now be the subject of an investigation by the House Ethics Committee, Reps. Jackie Speier (D-Calif.) and Jason Crow (D-Colo.) said.
"Rep. Crenshaw's alleged involvement is abhorrent," Speier, who leads the House Armed Services Committee's subpanel on military personnel, wrote in a tweet on Monday. "If true, Rep Crenshaw fed false information to Sec Wilkie in order to help vilify a victim & impugn her character. The Ethics Committee must launch an investigation into these claims."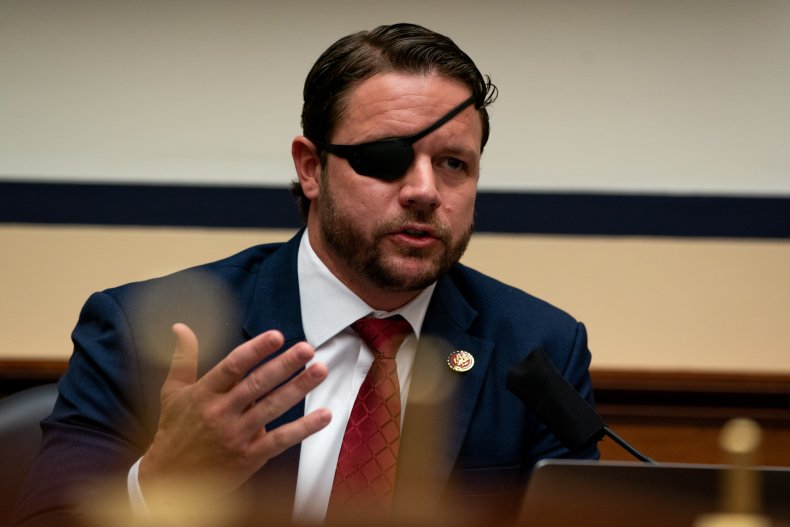 In a statement on Saturday, Crow said he was "shocked" by Crenshaw's reported actions and called for "an immediate investigation" into Crenshaw's role.
Crenshaw's office characterized media reports about the first-term lawmaker's alleged role and the calls for an ethics probe as "a completely fabricated narrative not based in facts."
"What is the ethics violation? As Rep. Crenshaw has said repeatedly, any claim that he participated in a 'smear campaign' is absurd and totally false," Crenshaw's communications director, Justin Discigil, wrote in a statement. "It's also worth noting that the inspector general's report never makes this claim, and also found 'no violation of law, regulation, or policy' and made no recommendations in this case."
The House Ethics Committee declined to comment.
The IG report said no criminal evidence was found but that some of its investigation could not be completed, in part because Crenshaw and others refused to cooperate. However, it said that attempts by Wilkie, top VA officials and Crenshaw to erode the female veteran's credibility by creating a narrative that she has made false sexual assault claims in the past were "unprofessional and disparaging."
Crenshaw, a former Navy SEAL, served with the woman, Andrea Goldstein. Last month, Crenshaw vehemently denied to Newsweek that he ever discussed Goldstein with Wilkie.
But an internal email from Wilkie to top VA officials suggested otherwise, with the secretary himself claiming that Crenshaw approached him at an event to discuss Goldstein and her allegations. Top department officials also told the IG that Wilkie had indicated Crenshaw passed along information about Goldstein.
The report further said Wilkie sought to discredit Goldstein's account that she was sexually assaulted at a VA facility by attempting to collect damaging information about her and plant news stories that could call into question her allegation.
The IG report has led to swift demands from top Democrats, including House Speaker Nancy Pelosi (D-Calif.) and more than a dozen major veteran groups, for Wilkie to either be fired or resign. Both Wilkie and Crenshaw have previously claimed the scandal resulted from a Democratic-led conspiracy, in part because Goldstein is a staffer for House Veterans Affairs Committee Chairman Mark Takano (D-Calif.).
Wilkie denied any wrongdoing after the report's release last week. He has neither resigned nor been fired by President Donald Trump, who tapped him to lead the VA.
Amid the calls by Democrats for Wilkie's resignation and the congressional ethics probe into Crenshaw, there is at least one Republican who has come to the lawmaker's defense: Rep. Matt Gaetz (R-Fla.).
"I have significant policy disagreements with @repdancrenshaw on matters of war & peace," Gaetz wrote on Twitter Friday. "But this smear against him is BS and everyone should view it as such."