Dems Disagree in Leaked Caucus Call, Rep. Tlaib Says Progressive Wing is Not to Blame for Losses
A leaked caucus call between congressional Democrats on Thursday has revealed growing tension between the more progressive wing of the party and moderate lawmakers.
House Speaker Nancy Pelosi sent a strong message to her colleagues that swinging too left will cost the party their chances should the Georgia Senate races advance to runoffs, an opportunity that could give Democrats a tie with Republicans in the Senate if both Democratic candidates won seats in the state. To obtain a Senate majority, Democrats would need to pick up a seat in either Alaska or North Carolina, though should the election result in a 50-50 split, Kamala Harris or Mike Pence would be the deciding vote as vice president.
But messages that some Democrats are "too" progressive, faced pushback from members of Congress who hope to see sweeping changes.
Michigan Rep. Rashida Tlaib said on the call that the party needs "to do a real autopsy and dig through it" before attacking each other.
Tlaib, who was re-elected this year, is a member of four progressive congresswomen dubbed 'The Squad.'
During the call, Virginia Rep. Abigail Spanberger blamed more progressive lawmakers for races the party did lose in the general election.
"Don't blame myself and others who are fighting for issues that matter to our communities," Tlaib said.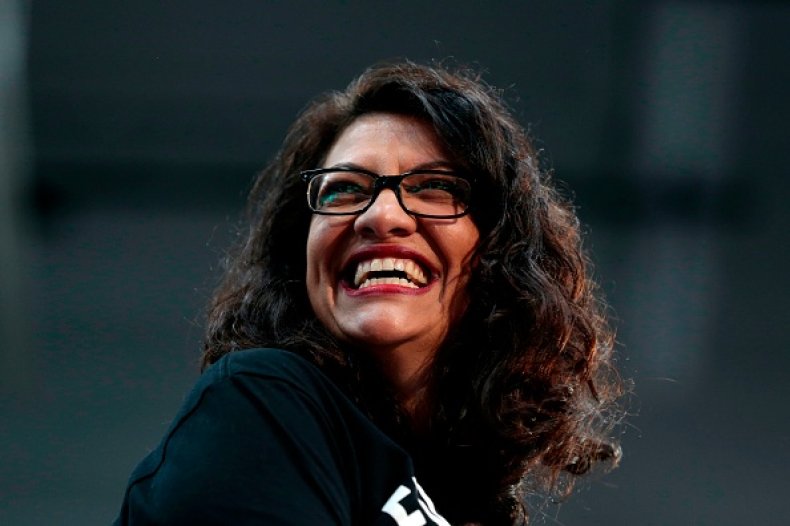 Tlaib was elected in the 2018 midterm elections alongside fellow 'Squad' members Reps Alexandria Ocasio-Cortez, Ilhan Omar and Ayanna Pressley. All four won re-election on Tuesday.
The group has been known to push for more progressive policies, such as the Green New Deal, and support defunding the police amid the Black Lives Matter protests over the summer.
"No one should say 'defund the police' ever again," Spanberger yelled on the leaked call. "Nobody should be talking about socialism."
Spanberger, who won re-election by a narrow margin of 0.2 percentage points, called the election results "a failure" and told other Democrats, "We lost races we shouldn't have lost."
She added that if progressives continue to use this rhetoric, "We will get f-----g torn apart in 2022."
Tlaib urged other Democratic lawmakers to wait for all the numbers to be tallied before making statements that appeal to certain people.
"They called Obama worse. They called him a Muslim, a socialist, you can blame these words but if it wasn't on BLM would've been something else," the Michigan congresswoman said.
Pelosi chimed in to disagree with Spanberger, noting that Democrats did keep the House on Tuesday night and are likely to take the presidency from President Donald Trump once all the ballots are counted.
Pelosi told members to raise any complaints to her directly.
"I hope any of you who have something to report or feedback will come to me," she said on the call.
House Democrats did not do as well as they had expected on Election Day, losing seven seats in battleground districts, including in Florida, North Carolina, New Mexico and Iowa.
Rep.Mucarsel-Powell, who lost her race in Florida's 26th congressional district, teared up on the call as she told Democrats to remain unified and not attack each other over Twitter.
Rep. Donna Shalala, the other congresswoman who was unseated in South Florida, said she did not blame top Democrats for her loss, saying "Leadership has been excellent and I have no complaints."
Shalala had not been expected to lose her race against Republican Maria Salazar.
Three progressive Representative-elects, Cori Bush of Missouri, Jamaal Bowman of New York and Marie Newman of Illinois, will join Democrats in Washington D.C. in January.
As information from the call was leaked to the press, California Rep. Jared Huffman urged his fellow Democrats to stay quiet.
"Some of my colleagues are literally live-leaking our internal Dem Caucus call right now to CNN, The Hill, NBC, Politico, etc," Huffman tweeted. "I've gotten texts from 3 different reporters asking me to live-leak juicy details to them. No. We (Dems and the media) need to stop this nonsense."
Newsweek reached out to the Democratic Congressional Campaign Committee for comment but did not receive a reply before publication.