Dems Include $350M in Next Spending Bill To Clean up Water in Navy Housing
Military families who have had their water supply tainted by leaked fuel may receive help as Democrats earmark $350 million for the Pentagon to clean up the mess, according to Military Times.
It has been two months since families in Hawaii military housing had to leave their homes after smelling and seeing fuel in their water supply. More than 9,000 households at the Army's Aliamanu Military Reservation and Red Hill communities have been affected with no word given on when they'll be able to return, the Military Times reported. Navy, Army, Air Force and some Coast Guard members have all been are among those affected.
Most families displaced from their homes are living in hotels at the government's expense while some have remained in their homes using bottled water and bulk water provided by the military.
The Democrat-proposed spending bill states $250 million for the 2022 fiscal year would be set aside for "necessary expenses to address drinking water contamination at the Red Hill Bulk Fuel Storage Facility in Hawaii." And another $100 million will be included for the department to comply with the State of Hawaii Department of Health's emergency order to remove all fuel from the Red Hill Bulk Fuel Storage Facility.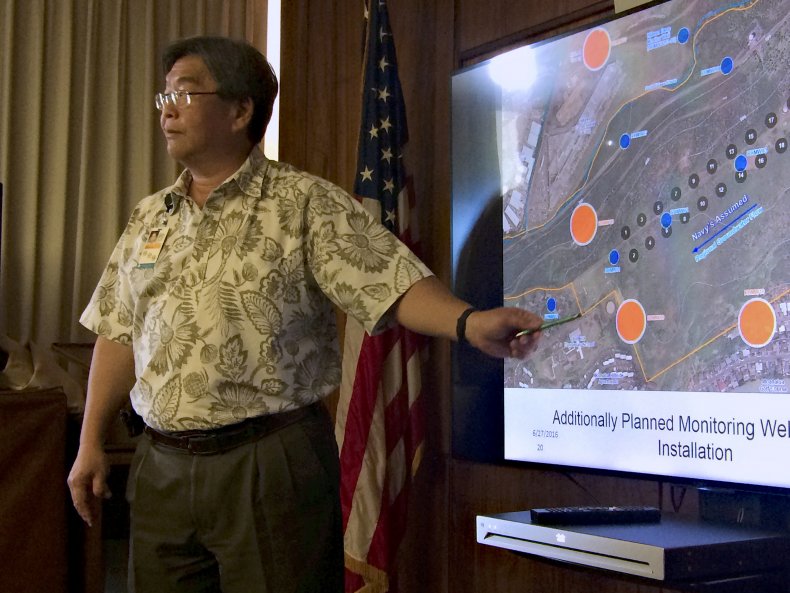 The bill would keep the government running through March 11 and provide much-needed funding to correct the water crisis in Hawaii.
"The Navy caused this problem. We own it, and we're going to fix it," said Rear Admiral Blake Converse, deputy commander of U.S. Pacific Fleet in his testimony before the House Armed Services readiness subcommittee last month.
Families began noticing the smell of fuel in their water beginning November 28, 2021. The Navy sent water samples to the mainland and confirmed on December 3 that petroleum products were found in the water, reported by the Military Times.
Navy officials told lawmakers that they take responsibility for the spill. The Navy reported the spill was likely due to "operator error." According to AP, the Navy is investigating a theory that jet fuel spilled when a pipe ruptured in May and got into a fire suppression system drain line. They believe the fuel may have leaked from that drain line into the Navy drinking water.
The Armed Forces Housing Advocates (AFHA), a nonprofit organization that has been involved in helping the affected families in Hawaii, reported receiving more than 700 complaints from military families having their water smell like fuel. AFHA says families have reported illnesses due to exposure such as vomiting and diarrhea.
"It has been nearly 70 days since this has been brought to our organization's attention and 70 days since families have been able to live in their own homes," said Kate Needham AFHA executive director and co-founder. "AFHA is committed to following alongside these military families for as long as it takes, and will continue to tirelessly fight for the families displaced from their homes to ensure that these families all have access to their basic human right: clean water."
Newsweek reached out to the U.S. Navy for comment on Monday but did not hear back in time for publication.