Dems in Key House Races Fear Loss of Critical Student Votes With College Campuses Empty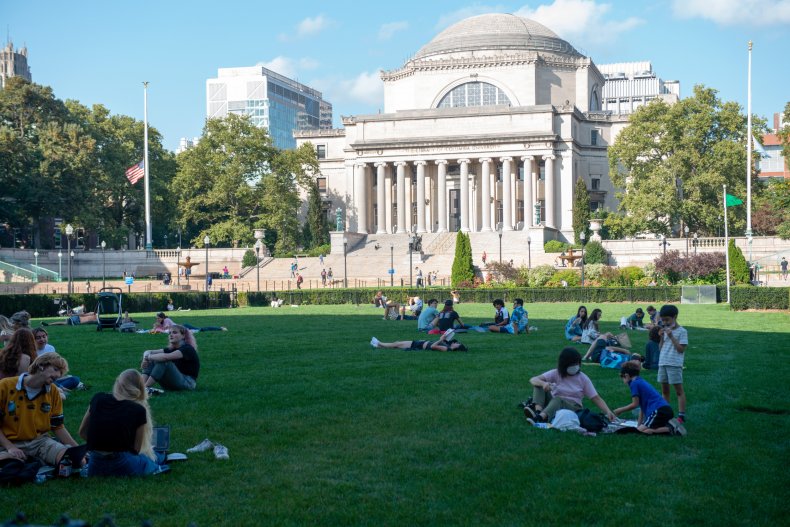 In a COVID-less world, Dylan Taylor would be in East Lansing now, spending his free time at a table outside the dorms at Michigan State University beckoning fellow Spartans to register to vote. Instead, the 19-year-old treasurer of the MSU Young Democrats is stuck living with his parents in the Detroit suburb of Madison Heights, attending classes via Zoom and trying to replicate election-year campus activism remotely with concepts like "Friend Banking." "You text people you know and ask them, 'Are you registered to vote?'" he says. "It is a skewed sample. Everyone says, 'I'm already registered.' And then I'm done. It is a lot less effective than being on campus."
For Democrats in tough House races across the nation who were counting on students from nearby colleges to work as campaign volunteers and to vote, not having Dylan and people like him on campus is a looming political problem. To prevent the spread of COVID-19, nearly half of American college and universities are offering entirely or mostly virtual classes this fall according to the Chronicle of Higher Education, thereby scattering millions of students who might have been cajoled into voting for the first time and then motivated to support Democrats through peer pressure and appearances from big-name campaign surrogates. Polls consistently show college students skew Democratic by a 70-30 percent margin—the exact percentage, in fact, who said they planned to vote for Joe Biden in a poll of 4,000 students enrolled in four-year colleges by the Knight Foundation this August. So the absence of on-campus organizing is widely seen as an advantage for Republicans.
"That's a really big deal for my race," says Michigan Representative Elissa Slotkin, a freshman Democrat running for re-election against first-time candidate Paul Junge, a former immigration official for the Trump administration. In 2018 Slotkin narrowly flipped a House seat long held by Republicans in a district where the 50,000 students at MSU represent perhaps the most reliable pot of Democratic votes.
"I won by 13,000 votes in 2018, and a little under 7,000 of them come from Michigan State students," Slotkin says. "We just had the movement of thousands of voters who are staying home because of COVID. That has the potential to really impact our race."
The situation facing Slotkin is being replicated across the nation. And it has led prognosticators like The Cook Political Report's Dave Wasserman to factor the impact of the higher-ed shutdowns into their predictions as the 2020 election reaches its crescendo. The candidates who face the biggest challenges, says Wasserman, "are the people who have large college campuses in their districts."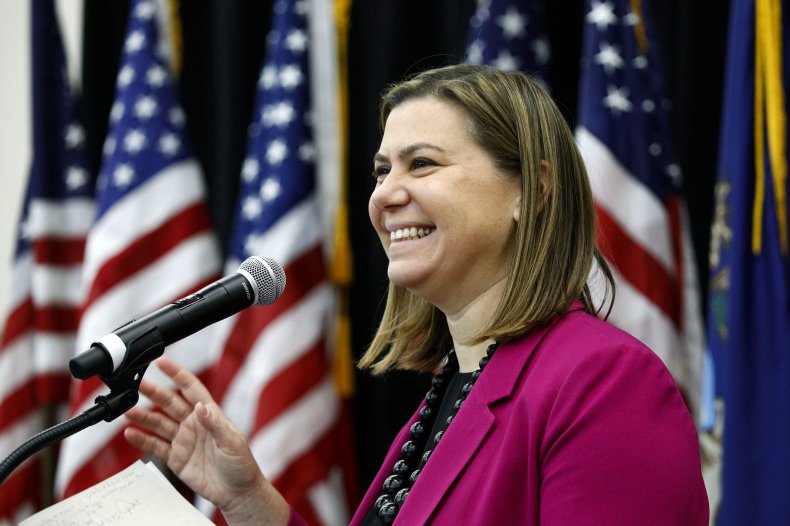 The potential impact will be greatest on certain House races where students voting locally play a big role. But there may also be national implications. In states like Arizona, Maine and North Carolina, where polls show close Senate races, tight presidential contests or both, the lack of in-person student organizing, coupled with widespread confusion among students about where they should cast their ballots, could hurt Democratic presidential nominee Joe Biden and Democratic efforts to flip the U.S. Senate as well.
Majoring in Chaos
"Voting for the first time is confusing for anyone, and now the biggest question students have is, 'If I was living on campus and now I've been sent home, where do I vote?'" says Rupi Jain, president of the Young Democrats club at University of North Carolina at Chapel Hill, whose 30,000 students have all-online classes this fall. "Traditionally, UNC Young Dems would be stationed in the heart of the campus, on quads and in freshman dining halls, registering [students] to vote and answering questions like these."
Adding to the confusion: Rules about how and where students should vote vary from state to state. In Michigan, for instance, you must vote in the precinct associated with the address on your driver's license; if you're at school, though, it's easy to get a sticker to put on the back of the license indicating an updated address on or near campus. In some states, students who had addresses in college towns before COVID can vote that district via absentee ballot, but the legality of doing that is unclear if the student never intends to return to that address. And first-year students who did not move to a college address this fall because of COVID generally cannot claim an address in their college town and vote absentee.
The uncertain circumstances could stymie the past decade's impressive growth in the numbers of students who vote, says Nancy Thomas, founder of the Institute for Democracy and Higher Education (IDHE) at Tufts University. Student turnout for federal elections has more than doubled recently, from 19 percent in 2014 to 41 percent in 2018, motivated largely by reaction to the 2016 election of President Donald Trump, the Institute found. The expectation was that 2020 would be another banner year.
"The question is, [will] these new barriers to the technical aspects of voting offset this growing motivation to vote," Thomas says. "It's a bummer. Voting is habit-forming, so you want to get them early."
Another unknown in the student-vote equation: lack of confidence in the legitimacy of the 2020 election. The Knight Foundation poll found that nearly half of students believe the election won't be fair and open and a majority (55 percent) say it won't be administered well. In addition, roughly eight in 10 say special interest groups have more influence over election outcomes than voters.
Changing Odds in Illinois
In districts where students often provide the swing votes, Democratic candidates in tight local races are especially concerned about turnout among the college crowd.
Consider the 13th Congressional District in Illinois. When the state's Democratic-dominated legislature drew its redistricting map based on the 2010 census, lawmakers got particularly creative with the boundaries of the 13th, which is shaped like a Scottish terrier—one leg stretching down into Edwardsville, a paw reaching out to Springfield, an erect ear touching Bloomington-Normal and a snout devouring Champaign-Urbana. The heavily gerrymandered area loops in several far-flung college campuses to accent the conservative rural landscape between them.
The goal was to create a competitive district in one of the reddest parts of the state. Democratic candidates spent the rest of the decade inching closer to flipping it, with Betsy Dirksen Londrigan, coming within about 2,000 votes, or less than 1 percent, of unseating GOP Representative Rodney Davis in 2018. In a rematch this year, Londrigan was given 50-50 odds of defeating Davis prior to the pandemic, according to Kent Redfield, an emeritus political science professor at the University of Illinois at Springfield.
Then the schools so carefully included in the district—Illinois State, University of Illinois at Springfield and Southern Illinois University at Edwardsville, which account for more than 37,000 students—shifted to primarily online classes. The biggest of them all, 50,000-student-strong University of Illinois at Champaign-Urbana, adopted a hybrid remote/in-person model that involves twice-a-week COVID testing of all students and puts severe limits on class size and campus activities.
That was enough for Wasserman of The Cook Political Report to change his prediction for the Londrigan-Davis race in mid-August from a toss-up to "lean Republican." "It's a tougher target than it was six months ago," Wasserman says.
Redfield agrees that the dynamic has shifted: "If Londrigan ends up not producing the kinds of margins she needs in the college counties because of a drop-off in the student vote, [which] was core of her almost-successful 2018 race, that makes the race more difficult."
Other Danger Zones for Dems
Londrigan and Slotkin are far from the only Democrats facing this predicament. In upstate New York, first-term Representative Anthony Brindisi faces a rematch with former GOP Representative Claudia Tenney, whom he unseated in 2018 by a mere 1.8 percentage points. This fall, some 28,000 students are not on campus for in-person classes in a district that includes state universities in Cortland and Binghamton as well as Colgate University.
"There's a case to be made that 2018 college student mobilization was a critical factor" in Brindisi's victory, says Joel Winkelman, a political scientist at Hamilton College, a small school also located in the district that did not shift to virtual classes.
Another problem for many candidates, especially lesser-known challengers, is they have lost student involvement not just during the fall campaign but also last spring, too, when COVID-19 forced most U.S. campuses to abruptly shut down. In Kentucky, for instance, where Democrat Amy McGrath is trying to unseat Senate Majority Leader Mitch McConnell, the two largest campuses—University of Kentucky in Lexington and the University of Louisville—have been ghost towns since March. As a result, the UK Young Democrats are in disarray, struggling to recruit new members or to seat officers to replace graduating ones, and leaving rising senior Aidan O'Brien to single-handedly scrape together some semblance of a club this fall.
If McGrath ever hoped to keep her Senate race competitive, O'Brien says, she would have needed to reassemble the strong, organized campus operation Democrat Andy Beshear engineered for his winning 2019 campaign for governor. "College students did make the difference in that race," O'Brien says, noting that Beshear won his election by about 5,000 votes, or four-tenths of a percentage point, on the strength of an exceptional showing in the Lexington area. "We have a student body of over 30,000 people, so if even a fraction of those people turned out and voted for Beshear, that made the difference. College students are a huge Democratic pool of voters."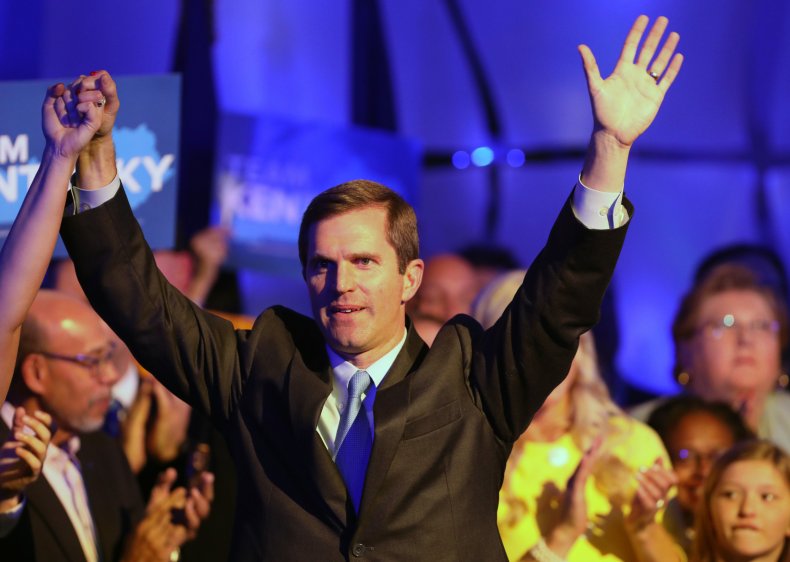 Thomas, at the Tufts Institute, is less alarmist. She says most of America's 18 million college and university students commute—more than half attend community colleges—or live in off-campus housing and are likely to still be in the vicinity of campus. "Most candidates don't need to worry about whether students are actually residential or not," she says. "I don't think anybody should assume that if students are sent off campus, that means they leave or choose to vote wherever they go."
And if they do go home, some Democratic activists see a silver lining. Jain, the UNC student leader, says the congressional district that envelops the Chapel Hill campus is deep blue with or without students, so having students return to more conservative hometowns around the state could be a boon for local races. One potential beneficiary, Jain says: Democrat Ricky Hurtado, who seeks to unseat State Representative Stephen M. Ross, a Republican, in a district that lies between Greensboro and Chapel Hill, in Alamance County.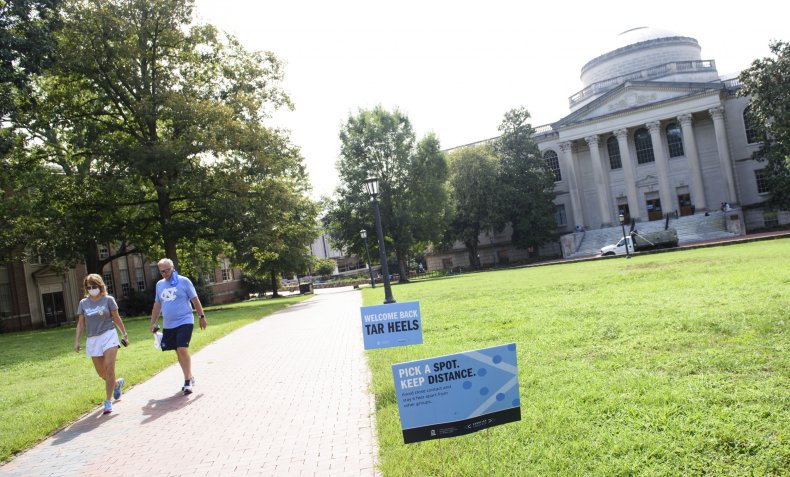 "Students going home is very beneficial to a lot of these down-ballot races because now they have a lot of young voters who are at home who are going to vote for them," Jain says. "A lot of these students are going to rural counties that might be a little more purple and have the ability to swing."
College Activists Get Creative
Over Labor Day weekend, the College Democrats of America hosted its summer convention via Zoom at which a few dozen student leaders logged in to hear the likes of one-time Democratic presidential hopeful Andrew Yang, Senator Brian Schatz of Hawaii and Representative Joaquin Castro of Texas. The event, when held in presidential election years, normally runs alongside the Democratic National Convention, but this year's all-virtual DNC deprived student activists of the chance to bond and plot in person.
The conference was closed to press, but the session topics obviously inspired by the collegial diaspora underway included "Local Democratic Leadership in a Pandemic and Civil Unrest" and "Digital Organizing and Remote Programming." Another, "Graphic Design Could Be Your Passion," was a nod to the fact that creating memes for social media may be the most effective way to speak to less political classmates when you can't, say, scrawl "Please Vote" on dorm door whiteboards.
"With the campaigns turning into a full virtual online situation, students have turned into graphic designers and tech centers and virtual phone bank trainers," says Calli Jones, a senior at Northern Arizona University in Flagstaff and president of the Young Democrats of Arizona. "We have completely 180'd how we campaign."
Jones and others say they've added the loss of a normal campaign season to the long list of ways COVID has deprived them of the college experience they expected. UNC's Jain envisioned personal meetings with Democrats Joe Biden and Kamala Harris as well as a steady stream of prominent surrogate visits aimed at getting the vote out on the state's most populous campus. "To put it in context, President Barack Obama came during the 2008, 2012 and 2016 campaigns," she says wistfully. "That's not as possible anymore, which really sucks because those events are such an incredible experience and [a good way] to mobilize students."
O'Brien, a biology major at UK, agrees. "I was very excited that I would get to be the president of the college Democrats at a time when there should be a lot of energy and momentum among Democrats in an election year. I wouldn't say I feel cheated, but it's unfortunate."
Still, the tone of the College Democrats conference was hardly funereal. Instead, attendees were eager to embrace online tools to engage fellow students and other voters, noting that most campaigning in 2020 will be virtual regardless of whether students are on campus because traditional tactics—rallies, door knocks, in-person registration drives—are not safe amid COVID-19. Jones argues that her digital-native generation is especially suited for overcoming the challenges of shuttered campuses and reimagining the glad-handing of politics for a socially distant era.
"We have all the resources and first-hand experience to build up the next generation of organizers," Jones says.
That optimism is echoed by Matthew Nowling, president of College Democrats of America and a senior at Denison University near Columbus, Ohio. "We knew even before the pandemic that this election would be won and fought online, so we've been really building up our digital infrastructure," he says. "The pandemic has definitely thrown out our traditional playbook, but we've been investing heavily in our digital efforts to be able to handle this moment."
He rattles off a litany of online tools—mostly various uses of social media as well as old-school communications formats like email, phone calls and text messages—and highlights an organizing app, Reach, developed for Representative Alexandria Ocasio-Cortez's upset 2018 victory. Reach is notoriously useful, though, for banking information about potential voters met in in-person settings such as bars or the library.
Dylan Taylor, the MSU Young Democrats treasurer, is more doubtful that these efforts will work. "My biggest fear is that we're doing all of these things online but it's preaching to the choir because people have to come to us to learn about those events," he says. "We can't go to them. I'm concerned that we're not making any real outreach. There's a chance that somewhere in the country, a candidate will lose by say 1,000 votes because there wasn't a college campus there to organize that area."
Getting Out the Student Vote
There is a cottage industry of civic and activist groups trying to keep students engaged and encouraging them to vote amid the pandemic. Liberal groups like Swing Left and Rock The Vote continue to text and call would-be voters and the non-partisan Campus Election Engagement Project has partnered with 300 universities to deliver voting information to their students. The Scholars Strategy Network, a non-partisan group, has issued a faculty guide that urges instructors to find ways to routinely encourage students to register and vote.
"Nudging takes about two seconds," says Thomas, whose Tufts institute helped write the Scholars guide. "You say to your students, 'Don't forget to register. Registration deadline is here. Don't forget to register. Here comes the deadline for mailing in your ballot. Don't forget.' I'm zero-tolerance for faculty members who say we don't have time to do this."
While many student activists, candidates and political scientists are alarmed by the potential for registration confusion or low turnout among college students, Thomas believes the 2020 presidential election will be such a massive event that students won't want to be left out. She says, "I'm going to go out on a limb and say I think college students are going to be upset with the barriers that they face to vote and they're going to work extra hard to overcome those barriers."
Thomas says she believes universities are taking seriously their jobs of educating students about voting, but local officials in East Lansing don't see much evidence. Barb Byrum, clerk of Ingham County which envelopes MSU, says her efforts to work with the school to blanket students with such information has so far been fruitless. "MSU could be much more proactive and work with local officials," Byrum says. "I have not seen the proactive, non-partisan voter outreach that I would like to see."
Indeed, Slotkin campaign manager Gordon Trowbridge says the campaign isn't counting on that. Rather, he says, they need to "find those votes elsewhere," so they are putting more money and effort into increasing turnout among Blacks.
"The congresswoman realizes that we are likely to undershoot our target of votes we were hoping to yield in East Lansing simply because there aren't as many young people who are voting this time around," he said. "Every day that those kids who would love to be involved in political organizing are instead somewhere else figuring out 'Oh my gosh how do I do my classes like this' is a loss."
Steve Friess is a Newsweek contributor based in Ann Arbor, Michigan. Follow him on Twitter at @SteveFriess.