Dems May Lose Gillibrand's Vote for Social Services Package If Family Leave Not Included
New York Senator Kirsten Gillibrand might not vote in support of President Joe Biden's sweeping social services and climate change package if a national paid family leave program is left out, the Associated Press reported.
Gillibrand spearheaded a letter to Biden from more than a dozen Senate Democrats who urged negotiators to leave the program in place as they look to shave down the $3.5 trillion in proposed spending.
In the letter, Democrats like Senate Majority Chuck Schumer and House Speaker Nancy Pelosi stressed the importance of the family leave program in light of the COVID-19 pandemic, which "exposed an acute emergency on top of an ongoing, chronic caregiving crisis for working people and employers alike."
Gillibrand told AP that while she believes the paid family leave measure is widely supported, she wants to ensure that it won't fall victim to efforts from Democrats to bring the package's price tag down to about $2 trillion. She said that she's willing to negotiate the program's details, but she would have a hard time voting for a finalized package without it.
"It would be extremely hard because this is a bill, if we don't pass it now, it won't have a time like this again," she said.
For more reporting from the Associated Press, see below.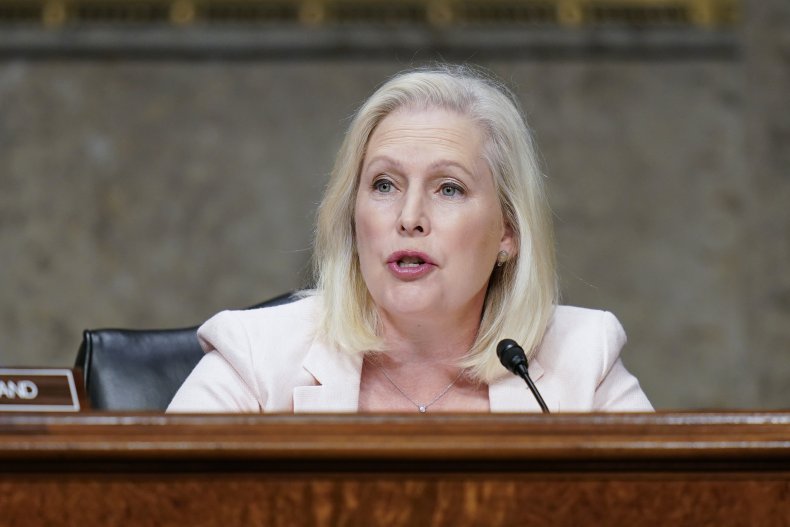 Biden can't afford to lose any Democratic votes in the 50-50 split Senate with Republicans fully opposed to the president's plans.
Gillibrand said the proposal needs to be gender neutral, offering all workers paid leave for things like the birth of a child or caring for a sick or dying family member. The coalition of senators is seeking a plan to offer 12 weeks of paid leave, or as many weeks as can be negotiated, in a permanent way so it doesn't have to be muscled through Congress again.
The most recent version of the proposal would have offered the biggest benefit to low- and middle-income earners, offering up $5,000 of paid leave for workers, giving workers who earn $60,000 or less annually a full wage for 12 weeks.
In a meeting at the White House on Tuesday with a small group of progressive House Democrats, Biden told lawmakers he wants to include money to create four weeks annually of paid family leave, down from his 12-week proposal.
Biden's discussion of the revised plan was described by two people familiar with the session who would only do so on the condition of anonymity. One person said there would be limits on the incomes of families that would qualify for the program.
Gillibrand said senators are willing to compromise on the numbers and build on the program in the future. She said she's also seeking to meet with conservative West Virginia Senator Joe Manchin, a key holdout who has been seeking to curtail the size and scope of Biden's plan.