Dems Oppose Barrett Nomination, Citing Senate COVID Cases and Limitations of Video Questioning
The 10 Democratic members of the Senate Judiciary Committee sent a letter to its chairman, Senator Lindsey Graham, to delay Judge Amy Coney Barrett's Supreme Court nomination hearing, citing health concerns after two GOP members of the committee tested positive for the coronavirus.
Senator Dianne Feinstein, a ranking member of the committee, tweeted the letter on Saturday afternoon calling on Graham, a Republican senator from South Carolina, to delay the hearings, scheduled for October 12.
"Two Republican members of the Judiciary Committee have tested positive for coronavirus," Feinstein wrote. "To proceed with a Supreme Court nomination hearing threatens the health and safety of those who work in this body."
Republican Senators Mike Lee of Utah and Thom Tillis of North Carolina announced on Friday that they received a positive diagnosis, following President Donald Trump's announcement that he and first lady Melania Trump tested positive for COVID-19. Both senators attended the White House event where Trump announced Barrett's nomination on September 26, which featured several people gathering without masks and not practicing social distancing.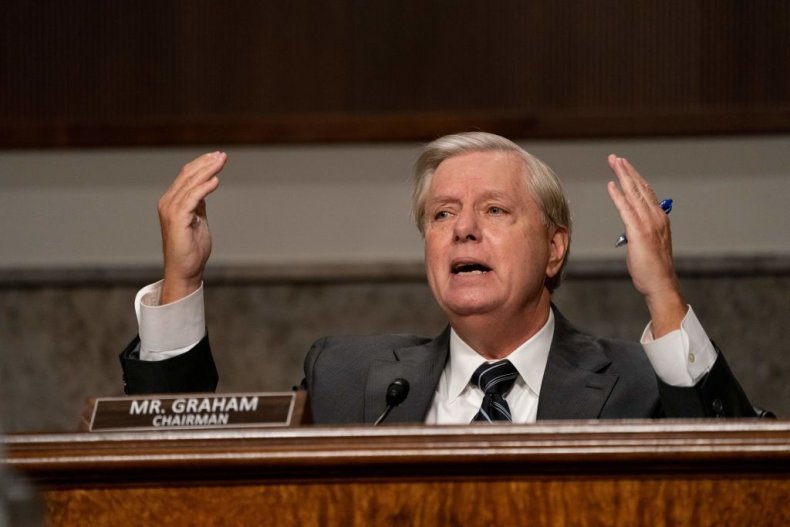 Five people from the event confirmed they tested positive for the virus, including former White House Counselor Kellyanne Conway and University of Notre Dame President Rev. John Jenkins.
The letter also noted that holding a remote hearing is "not an adequate substitute" for a proper Supreme Court nomination.
"As Republican members of this Committee have recognized, questioning nominees by video is ineffective and ignores the gravity of our constitutional duty to provide advice and consent on lifetime appointments, particularly those to the nation's highest court.
"The American people are looking to us. Now is the time to provide much-needed COVID relief, not rush through a Supreme Court nomination and further endanger health and safety," the letter reads.
Despite members of the committee testing positive, most Republican members of the Senate are determined to bring Judge Barrett's nomination to the floor for a vote. Kevin Bishop, a spokesperson for Graham, told Newsweek that the confirmation process will go forward with "no change."
Senate Majority Leader Mitch McConnell released a statement on Saturday announcing that the Senate will meet in pro forma sessions for the next two weeks and all scheduled floor activity will be rescheduled until after October 19 due to health concerns. However, McConnell noted that the Senate Judiciary Committee will still convene on the day of the hearings.
"The Senate's floor schedule will not interrupt the thorough, fair and historically supported confirmation process previously laid out by Chairman Graham," the statement reads.
McConnell wrote that the hearings will be able to go forward through a "hybrid method" that he said will allow all Senate members to participate.
"Since May, the Judiciary Committee has operated flawlessly through a hybrid method that has seen some Senators appear physically at its hearings while other members have participated virtually," said McConnell. "The Committee has utilized this format successfully for many months while protecting the health and safety of all involved. Certainly all Republican members of the committee will participate in these important hearings."